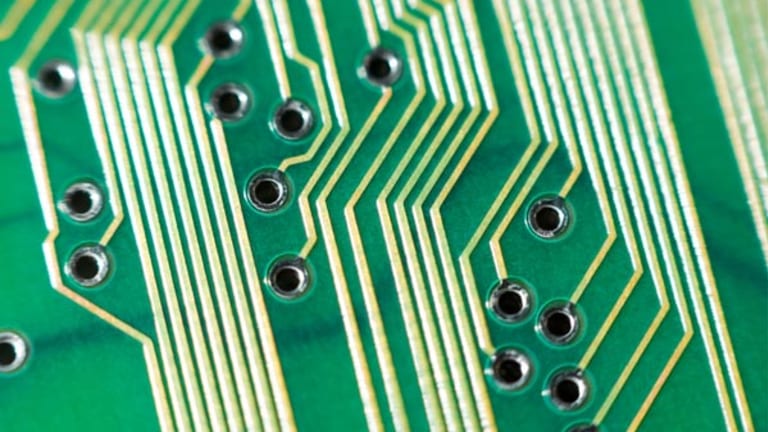 5 Tech Stocks Investors Don't Know About
Semiconductor companies have been strong performers on tablet and smartphone demand.
(Updated to include Morningstar analyst comments about Lam Research).
NEW YORK (
) -- Smartphone and tablet wars between
Apple
(AAPL) - Get Report
,
HTC
,
Samsung
and other hardware companies have intensified the need for faster, smaller and cheaper semiconductors.
That has benefited chipmakers such as
CEVA
(CEVA) - Get Report
,
KLA Tencor
(KLAC) - Get Report
,
Lam Research
(LRCX) - Get Report
,
Intersil
(ISIL)
and
TriQuint Semiconductor
(TQNT)
.
Smartphones and tablets are selling briskly despite Europe's debt woes and the slowly growing U.S. economy. And that will continue as people shift from personal computers and laptops to mobile computing devices. Semiconductors these days need to be more powerful as the devices pack on features and capabilities unheard of just a few years ago.
Highlighting ongoing demand for smartphones, research firm Strategy Analytics said that handset shipments rose 11% year-over-year to 445 million units in the fourth quarter, with Apple having 8% of the market share during the fourth quarter of 2011. For the full year, handsets saw a growth rate of 14%, reaching 1.6 billion units shipped.
Semiconductor companies like
Intel
(INTC) - Get Report
,
Qualcomm
(QCOM) - Get Report
and
Texas Instruments
(TXN) - Get Report
say the semiconductor cycle has hit the bottom, and is ready to rebound in 2012.
These are
five under-the-radar semiconductor stocks
that investors should know.
KLA-Tencor recently
than expected second-quarter earnings and raised third-quarter guidance, and shares of the semiconductor-equipment company hit a
following the results.
The company reported second-quarter earnings of 72 cents per share on $642 million in revenue. Wall Street analysts polled by
Thomson Reuters
expected earnings of 66 cents per share on $631 million.
KLA-Tencor also provided strong third-quarter guidance. This signals the much-talked-about rebound could potentially be on the way in 2012.
It expects revenue to be between $770 million and $830 million, and earnings between $1 and $1.18 per share. Analysts had been expecting much lower third-quarter results, but have since moved up their estimates. Wall Street analysts polled by
Thomson Reuters
now expect $800.02 million in revenue and $1.10 per share in earnings, at the mid-point of KLA-Tencor's guidance.
"Things are starting to pick up in the chip-equipment space. Business conditions are improving, and we expect somewhat of a recovery in 2012. There is a spending rebound going on by the leading chip-equipment makers," Morningstar analyst Andy Ng said in a phone interview. He believes KLA-Tencor is poised to outperform the other chip-equipment markers because of its technological advantages. Ng has a fair value of $51 on KLA-Tencor.
Following the strong earnings report, there were several price target raises, with JPMorgan analyst Christopher Blansett being among the most bullish.
"Compared to its peer
group, KLA-Tencor has higher exposure to theFoundry segment. We believe Foundry semi device manf will continue to lead thesemi capex cyclical upturn in C1H12 which will cause the stock to outperform in ourview, thus our new Overweight rating," JPMorgan's Blansett wrote in his research note. He raised his price target to $58 from $52, and kept his overweight rating.
KLA-Tencor is up nearly 7% this year, according to Google Finance.
Lam Research is another chip-equipment name to watch, outperforming competitor KLA-Tencor in 2012, up 15.8%.
Last week, Lam Research reported earnings of 34 cents per share on $584 million in revenue. Analysts expected Lam Research to earn 30 cents per share on revenue of $571.7 million.
The company is in the process of acquiring
Novellus Systems
(NVLS)
, which it
.
The eventual merger between Novellus and Lam should drive synergies in chip equipment making, and allow for these companies to command higher prices for their products.
Morningstar analyst Andy Ng analyst wrote in a research note Lam is one of the more impressive chip equipment companies he covers, as it has been gaining market share in both etch and clean markets. Etch is the step in where circuits are formed by selectively removing material. Ng also noted that the company has been among the most profitable firms in its industry, thanks to its flexible and efficient manufacturing model. He has a fair value of $40 on Lam Research.
Stifel Nicolaus analyst Patrick J. Ho noted that due to strong earnings results from
Samsung
, this should benefit Lam Research, as Ho estimates 20%-25% of Lam's revenue comes from Samsung. He has a buy rating and a $60 price target on shares of Lam Research.
Ceva reported stronger-than-expected quarterly results today, as demand for its intellectual property is soaring thanks in part to mobile-computing demand from customers like
Intel
(INTC) - Get Report
and
Broadcom
(BRCM)
.
The Israeli-based company reported $16 million in revenue and earnings of 26 cents per share. Wall Street analysts polled by
Thomson Reuters
expected $14.9 million in revenue and 22 cents cent per share in earnings.
"During the fourth quarter, we were able to drive meaningful growth and generate significant momentum throughout our operations, producing record-setting results. CEVA-powered cellular baseband processor shipments increased for the twelfth consecutive quarter and continued to drive growth for us in every segment of the wireless market, from low cost feature phones through to 4G LTE smartphones and tablets," said Gideon Wertheizer, CEO of CEVA, in a statement.
Wertheizer said CEVA's customers "shipped more than 927 million CEVA-powered basebands during the year, and more than 1 billion CEVA-based chipsets overall."
Despite strong fourth quarter results. CEVA shares are down on weaker-than-expected guidance for the first half of 2012, as management cited an inventory correction in China and slowness in Europe. Management expects first quarter revenue to be between $14.2 million and $15.2 million and earnings of 20 cents to 22 cents per share. Analysts polled by
Thomson Reuters
expect $15.4 million in revenue and earnings of 24 cents per share.
William Blair analyst Anil Doradla was positive on the results, and maintained his outperform rating. "CEVA's fourth-quarter results were above our expectations across most metrics," Doradla wrote in his note.
CEVA is one of
TheStreet's
.
CEVA shares are down 7.5% since the start of 2012.
TriQuint makes radio-frequency products for communications devices, and has at least two microprocessors in the iPhone 4S, according to an
of the device.
In a recent research report, Craig Hallum's Anthony Stoss reiterated his buy rating and $8 price target on TriQuint, as he believes TriQuint is likely to benefit from the upcoming version of the iPhone. "Apple comprised 35% of TQNT's total 3Q11 revenue and ~50% of its Mobile revenue. Like we noted above, we think design-in chatter starting this month could provide a catalyst for shares," Stoss wrote in his research report.
TriQuint has been a strong performer since 2012 started, gaining 23%, far outpacing the broader Nasdaq.
TriQuint is set to report earnings on
for the quarter ending in December. Wall Street analysts polled by
Thomson Reuters
expect earnings of 7 cents per share and $219.1 million in revenue.
As several semiconductor companies have said the industry is near a bottom, Intersil may be worth keeping an eye on, as it tends to snap back stronger than its peers, according to Deutsche Bank analyst Ross Seymore.
"We continue to believe ISIL is positioned to deliver relatively superior rev/EPS growth in 2012 as it begins to monetize organic and acquisition-relatedinvestments it has made over the last few years," Seymore wrote in his note. He rates the shares buy with a $14 price target, as he likes the below-average earnings multiple and strong dividend yield.
Intersil is set to report earnings on Feb. 1, and analysts polled by
Thomson Reuters
expect it to report earnings of 5 cents per share on $167.8 million in revenue.
Intersil shares have returned 8% since the beginning of 2012.
Interested in more on Intersil ? See TheStreet Ratings' report card for
this stock
.
>>To see these stocks in action, visit the
5 Tech Stocks Investors Don't Know About
portfolio on Stockpickr.
Check out our new tech blog,
Tech Trends
.
--
Written by Chris Ciaccia in New York
>To follow the writer on Twitter, go to
http://twitter.com/commodity_bull
.
>To submit a news tip, send an email to: