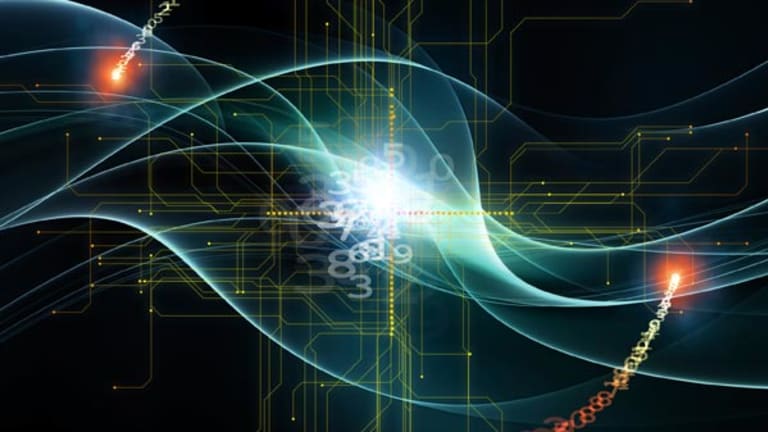 5 Tech IPOs to Watch for in 2013
In early 2013, 30 IPOs raised more than $7 billion. Here are five in tech that could provide a big splash later this year.
NEW YORK (
) -- The initial public offering market has come on strong in 2013 with 30 companies going public in the first quarter raising more than $7 billion. The number of IPOs has dropped 9%, but the total amount of proceeds raised is up 56% in 2013 over 2012. Surprisingly the dominant sector has been the real estate market demonstrating recovery in the housing market, but the technology group looks to be coming back to life.
"There have already been far more IPOs than we anticipated in 2013. I think we are finally seeing a level of confidence return to the markets after a tumultuous few months following the U.S. Election and the fiscal cliff," said Herb Engert, Strategic Growth Markets Practice Leader for
Ernst & Young
. There are 99 IPOs currently in the pipeline, and real estate continues to dominate with 18 companies registered compared to 11 in technology.
Confidential filing has limited the transparency of the IPO pipeline. However, something to keep in mind is that there are currently 472 venture-capital and private-equity backed tech companies. Not all of the companies will make it to becoming a public company, but it does give an idea of the backup in the pipeline. Some have barely hit eight figures, while others are in the billions like Palantir and
Coupons.com
.
Since 2010, 32 to 35 tech companies typically go public each year. A far cry from the 275 in the tech bubble year of 2000, but maybe this will be the breakout year. Many of these companies were acquired in 2006 to 2007 and it is time to initiate the exit strategies.
Also see: Should You Invest in Tech IPOs? >>
In the near term, expect offerings from
CDW
, an integrated IT solutions company hoping to raise $500 million and cloud company
Rally Software
looking for $70 million. Over the course of the year, investors could be thrilled by the following tech companies expected to go public and while they may not garner the frenzy that Facebook did, some will be exciting nevertheless. Some of the most anticipated tech IPOs for 2013 include
Airbnb
,
Dropbox
,
Box
,
Airbnb
,
Eventbrite
and
Square
.
Dropbox
One such company that investors (and bankers alike) are salivating over is
Dropbox
, the cloud computing company led by CEO Drew Houston.
Dropbox allows users to store their photos, docs, and videos in the cloud, and bring them anywhere and share them easily. The company was founded in 2007 by Houston and Arash Ferdowsi while they were at MIT after they had had enough of emailing files to themselves. As of July 2012, Dropbox had less than 150 employees according to its
but noted it is looking to expand.
Also see: Bottlenecks of the Cloud >>
There are three types of Dropbox accounts, Free, Pro, and Teams, which is offered toward businesses. Dropbox allows users to store 2 GB of data for free, all the way up to 18 GB if you refer other users. The Pro plan starts at $9.99 per month for 100 GB worth of storage, and increases from there.
The San Francisco-based Dropbox has been consumer-oriented in its focus, but the company is increasingly putting more attention toward businesses, where it believes additional growth will come from. The company is reported to have generated $240 million in revenue in 2011, though nothing is known about 2012 revenue.
According to the
Dropbox has more 100 million people across the globe using its products, so it already has a wide user base. Dropbox became so popular so fast that then
Apple
(AAPL) - Get Free Report
CEO Steve Jobs approached Houston about buying the company in 2009 with a "nine-figure offer," but was ultimately rebuffed.
Box
Box is extremely similar to Dropbox, as both companies offer cloud content management services and file sharing for consumers, but Box goes about it a slightly different way.
Led by CEO Aaron Levie, the Los Alto, Calif.-based Box caters more toward businesses and enterprise then Dropbox does currently. Box has more than 120,000 company clients, including
Dell
(DELL) - Get Free Report
, and caters more toward productivity apps that sync up with Box and make it easier to share outside of Box, on places such as
Facebook
(FB) - Get Free Report
or
LinkedIn
(LNKD)
.
Box also offers free storage, starting at 5GB worth, but you have to pay if you want to drop files from your computer into your Box account, a stark change from Dropbox.
It's not known how much Box is generating in annual revenue, but a recent private equity funding round valued the company between $1.2 billion and $1.5 billion. In a recent interview with
Reuters,
CEO Levie has said the company probably will go public at some point.
Airbnb
Another company based out of San Francisco, Airbnb, which provides users with home-based lodging options instead of hotels has become a huge hit. It's a play off the collaborative consumption economy, in which users make do with what they already have, and squeeze additional benefits out of them.
Airbnb raised $117 million in a Series D financing in the
of 2012. In total, Airbnb has raised over $230 million, and some of those early investors, which include
Sequoia
,
Andreessen Horowitz
and others, will want a return on that investment.
Though Airbnb is not public, it does have one public competitor that is close to its business model, though it's not exactly the same.
HomeAway
(AWAY)
, which operates an online marketplace for the vacation rental industry, has seen a surge in its share price this year. Its shares have gained more than 50% this year, far outpacing the broader
Nasdaq
.
Square
Square
is a hotly anticipated offering that could come in 2013. Square allows anyone to accept credit cards anywhere at anytime for a fee of 2.75% per swipe. Its simplicity is striking and makes it very appealing to small business. All a company has to do to process a credit card transaction is plug the little square shaped device into a tablet or phone and then swipe the customer's credit card through the square. The customer can sign on the line on the device and then a receipt is sent by email.
The payment processor was founded in 2009 and has grown to 300 employees and has passed the $6 billion run rate on transactions. Square has over a million customers. The company hired a former
Goldman Sachs
(GS) - Get Free Report
banker as its CFO last year sparking speculation of an upcoming offering.
The company's last round of funding was in September when it received $200 million from a combination of
Starbucks
(SBUX) - Get Free Report
, Citi Ventures and Rizvi Traverse management. The company is valued at $3.25 billion. The investors include a who's who roster of Esther Dyson, Marissa Mayer, Richard Branson and MC Hammer. As a comparison, Square has raised $341 million vs.
PayPal's
$203 million. PayPal, a subsidiary of
eBay
(EBAY) - Get Free Report
, has tried to create a competing product, but the adoption has not been as fast as Square.
Why 2013? It doesn't need the money, but it does want to grow. Square is making acquisitions and that costs money. In 2011 Square said it was looking to double or triple its engineering and design teams. Instead it bought New York design firm 80/20 and in turn created a New York office. Bringing it much closer to the banking community.
Visa
(V) - Get Free Report
is currently a partner, but if square wants to disrupt the payment-processing game, it will need big money to compete.
EventBrite
If you haven't used
Eventbrite
yet then you need to get out more. Eventbrite is a San Francisco-based company that provides of online event management and ticketing services. The service was used by many companies at SXSW in Austin last month as they invited guests to parties or events. People can use the site to RSVP to free events and even purchase and print tickets for events that have a price attached. At GigaOm's Structure Data 2013, Vipal Sharma, director of data engineering said the company had crossed $1 billion in ticket sales by June of 2012. Eighty million tickets have been sold for events in 179 countries.
The company likes to say it puts the "power of the box office in your hands" to its customers. It's a reasonable charge of 2.5% per ticket price plus 99 cents per ticket sold. The company can also earn money through additional credit card processing of will-call and same-day tickets. No charge for the free stuff.
So why go public? Scale. Sharma also noted at the GigaOm event that doing real-time data processing at scale is a really hard problem. Customers want analytics about their events and scaling for growth is the company's biggest challenge. Eventbrite can tell its customers who's attending, when they arrive and if they are sharing this information on social media.
Why 2013? The company was launched in 2006 and has a strong roster of tech investors including Sequoia Capital, Tiger Global Management and Kevin Hartz, who is also the CEO. Last year, the company added Dave Morin to the board. Morin brought with him Facebook experience and Facebook is the number one driver of traffic. Eventbrite is also one of Facebook's open graph launch partners.
In order to fund the scalability of growth the company could use additional money. Its last investment was in 2011 and that was only $50 million. Eventbrite needs to own this space now before Facebook tries to steal it and it will need big money to pay for that growth.
--Written by Chris Ciaccia and Debra Borchardt in New York
>Contact by
.
Follow @Commodity_Bull
>Contact by
.