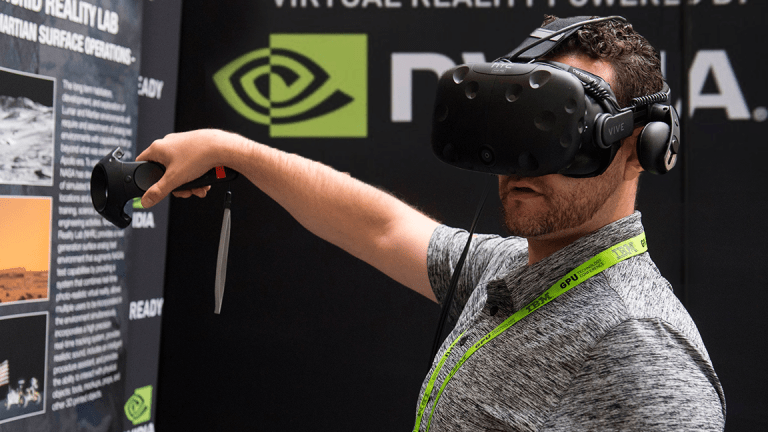 5 Top Takeaways from the Big Collision Tech Conference This Week
From data privacy and blockchain to AgTech and virtual reality, here were some of the highlights of this year's tech conference in New Orleans.
The Collision tech conference is one of the biggest for start-ups as well as large tech companies in the world, and plenty of VCs and other investors also attend to present and learn about the latest trends and technologies. I attended this year's conference in New Orleans this past week and here are some of the top takeaways:
1. Everyone's thinking about privacy. 
Facebook's (FB) - Get Meta Platforms Inc. Report Cambridge Analytica data scandal and the upcoming May 25 deadline for companies to comply with Europe's new data privacy rules had plenty of companies and investors thinking about handling and securing their user data, and whether new regulations might be coming in the U.S. One of the most interesting perspectives on this was given by Ragy Thomas, the founder and CEO of Sprinklr, a company that helps manage social media for some of the largest brands in the world.
Thomas, who had previously headed up an email marketing firm, said that new communications channels always go through a cycle where they grow rapidly and then become attractive to bad actors who take advantage of them (think email spam), leading to a trust crisis, which is then typically solved by technology solutions and regulations (think the CAN SPAM act of 2009). "The story plays out again and again," Thomas said. While his analysis seemed a bit overly sanguine to me, given how fundamentally companies like Facebook and Google rely on user data to generate such vast amounts of targeted advertising, it bears taking into account as America's tech giants seek to respond to this issue.
2. AgTech is taking off. 
While not as sexy as fintech or blockchain, agricultural technology, or AgTech, is starting to receive a lot more attention and investment. David Cheng, an investment manager at VC firm DCM Ventures, told me that three key factors have contributed to the rapid improvement in plant sciences -- the big decline in the prices of LED lights that can be used in vast numbers by indoor farms, the rise of the internet of things that allows for the monitoring of many important growing variables and the decline in the price of data storage and analysis that allows for machine learning over numerous growth cycles.
"We can now get feedback from our software, versus just from a grower who says my family has grown this crop for the last 50 years this way, and when my elbow starts to act up, that's when I know it's going to rain," Cheng noted. His firm is invested in Plenty, an ambitious San Francisco-based vertical indoor farm currently growing leafy greens, herbs and strawberries with produce grown in its Bay Area and Seattle farms to be available in those markets in 2018; it eventually plans to grow many other crops and plants, save for staples such as corn and wheat that Big Agriculture already handles well. Last July, Plenty received a $200 million investment from Softbank's (SFTBY) Vision fund to help it expand in the U.S. and internationally; Softbank is also a limited partner in DCM.
3. Bitcoin and blockchain continue to be on everyone's mind.
Not surprisingly, there was plenty of optimism at Collision about blockchain as a foundational technology, although some differences of opinion about Bitcoin and other cryptos as a currency. Brian Behlendorf, the executive director of open source collaborative organization Hyperledger, compared the stage we're at with blockchain to the early days of the internet. "I'd say it's similar to around 1995 for the development of the internet," Behlendorf said. "If you didn't have a website, you could be forgiven. But soon after that, you'd be seen as delinquent."
Meanwhile, Ethereum's co-founder Joseph Lubin was emphatic that ether should not be regulated as a security, despite plenty of signs that it might soon be. "We spent a tremendous amount of time with lawyers in the U.S. and in other countries, and are extremely comfortable that it is not a security; it never was a security," Lubin told me. Separately, noted venture capitalist Tim Draper continued to be "all-in" on investing in Bitcoin, going so far as to wear a tie illustrated with Bitcoins on it to a discussion on the Center Stage on Wednesday.
4. Augmented/virtual reality are approaching the mainstream.
Raffaella Camera, who heads up Accenture's North American "extended reality" group, their term that encompasses both AR and VR, gave me a chance to experience some novel content on a Samsung (SSNLF) Gear headset. In the 360-degree video of a fashion shoot I watched that was integrated with buying options, I was impressed by the "gaze-based" navigation in which you control a pointer by simply looking at a certain area, and make selections by holding your gaze on a box or circle as a time-based icon fills. It was an elegant solution that allowed you to stay in the experience by not requiring you to use an external controller with your hands.
Camera predicted that the improved content and more accessible prices of the latest equipment -- the Oculus Go from Facebook will only cost $199 -- will spur wider consumer adoption of extended reality. But she also suggested that the ultimate form factor might be something that allows the user to also see what's going on in their external environment, rather than the completely closed-off experience of the latest iterations of VR.
5. Companies with a heart may succeed against companies with just a brain. 
It wouldn't be a tech conference without some discussion of ride sharing and autonomous vehicles. John Zimmer, Lyft's co-founder and president, talked about how his company was catching up to Uber, claiming a roughly 35% share of the ride-sharing market in the U.S., up from 12% just a few years ago. Zimmer said Lyft's mission is to "improve people's lives through the world's best transportation" and not simply to offer the world's best transportation. "For us, the why is critical," said Zimmer, a marked contrast to Uber's "win at all costs" philosophy under its founder and previous CEO Travis Kalanick.
To that end, Lyft recently announced a program called Lyft Relief Rides that gives free rides for disaster relief, veterans returning from wars and low-income people going to job interviews. And last year, it famously announced it was donating $1 million over the next four years to the American Civil Liberties Union in response to President Trump's travel ban on immigrants from several predominantly Muslim countries. In a time when consumers' trust in tech brands is being challenged, that kind of attention to brand and company values might make a big difference.
Facebook is a holding in Jim Cramer'sAction Alerts PLUS Charitable Trust Portfolio. Want to be alerted before Cramer buys or sells FB? Learn more now.