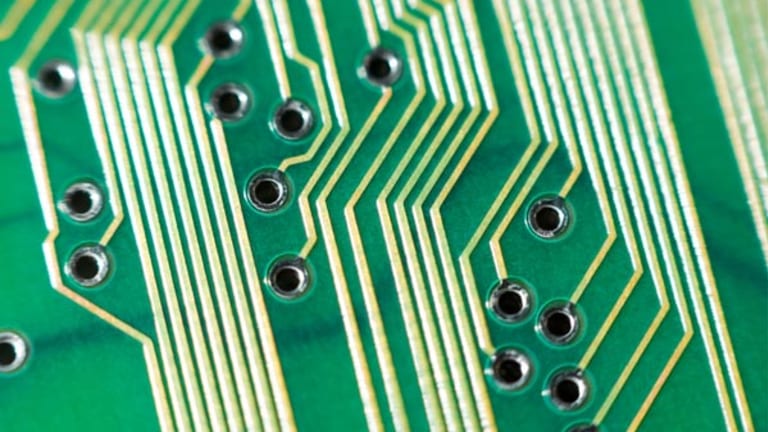 5 Stock Market Apps to Boost Your Portfolio
Here are five stock market apps to help you become a better investor.
NEW YORK
--Hey stock market junkies, we're talking to you. Your Bloomberg terminal is your most prized possession. Your favorite form of entertainment is watching "Mad Money" on
CNBC
, and you'll always remember where you were when the Dow peaked.
You can never be too informed about the markets. When your money's on the line, it's important to be in the know. Miss a (hacked) Tweet and you can miss a market drop...
and subsequent rally.
Forget up-to-the-minute.
When it comes to market news, you need to be up-to-the-second. So, break out your
Apple
(AAPL)
iPad. Once you've downloaded
TheStreet's
, add these others to your collection.
TheStreet
recommends five market apps for keeping you in the loop.
E*Trade caught my attention because of the
. Those trading babies remind us of our earliest days. Our favorite bedtime story was "Liar's Poker." Nap time wasn't until after the closing bell.
Lucky for us,
E-Trade's
(ETFC)
app is incredibly simple and easy. Users can keep track of the major indices with the dashboard. In the app, you can use voice commands to get stock quotes. Stock tickers can be added to your "watch list" for easy access.
Once logged in, the app offers a multitude of features. Users can access their portfolios, trade stocks, options and mutual funds, pay your bills on-the-go, and depositing checks. The app also offers the ability to stay informed with access to the latest news headlines.
CNBC
videos can be watched with just a tap.
The E*Trade app is pretty straightforward...even a baby could use it. This free app is compatible with iPhone, iPod touch, and iPad, but requires iOS 4.3 or later. It is also available for
Google's
(GOOG)
Android.
If you work on Wall Street, you might be banned from traditional social media sites. Even some of
Facebook's
(FB)
underwriters had limited access to the social networking site. That aside, you can access
StockTwits
.
StockTwits
is a social media site devoted to the stock market. Users can Follow their favorite stocks to get the word on the street. The app itself is pretty straightforward, allowing you to see which tickers are trending, or keeping tabs on a watch list. There are various "streams" to look at futures, foreign exchange, equities, and charts. Users send out real-time stock market analysis and opinion on what's moving the markets, such as Carl Icahn's latest move.
Twitter
may be available on your Bloomberg these days, but
StockTwits
weeds out all the other nonsense. This is not a site for sharing what you eat,
StockTwits
is a community for investors.
This free app is compatible with iPhone, iPod touch, and iPad, but requires iOS 4.3 or later, and comes on Android as well.
Robinhood
Robinhood is a brand new app for stock market fans. When you first sign up, Robinhood uses your location to suggest apps that are of interest to you. (I live in New York and it suggested Madison Square Garden and
The New York Times
).
The app also syncs with Facebook and Twitter to find your friends. Do you think you know more about the stock market than your buddy Joe? Earn "points" for engaging in a stock market competition. Real money is not required to participate.
As Robinhood co-founder, Baiju Bhatt puts, it, "novices enjoy keeping track of market news and learning from the picks of community experts. Experts love submitting recommendations (buy or sell, time frame, etc.) and benchmarking themselves against the market and the Robinhood community." Perfect, if you always wanted to be an analyst. And despite the app's name, rich investors are also welcome.
This free app is compatible with iPhone, iPod touch, and iPad, but requires iOS 5.1 or later.
Yahoo! Finance is a helpful resource for finance professionals. It's handy for looking up stock quotes, and the site aggregates a lot of news content (including
TheStreet's
). It's a
Yahoo!
(YHOO)
property that has excelled, even pre-Marissa Mayer days.
The Yahoo! Finance app is a must-have for investors. Charts makes it easy to see how your favorite stock is doing today. The app also makes it easy to find competitors. Clicking the research tab will allow users to find the information they need sorted by industries. The app also allows you to keep track of your portfolio. Don't forget to watch "The Daily Ticker" to get smart commentary about the latest news on Wall Street.
This free app is compatible with iPhone, iPod touch, and iPad, but requires iOS 4.3 or later. It is also available for Android.
If you're looking for real-time updates, check out Stocks Live. The app auto refreshes every thirty seconds, so you'll never miss a thing. The app isn't just limited to domestic markets, as it provides detailed updates from around the globe. Stocks Live keeps track of major indices everywhere, from Australia to Mexico.
Keeping tabs on all your favorite stocks get a little complicated when you're an active investor. Stocks Live makes it easier to keep track of everything in your portfolio. It also monitors your bank account and 401k. The app even lets you look at "what-if" scenarios, so you can see what could go right...and what could go wrong.
Twitter integration helps you share what stocks you're following. Check out the news section to see the latest commentary. And follow gurus like Warren Buffett and Bill Ackman to find out everything that's in their portfolios (for a $4.99 app upgrade). Hey, that's a lot less than the millions people have
with the Oracle of Omaha.
This $1.99 app is compatible with iPhone, iPod touch, and iPad, but requires iOS 6.0 or later. It is also available for Android.
--Written by Katie Roof in New York--