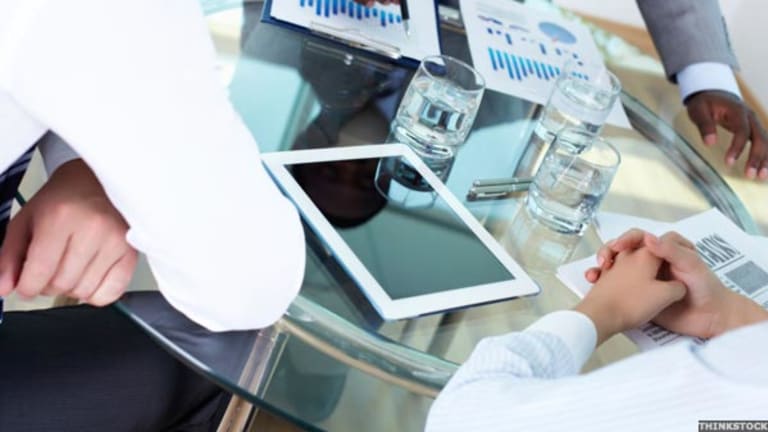 5 Reasons Why J.P. Morgan Still Likes Apple
J.P. Morgan is still incredibly bullish on Apple. Here's five reasons why.
NEW YORK (
) -Almost everybody loves
Apple
(AAPL) - Get Apple Inc. Report
, but J.P. Morgan has found five more ways to love the technology giant.
Everything Apple does is subject to incredible levels of scrutiny, as the media, analysts, Wall Street, and fan-boys all pay attention to the latest and greatest from Cupertino. There are countless websites devoted to rumors about Apple, while hordes of media, developers and fanboys flock to the company's events.
From iPads to iPhones, iPods and Macs, Apple's product are everywhere. Just look at
when the tech giant earned $13.87 a share on revenue of $46.33 billion. Wall Street estimates weren't even close.
Apple's stock has had an incredible run year-to-date, gaining 27.5%, and 47.3% over the past twelve months, far outpacing the broader markets. Even with these outsized gains, the stock is relatively under-owned, compared to other stocks in the
Russell 1000.
Here are the five reasons why J.P. Morgan is still incredibly bullish on Apple.
Apple is a sector unto itself
Apple has become so enormous in market cap ($480 billion and climbing), scope (nearly every company wants to be associated with Apple), and breadth (just look at the number of stories about Apple), J.P. Morgan argues the iPhone maker is a sector by itself. The investment bank rates Apple overweight with a $625 price target.
Apple's weight in the
S&P 500
is 3.7% (as of Feb. 10), larger than any single company by far, besting the likes of
Microsoft
(MSFT) - Get Microsoft Corporation Report
and
IBM
(IBM) - Get International Business Machines Corporation Report
.
Even more impressive is that Apple would be the sixth-largest industry weighting in the
S&P 500
, besting Insurance (3.4%), Food & Staples Retailing (3.1%), Diversified Financial Services (3.0%) and Media (2.8%). If it were a sector, Apple would be the eighth-largest, surpassing Materials (3.6%), Utilities (3.4%), and Telecom (2.6%).
J.P. Morgan makes note of Apple's importance on the index, as it helps add to equity-market gains. The investment bank explains that Apple has been the "#1 driver (out of 500 stocks) of the S&P 500's rally both since the October low and year to date, contributing 14 points to the rally since October (37% rise for Apple) and 11 points to the year to date rally (27% rise for Apple)."
Earnings Growth
The earnings story at Apple has been talked about for years. Just in the past two years (2010 to 2011), the company has grown yearly earnings from $15.15 per share to $27.68 per share, or nearly 82%. In the first quarter of 2012, Apple earned $13.87, or nearly half what it earned in all of 2011!
Apple's fiscal first quarter (fourth quarter calendar year) accounted for 3.5% of the 8% year-over-year earnings growth in the S&P 500. "In other words, 44% of the S&P 500's earnings growth in 4Q11 came from AAPL," the research note said. The next closest company to Apple is
AIG
(AIG) - Get American International Group, Inc. Report
, which accounted for 1.0% of the earnings growth.
J.P. Morgan notes that, on average, over the past 20 years, the S&P 500 has seen negative 3.3% earnings growth from the bottom 490 companies in the index. The top 10 have contributed 16% earnings growth. "The takeaway is that outliers like Apple are normal over time in the S&P 500 but are an important driver of earnings growth nonetheless."
Fundamentals
The fundamentals at Apple are incredibly strong. Revenue growth that is defining the law of large numbers. The beginning of a meaningful
, the world's most populous country. Dominance in the tablet market, with
.
J.P. Morgan notes all of this and more, as the company is generating a return on equity of over 45%, a forward price-to-earnings multiple of less than 11, and revenue growth approaching mind-boggling numbers. These are all significantly better than the
S&P 500
, and seem to be getting stronger.
Apple had the sixth strongest 2012 sales growth in the S&P 500 according to J.P. Morgan, with 45% growth. Earnings per share are growing 56%, better than 471 stocks in the S&P 500, and Apple is 28th on the index in terms of Return on Equity. Trading at 12 times 2012 estimates, J.P. Morgan notes Apple is the 130th-cheapest stock in the index. "The main takeaway is that Apple has a strong fundamental case supporting it from several perspectives, which is likely to help support a continued rally in the stock and thus a continued rally for Cyclicals," the note said.
Still under-owned
Even with Apple's incredible share-price performance on seemingly every time frame, the stock is still relatively under-owned.
In the research report, J.P. Morgan notes that 40% of large-cap mutual funds do not count Apple as a top position, despite it being the largest stock in the
Russell 1000
index. These 112 funds are underperforming their benchmark average by 60 basis points, or 0.6% since 2012 started. The proof is in the pudding, as they say.
The 60% of funds that do count Apple as a top 10 holding are doing markedly better, underperforming by 0.1%. Funds that are significantly overweight Apple (defined as at least 75bp greater weighting within the fund than Apple's weighting within the Russell 1000) are outperforming by 0.3% year-to-date. "The key takeaway from this analysis is that funds that hold a position in Apple have seen better performance year to date, and funds that hold a significant position in Apple have seen even better performance," J.P. Morgan wrote in the note.
Only 72% of Apple shares are owned by institutional investors, well below the 77% ownership for the rest of the
S&P 500
. Retail investors own a higher percentage of Apple conversely.
More catalysts to come
Earnings growth is driven by catalysts, and there are plenty of these on the horizon for Apple.
Many believe, for example, that
later this year, as well as refreshing its iPad, iPhone, and iPod product lines. The countless
rumors about the iPad
and iPhone drive people to come up with wild expectations. Apple generally does a good job of meeting these expectations, and in some cases, surpassing them.
The PC market is slowing, that much is known. All you need to do is look at the
from
HP
. Yet Mac sales are growing sharply, as the company sold 5.2 million Macs, an increase of 26% year-over-year.
There is still widespread room for more adoption, as Apple's global smartphone market share is 19%, versus 30% in the U.S., and 5% in PCs, versus 11% in the U.S. There is also the opportunity for enterprise sales, as nearly every Fortune 500 company is now supporting iPhones and iPads on its networks.
"It is no secret that a tenacious focus on both innovation and design has helped Apple cement its leadership in offering user-friendly, content-driven device experiences," JP Morgan's research note said.
Apple is truly in a class by itself for all these reasons and more. "Think different" is not just a motto at Apple, it's an investment methodology that may continue to show outsized gains for years to come.
Interested in more on Apple? See TheStreet Ratings' report card for
this stock
.
Check out our new tech blog,
Tech Trends
. Follow TheStreet Tech
.
--
Written by Chris Ciaccia in New York
>To follow the writer on Twitter, go to
http://twitter.com/commodity_bull
.
>To submit a news tip, send an email to: