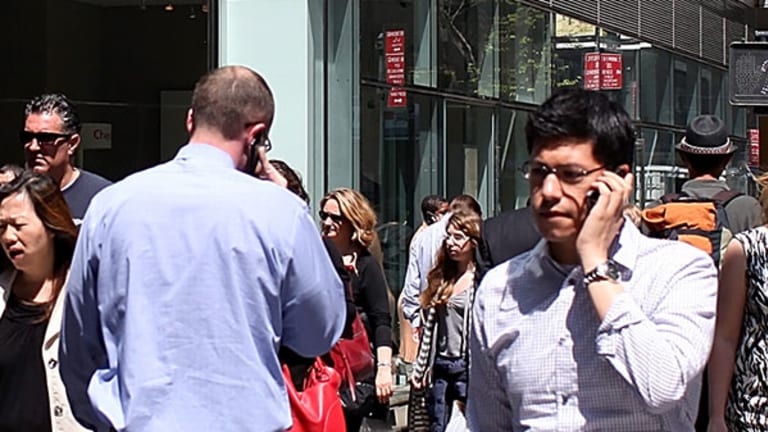 5 Radically Different Phone Services That Could Save You Money
These companies have done away with the usual two-year contract but there are still conditions.
NEW YORK (TheStreet) -- In today's tech-smart society, two things get our attention: innovation and saving money. Both are part of a new breed of cellular service challenging what most of us are used to in the U.S.
These five new companies have done away with the staid two-year contract tradition, plagued with overage fees and plans that no longer fit your family's needs. Some of the newbies tout free service. Some let you switch plans mid-month. Some will even credit your next bill if you don't use up your allotted minutes, texts and megabytes.
"Why are you paying so much for wireless? Why are you paying at all," asks
Scratch Wireless
, which offers free service for users who rely on Wi-Fi.
Of course, there are catches. There are limits on voice and data. You still have to purchase a phone -- from the company. No one offers an iPhone. The companies tend to make money on extra fees from additional services, so you've got to stay ahead of your bill if you want it to zero out each month.
While these hassles may be enough to take a pass, they also may be just the service you've sought to add a parent, child or other limited user.
These five new options also have another thing in common: They use
Sprint's
(S) - Get SentinelOne Inc. Class A Report
3G and 4G network (a mix of the older WiMax and the newer LTE network). That means coverage is as good as your local Sprint service.
Here are the five new options to consider:
FreedomPop
Already offering home users an alternative to high-priced broadband Internet, Los Angeles-based FreedomPop launched Freedom Phone this month. The hook? Free 3G/4G mobile phone service.
Backed by investors including Skype co-founder Niklas Zennstrom, Freedom's $99 refurbished
HTC
Evo quickly sold out. The company says it plans to let people to bring their own phone someday, but right now you must buy a phone from Freedom. You can get on the waiting list but keep in mind, Freedom's "free" is limited to 200 voice minutes, 500 megabytes of data and 500 texts per month.
If you can stay within that limit, your monthly bill should add up to zero (an earlier complaint that the company charged a 99-cent "active status fee" to its mobile broadband users is reportedly no longer added to new accounts). Heavier users can pay $20 for 2 gigabytes more per month. There's also an option to add unlimited voice and texting for $10.99 per month. If you don't use up all your data, megabytes can roll over -- for $3.99 per month.
Scratch Wireless
Another free service, which also launched this month, takes a different approach: Everything is free as long as you're using somebody else's free Wi-Fi. But step outside a free Wi-Fi zone and Scratch Wireless' $269 Motorola Photon Q smartphone will switch to pre-paid cellular service.
Daily plans start at $1.99 for either 25 MB or 25 voice minutes. Monthly plans are $14.99 for 200 MB or 250 minutes. Hit the limit within 30 days and you can just add another $14.99 plan. At least all texting is free regardless if you're using Wi-Fi or cellular service.
The Cambridge, Mass., company recently raised $5 million from backers, including CommonAngels. Right now, you can only join Scratch by invitation but the company said it expects the service to be more widely open to the public by the end of the year.
Republic Wireless
Relying on somebody else's free Wi-Fi to build your mobile business isn't entirely new.
Republic Wireless
, in Raleigh, N.C., has been doing it since 2011. But it's not free. The standard plan is $19 a month for membership. And you have to buy a smartphone from Republic, like a brand new Motorola DEFY XT smartphone for $99. But since the company has been around longer, Republic studied how people used its service. It rejiggered the standard plan because, it said, some users "could pay less." Beginning in November, the cheapest plan starts at $5/month for unlimited talk, text and data using Wi-Fi only. Unlimited everything using Wi-Fi or 4G cellular will set you back $40 a month.
Zact
Targeting mobile users who never quite use up their monthly allotment, Zact, which launched in May, offers an interesting proposition: Never overpay. You pick and choose packs of minutes, megabytes and texts. If you need more during the month, just add it. Used less? No worries.
The Redwood City, Calif.-based company, which received $15.5 million in funding led by Andreessen Horowitz last year, watches your usage. If you're nowhere near your limit, Zact credits the difference of a cheaper plan to your next month's bill. Minutes, megabytes and texts can are easily managed on a smartphone app and everything can be shared among users on the same plan. The catch? At minimum, you'll pay a $4.99 per line "maintenance" fee each month, plus there's a $10 activation fee.
Ting
This Toronto company ditches plans altogether, and you don't have to pay ahead of time. Instead, you just carry on talking, texting and smart-phoning as you normally would. At the end of the month, your minutes, texts and data are tallied up and calculated according to Ting's Small, Medium, Large or Extra Large price guide. If your usage changes each month, so does your bill.
For example, if you use 100 minutes one month and 500 minutes the next month, your bill is $3 and then $9, respectively. Or if you're an "Extra Large" user and hit the 6,000 texting max, plus the 3,000-MB data max, you'll be charged $14 for the texts and $60 for data. An app helps you figure out exactly how much you've used at any moment. Should you need more than Extra Large, overage fees are 2 cents per voice minute, $0.0025 per text and 2.25 cents per MB. Ting tosses in voicemail, tethering and hotspot features for free (although you do pay for data used). Ting, a division of Internet service
Tucows
, also offers family plans at $6 per device each month. Of course, if you use only 101 minutes or 500 minutes in a month, your bill is still $9, but at least Ting allows flexibility.
This article was written by an independent contributor, separate from TheStreet's regular news coverage.
Tamara Chuang is an outside contributor to TheStreet. Her opinions are her own.