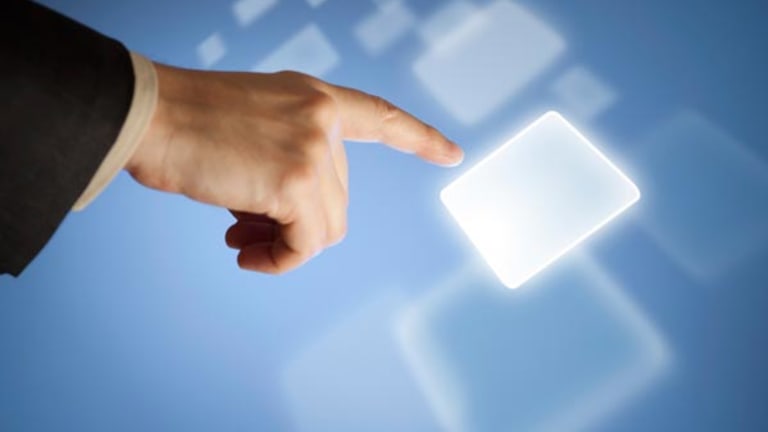 5 New Apple iPhone Apps
The App Store hit the 400,000-app milestone this week. Here are 5 new, interesting apps to try for the iPhone.
NEW YORK (
) -- Just ahead of
Apple's
(AAPL) - Get Report
big
WWDC 2011
confab, the company's App Store hit the 400,000 app milestone.
Here are five new -- or newly updated -- iPhone apps to try.
Do@
Cost:
Free
Launched at the
event last month in New York City, Do@ is a search app that trawls your keyword search only within mobile apps -- not the entire Web. The result is more relevant results in less time.
Say, for example, you're looking for a sushi restaurant. Type in "sushi" and Do@ will return nearby restaurant results from a number of apps that specialize in cuisine reviews -- in our case,
Yelp
,
Foodspotting
,
Zagat
,
Foursquare
and
Chowhound
, etc. Besides food recommendations, Do@ can also answer queries related to movies (using apps like
Flixster
), music, weather and sports.
We were impressed with the app's interface, which while stark, is incredibly simple to use: Once you hit the search button, it displays results within third-party apps. If you don't have the particular app installed on your phone, Do@ directs you automatically to the Web site.
Do@, based in Israel, announced $7 million in funding from Draper Fisher Jurvetson last month.
Vidcinity
Cost:
Free
Sharing pictures via the iPhone is easy thanks to apps like
Instagram
and
PicPlz
, but we haven't been able to say the same about video sharing.
Enter
Vidcinity
, which lets you share videos with other users near the location your video pertains to. Users upload a video and the video gets geo-tagged to a virtual map for others to find when they're close by. Videos can be shared through the app itself, as well as e-mail (friends receive a link),
Twitter
and Facebook.
You can also browse others users' videos and comment on them.
While we like the idea of Vidcinity, its discoverability feature is virtually useless --we found only five videos in our area that had been uploaded in the last month.
SpotWorld
Cost:
Free
SpotWorld is a new travel app that combines user-generated reviews via social networking apps like Yelp and check-in services like Foursquare.
With SpotWorld, you can check-in to more than 500,000 cities and landmarks across North America, Europe and Asia, from museums to parks and restaurants. You can also add tips, photos and ratings to your favorite places. The app displays background about popular locations from Wikipedia, including history, geography and demographics, as well as photos and audio readings.
We tried out the app in New York City's Financial District and discovered some new information about famous landmarks like the New York Stock Exchange, Trinity Church and the Federal Reserve Bank. (Did you know that the New York Fed reportedly holds 25% of the world's existing gold bullion?)
You can also view itineraries from other SpotWorld members or upload your own.
Guardly
Cost:
Free
Guardly is a mobile emergency response system that allows users to quickly communicate with loved ones in the case of an emergency.
If you're in an emergency situation, simply tap the app and it will send out an alert to a network of five friends or family members whose contact info you've entered into the app. Via text, e-mail and an automated phone message, responders can see your location on a map -- and, hopefully, dial 911.
We like that the app scans your phone's contact list and suggests responders for you. Your responders will then get an e-mail asking them if they'd like to receive emergency notifications from you.
The premium version of Guardly, $10 per month, also allows you to send pictures to responders, share your location as you change locations and activate a loud siren.
Meal Snap
Cost:
$2.99
Meal Snap just might be our favorite new iPhone app -- snap a photo of your meal and the app will tell you how many calories are in it.
We were shocked to find out how accurate the app is. We photographed a variety of foods, from salads to fortune cookies to the British candies, Maltesers -- Meal Snap identified everything correctly an gave us an approximate calorie range for one serving of the meal.
Once the app has identified a food and calorie count, users can rate its accuracy. They can also share their findings on Twitter, Facebook and Foursquare, view estimated calories for the whole day and categorize meals into breakfast, lunch and dinner.
Our only gripe? We wish MealSnap told us exactly how many serving sizes were included in the food we photographed.
--Written by Olivia Oran in New York.
>To follow the writer on Twitter, go to
.
>To submit a news tip, send an email to:
.