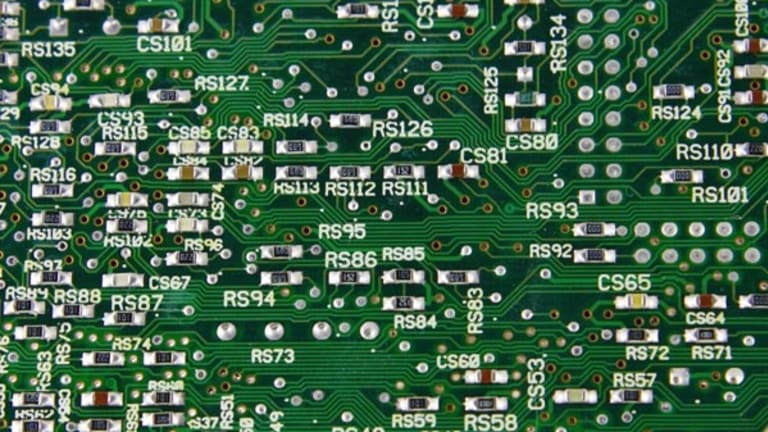 5 Key Players in the Mobile Payment Wars
The battle lines for market share in this evolving industry are already being drawn.
NEW YORK (
) -- Mobile payments -- destined to be a key component of the evolving "digital wallet" -- have the potential to transform the way consumers pay for items, and battle lines in the war for market share are already being drawn.
The Wall Street Journal
reported on Tuesday that
Verizon Wireless
, a joint venture of
Verizon
(VZ) - Get Free Report
and
Vodafone
(VOD) - Get Free Report
, has asked
Google
(GOOG) - Get Free Report
to not include its payment app, Google Wallet, on the Galaxy Nexus smartphone for security reasons.
Verizon strikes a blow in the mobile payment wars by asking Google to not include Google Wallet on the new Galaxy Nexus.
Verizon Wireless spokesman Jeffrey Nelson said in an emailed statement that Google Wallet does not access the operating system and basic hardware of Verizon's phones. Once Google Wallet is "integrated into a new, secure and proprietary hardware element," then it will be included.
According to data from
Ernst & Young,
mobile payments are expected to be big business in the coming years with the market reaching $245 billion by 2014. The shift is coming rapidly, as payment methods are mover away from using credit cards, debit cards and cash to using smartphones.
More and more retailers have begun to accept mobile payments, with companies such as
Starbucks
(SBUX) - Get Free Report
and
Peet's Coffee & Tea
(PEET)
being at the forefront of the movement. The retailers hope that they will be able save time and money by having customers move towards mobile payments.
Here is a list of five key players who look positioned to benefit from increased adoption of mobile payment technology.
Google
Google has staked out its territory with Google Wallet, which allows people who have Android-based phones to make payments by linking the phone to their bank accounts. The application can also be used to redeem coupons and earn reward points.
To monetize this functionality, Google is sending users information about its Google Offers deals, as well as selling coupons and advertisements. The company doesn't take a cut from the amount of the transaction.
Verizon has a similar product known as Isis that's part of a joint venture with
AT&T
(T) - Get Free Report
and
T-Mobile USA
. Isis is expected to be available next year.
Google responded to an email request for comment on Tuesday's news regarding the Galaxy Nexus smartphone by saying, "Verizon asked us not to include this functionality in the product."
Google shares were down $3.22 to $622.43 in afternoon action, but the stock is up roughly 5% so far in 2011.
"The fact that Verizon will not pre-load Google's Wallet in the phones it distributes indicates both companies are seeking to capture value from mobile payments," said Sanford Bernstein's Carlos Kirjner, in an emailed statement. "We are still in the very early stages of deployment of Google Wallet and, because of that, Verizon still has much of the leverage."
Kirjner went on to say that if the Google Wallet became popular amongst consumers, Verizon might change its stance on pre-loading Google Wallet on the phones, but that is one of the challenges for Google that lies ahead.
NXP Semiconductors and Qualcomm
Mobile payments are powered by Near Field Communications (NFC), which allows the consumer to wirelessly exchange their banking data with a vendor by waving the phone in front of a transaction terminal.
Semiconductor companies that produce NFC chips should benefit from increasing mobile payment transaction volume.
NXP Semiconductors
(NXPI) - Get Free Report
and
Qualcomm
(QCOM) - Get Free Report
are two leading makers of NFC chips.
NXP shares ran up in the middle of the year, going to the low $30s on NFC-induced hype, but the interest has tailed off, taking a hit when
Apple
(AAPL) - Get Free Report
didn't include NFC capabilities in the latest version of the iPhone. Year-to-date, the stock is down nearly 18%.
Conversely, Qualcomm has a much more diversified product base, and has benefited from the surge in sales of smartphones and tablets, which use the company's SnapDragon chips that feature technology from
ARM Holdings
(ARMH)
.
Qualcomm's stock is up 10% in 2011, and the shares currently trade at 13.6X the consensus 2012 earnings estimate while sporting a forward annual dividend yield of 1.6%.
MasterCard and Visa
Visa
(V) - Get Free Report
and
MasterCard
(MA) - Get Free Report
are two stalwarts of the payment processing industry who will also be key players as more and more transactions go mobile.
Back in May, Visa CEO Joseph Saunders voiced this view of the importance of mobile payments, saying: "The widespread adoption of Internet and mobile technology is changing the way people connect and transact across the globe."
MasterCard is a partner with the Google Wallet, and it also has an alliance with Isis in the United States. MasterCard also has agreements with Orange and Barclaycard in the U.K., and China Union Pay, as well as multi-product agreements with Swedbank in the Nordics and Baltics region.
MasterCard shares have gained more than 65% in 2011, compared to a 35% gain for Visa and a 0.7% return for the S&P 500.
--
Written by Chris Ciaccia in New York
>To follow the writer on Twitter, go to
http://twitter.com/commodity_bull
.
>To submit a news tip, send an email to: