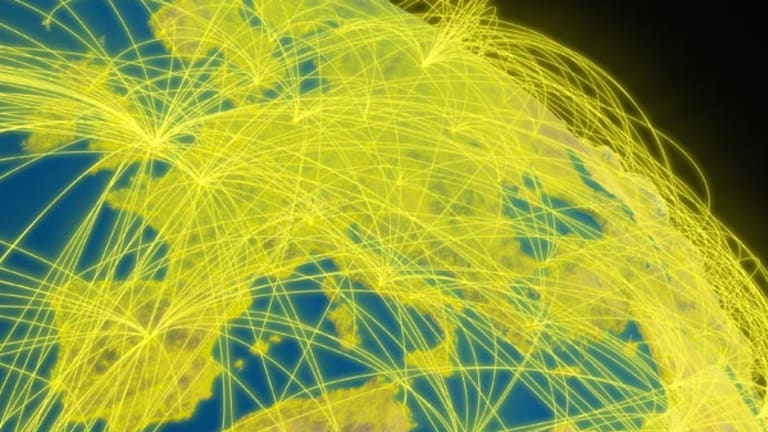 5 Cisco Alternatives
Worried that Cisco is no longer a growth stock? Here are five exciting rivals for investors to consider.
NEW YORK (
) -- Not so long ago,
Cisco
(CSCO) - Get Cisco Systems, Inc. Report
was the networking equivalent of Michael Jordan, seemingly untouchable as its vast array of products helped power the Internet explosion.
But two consecutive quarters of
and reported slowdowns in some of its sectors have dragged the company's stock down more than 33% over the last 12 months. Analysts are now questioning
Cisco's long-term strategy
.
While investors wait for Cisco to sort itself out, analysts are pointing to a handful of smaller Cisco competitors, firms that are effectively beating the beast both in terms of stock price gains and growth speed.
Enter
Juniper Networks
(JNPR) - Get Juniper Networks, Inc. Report
,
Riverbed
(RVBD)
,
Polycom
(PLCM)
,
Aruba Networks
(ARUN)
and
Fortinet
(FTNT) - Get Fortinet, Inc. Report
.
"End users (fundamentals) and investors (multiples) overwhelmingly are showing a preference for best in class players," said Paul Mansky, an analyst at Canaccord Genuity, in an email to
TheStreet
. Juniper and Riverbed -- not Cisco -- fulfill this criteria, he said, along with Aruba in wireless LAN and Fortinet in security.
And Polycom, which recently
hit a new 52-week high
, has also been grabbing plenty of attention as it battles Cisco in telepresence, also known as Cisco CEO John Chambers' pet voice and video communications venture.
Read on for details on why these smaller companies spell upside.
Juniper Networks
What It Does:
Provides a range of networking equipment.
Stock:
Up 35.63% over past 12 months.
Analysts have cited
2011 as a breakout year for Juniper
, boosted by new products and a
robust IT spending environment
.
Juniper took a big swipe at Cisco with the launch of its
last month, which it says speeds up traffic running on data center networks. The Sunnyvale, Calif. firm also took the wraps off its new PTX "Supercore" switch, which Juniper says can reduce the amount of hardware needed to run networks.
Goldman Sachs' recent IT spending survey highlighted Juniper's momentum in networking. "Juniper again emerged as a market share gainer," said Goldman analyst Simona Jankowski, in a note. "With Juniper's market share in switching currently at around 2%, the survey responses still indicate significant headroom for Juniper to gain share."
"Juniper is expanding its portfolio and offering investors another broad-based networking player," wrote Brian White, an analyst at Ticonderoga Securities, who is also positive on Cisco. "Most of the smaller companies are niche players but Juniper is much more."
In addition to switches and routers, Juniper also sells security hardware, as well as software and wireless LAN technology. The firm's new PTX offering is also expected to boost Juniper's reach further into core carrier networks, where it competes with
Alcatel-Lucent
(ALU)
and
Ciena
(CIEN) - Get Ciena Corporation Report
.
Riverbed
What It Does:
Provides WAN optimization technology.
Stock:
Up 182% over past 12 months.
Fresh from a
, Riverbed continues to
on the
strength
of its technology for improving traffic over wide area networks (WANs).
Widely acknowledged as one of the
players in what is known as WAN optimization -- or, more simply, products that accelerate applications accessed by enterprise users across broad computer networks -- Riverbed has become known for delivering consistent growth.
The San Francisco-based firm, which went public in 2006, has gained share every quarter since its IPO, according to CEO Jerry M. Kennelly.
There is certainly headroom for Riverbed. Tech research firm
IDC
expects the WAN optimization market to grow from $939 million in 2010 to $1.5 billion 2015.
Riverbed is also set to tap into the explosion in cloud services
a number of products in this space. These include a version of its flagship Steelhead hardware built specifically for public clouds and a cloud storage accelerator aimed at improving backups and archived workloads.
"Riverbed's WAN optimization products appear to have momentum with an expanded product portfolio with a focus on the cloud," said Ticonderoga analyst Brian White.
Last year Riverbed also
teamed up with Verizon (VZ) - Get Verizon Communications Inc. Report
to boost traffic across corporate networks. Other big-name Riverbed customers include
Mitsubishi
,
Liz Clairborne
and satellite services specialist
Intelsat
.
Aruba Networks
What It Does:
Provides wireless LAN technology.
Stock:
Up 155% over past 12 months.
Good things are expected from Aruba, which hosted its annual analyst day last week. The
corporate smartphone and tablet explosion
, in particular, is seen as playing to the company's strengths in wireless local area networks (LAN).
"Mobile devices entering the enterprise have made wireless LAN an increasingly important IT budget priority," said Goldman analyst Simona Jankowski, in a note released last week, adding that this will help boost adoption of Aruba's new Mobile Virtual Enterprise (MOVE). "
This puts it in a technology position to answer enterprise demand for pervasive wireless networks."
Aruba is pushing MOVE as a way for businesses to control network access for devices such as
Apple's
(AAPL) - Get Apple Inc. Report
iPad and iPhone across both wired and wireless infrastructures, something that becomes crucial as more and more
consumer devices enter the workplace
.
Aruba
, but has been steadily chipping away at Cisco in the wireless LAN market.
Aruba was also cited as one of the biggest gainers in Goldman Sachs' recent IT spending survey. "Aruba and Riverbed stand out as the biggest networking beneficiaries of strong secular demand," said Goldman. Almost half of survey respondents noted that they prefer best-of-breed over integrated systems vendors in wireless LAN, which suggests significant headroom for Aruba from its current 10% market share versus Cisco/HP, who control around 60%.
Fortinet
What It Does:
Provides multi-purpose security technology.
Stock:
Up 156% over past 12 months.
One of
TheStreet's
, emerging security player Fortinet recently hit a new
.
The Sunnyvale, Calif.-based firm pushes its FortiGate appliance as a Swiss Army knife for network security: it combines firewall, anti-virus, VPN and intrusion prevention systems.
Touted as an
for
IBM (IBM) - Get International Business Machines Corporation Report and HP (HPQ) - Get HP Inc. Report
, Fortinet was one of the first firms to offer an all-in-one approach to network security.
Dubbed Unified Threat Management (UTM), Fortinet's corner of the security market is gaining momentum, according to the analyst firm ABI Research. The worldwide market for UTM appliances experienced good growth in 2010, it said, as companies attempted to consolidate their security infrastructure.
Fortinet clinched second place -- ahead of Cisco -- in ABI's recent Vendor Matrix, a survey that measured tech companies against the scope of their UTM offerings, product innovation and their ability to target and serve specific markets. (Juniper took the first spot.)
"
Fortinet has been a disruptive force in the market with a wide range of products that cater to multiple customer segments," said Dan Shey, practice director at ABI Research, in a statement.
Cisco has seen its
share of the network security market decline
in recent years while Fortinet remains one of the key gainers.
Polycom
What It Does:
Provides video conferencing and telepresence technology.
Stock:
Up 60% over past 12 months.
Cisco might be the better known name in next-generation video conferencing -- what Cisco CEO Chambers calls telepresence -- but a much smaller rival, Polycom, says it holds 41% market share of the installed group video systems market. "We are the market leader," said Polycom CEO Andrew Miller, an 11-year veteran of Cisco and the former CEO of Tandberg, the Norwegian video conferencing outfit
Cisco bought in 2009
.
Miller, who took over the Northern California-based Polycom about a year ago, competes with Cisco's proprietary systems by touting his products' interoperability. Polycom's systems can integrate with communications technology from
Microsoft
(MSFT) - Get Microsoft Corporation Report
(Lync), HP and IBM, as well as
Avaya
and Juniper -- virtually any big Cisco competitor.
Polycom is also aggressively pursuing new markets that Cisco has yet to fully penetrate -- cloud and mobile. Earlier this month, Polycom announced the availability of a native Polycom app on
Samsung's
Galaxy Tab, which allows Tab users to dial into video conferences from wherever they roam. Miller told
TheStreet
that his firm is also working with Apple,
Research In Motion
(RIMM)
,
Nokia
and
Motorola
(MMI) - Get Marcus & Millichap, Inc. Report
to bring Polycom connectivity to their operating systems and mobile devices.
Analysts are taking note. "Polycom's execution has improved significantly and the company is hitting on nearly all cylinders," wrote Piper Jaffray analyst Troy Jensen in a recent research note. Jensen recently raised his price target to $56 from $51. "
Polycom's Intelligent Core message is resonating, sales investments are paying off, partnerships are moving into ramp mode and tablets and cloud services should also be a bigger part of the story going forward."
In its recent fourth-quarter results, Polycom's adjusted earnings more than doubled to 49 cents, exceeding analysts expectations of 43 cents. Sales grew 27% year-over-year to $340 million, and analysts predict that Polycom will post adjusted earnings of 47 cents next quarter.
--Written by James Rogers in New York.
>>To see these stocks in action, visit the
portfolio on Stockpickr.
>To follow the writer on Twitter, go to
http://twitter.com/jamesjrogers
.
>To submit a news tip, send an email to:
.