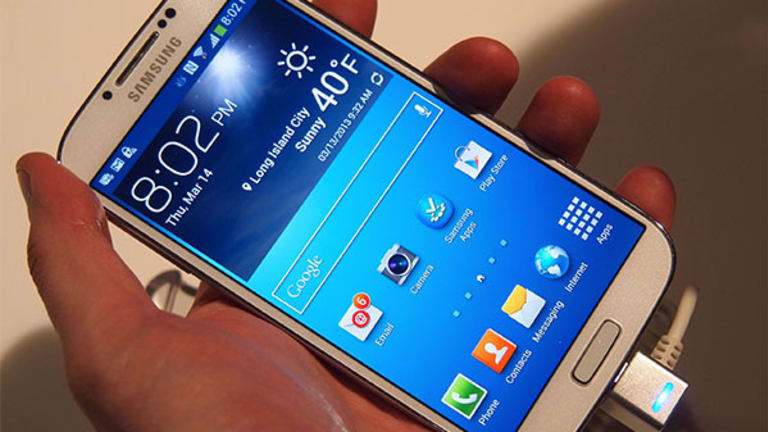 5 Chip Stocks Likely to Benefit From New Samsung Galaxy S6
Samsung's redesign of its flagship phones is likely generate more revenue for Cirrus Logic, Maxim Integrated, Skyworks Solutions, InvenSense and ARM Holdings.
Updated from 10:23 a.m. to include tweet from Tim Cook.
NEW YORK (TheStreet) --Samsung's (SSNLF) redesign of its flagship phones is likely to generate more revenue for a number of semiconductor companies, including Cirrus Logic (CRUS) - Get Cirrus Logic, Inc. Report, Maxim Integrated (MXIM) - Get Maxim Integrated Products, Inc. (MXIM) Report, Skyworks Solutions (SWKS) - Get Skyworks Solutions, Inc. Report, InvenSense (INVN) and ARM Holdings (ARMH) .
First announced at Mobile World Congress, the Galaxy S6 and the Galaxy S6 Edge are completely redesigned and have received several early positive reviews. The new phones are Samsung's latest attempt to compete with Apple (AAPL) - Get Apple Inc. (AAPL) Report and HTC at the high-end of the smartphone market.
Galaxy S6 shipments are expected to be down 5% this year after plunging 22% in 2014. Both of the new phones are made with aluminum instead of the plastic, which is likely to make them more attractive to consumers.
Perhaps the biggest feature is Samsung Pay, Samsung's competitor to Apple Pay, as the company looks to put to use the technology it got with the LoopPay acquisition. Pascal Caillon, North American general manager of mobile commerce company Proxama, believes that adoption of Samsung Pay may be faster than Apple Pay, because of the way it's set up.
"Adoption may be quicker with Samsung Pay than it was with Apple Pay because Samsung Pay can be used in most [point-of-sale] POS environments, as opposed to Apple Pay which can only be used with contactless POS," Caillon said.
Samsung will include a fingerprint sensor under the home button, much like Apple does, which Pacific Crest Securities analyst John Vinh believes is being supplied by Synaptics (SYNA) - Get Synaptics Incorporated Report. That will cost Samsung $3.50 per phone, as opposed to the previous $2 per phone. Synaptics annual revenue in 2014 was $947.54 million, but the company does not break down what it gets from specific customers.
The other big feature is optical image stabilization or OIS, which corrects the error when users take pictures and the phones shake. Vinh believes that InvenSense is likely to benefit from this addition, "which should almost double the company's content to $1.30 to $1.50 vs. $0.70 to $0.80." The iPhone 6 was the first smartphone to include optical image stabilization.
Perhaps coincidentally, Apple CEO Tim Cook tweeted Monday that Apple's homepage is covered with pictures taken using the iPhone 6.
Though Samsung Pay and OIS are likely to get much of the media attention, the company's move to include a new 64-bit octa-core Exynos processor is likely to have positive implications for Skyworks, Cirrus as well as British-based ARM.
The Exynos processor, designed and created by Samsung, replaces Qualcomm's (QCOM) - Get QUALCOMM Incorporated Report Snapdragon processor as the brains of the phone. It could allow ARM to receive an additional $15 million to $20 million in royalty revenue and an additional 3 or 4 cents in earnings, Vinh estimates, because of the new graphics portion of the chip, known as Mali.
ARM does not actually make chips, but rather licenses its intellectual property to customers such as Apple, Samsung and Qualcomm, who then customize their own chips.
Cirrus Logic is likely to be a beneficiary, as its acquisition of semiconductor company Wolfson will help with the audio applications inside the new S6 and S6 Edge. "We believe that Wolfson has significantly benefited from a higher attach rate of its smart audio codec on Exynos APs vs. Snapdragon," Vinh wrote in the note.
Woburn, MA.-based Skyworks Solutions, which makes semiconductors for radio frequency and mobile communications, is likely to benefit because more phones will be running the Exynos processor, Vinh estimates. Skyworks' 2014 annual revenue $2.29 billion, up from $1.79 billion in fiscal 2013.
The last chip company expected to see a boost from Samsung's latest smartphones is Maxim Integrated, which makes audio amplifiers, and may well get a boost from the heart rate sensor included on the new phones.
Vinh estimates that Maxim is likely to see spending for each new S6 and S6 Edge grow to $3.50 from $3 in the S5. That would translate into an additional $30 million in annual revenue and 5 cents a share for Maxim, assuming Samsung sells between 60 million and 65 million phones in 2015.
Must Read:
How IBM Continues to Rise in the Cloud as It Seeks to Boost Adoption
-- Written by Chris Ciaccia in New York