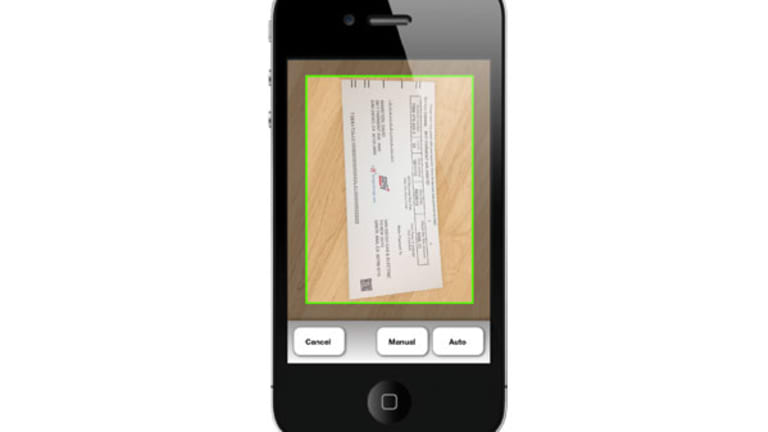 5 Bold Mobile Banking Predictions for 2014 From Mitek
Now that its mobile banking products have hit "critical mass," Mitek's head of marketing expects the company to add thousands of customers during 2014.
NEW YORK (TheStreet) --  Mitek Systems (MITK) - Get Report has seen incredible customer and revenue growth this year, and the company expects this growth to accelerate during 2014.
Mitek is the leading developer of smartphone camera-based mobile banking applications designed to make it easy for consumers to use mobile banking applications with as little data entry as possible.  The company this year added to its Mobile Deposit application by rolling out Mobile Photo Billpay, which was adopted by U.S. Bancorp's (USB) - Get Report main subsidiary U.S. Bank, NA in March.  This service allows a customer of a bank that has a mobile banking system simply to photograph a bill, with the bank doing everything else to get the bill paid.
Mitek rolled out its Mobile Photo Account Opening in September, and in October began offering a Mobile Photo Balance Transfer service, which is also being adopted by U.S. Bank, NA.  This latest service allows bank customers to use their smartphone camera to respond to a credit card balance transfer offer, with minimal data entry. 
Mitek reported that revenue for its fiscal 2013 increased 63% from a year earlier, to $14.8 million, while the number of banks signed up for Mobile Deposit grew to 1,420 from 564  a year earlier.  As of Sept. 30, 805 banks had "gone live" with the mobile service, increasing from 205 banks in September 2012.  The company's client base includes all of the top 10 U.S. banks.
Looking ahead, the company on Tuesday released a set of predictions for 2014, that Mitek head of marketing Scott Carter says are designed "to help our customers get ahead of the market.  We find when speaking with our clients that they are constantly back on their heels, reacting to what consumers expect in the mobile space."
Here are the five predictions, along with commentary from Carter:

Financial institutions will start to market to mobile-only users.
"We've gotten to the point where not proving access to mobile deposit is analagous to not providing consumer access through an ATM," according to Carter.  There are plenty of consumers who rely on smartphones and tablets for communication, shopping and bill paying, while shunning PCs.
"There is a transition among the younger demographic, as well as underbanked or lower income consumers, who tend to rely on mobile devices. There is also a segment of young and affluent consumers who want to do everything on their mobile devices," according to Carter.
Simplified mobile enrollment will more than double completion rates.
"I was speaking with a bank the other day, and they told me only 13% of their customers who initiate account opening via non-Mitek applications, actually complete the process," Carter says.  "This bank and a number of other clients seem almost to discourage mobile accont opening."
Mitek describes some mobile account opening procedures as "notoriously cumbersome process of trying to type on a tiny touch screen."  While that might lead one to complain about the entire smartphone market moving away from real keyboards, there's no indication that the keyboards are coming back.  Using a smartphone camera to capture data needed to open an account, including identification documents and a check to make an initial deposit, takes a way much of the pain, with most data entry only being needed if the customer needs to make a correction.
Mobile Deposit will be the preferred way to load prepaid cards and deposit checks.
It's obvious that a convenient prepaid debit card becomes rather inconvenient if the customer has to travel to a bank branch or to a store in order to load the card with money.  "Popular mobile services like Mobile Deposit are decreasing traffic to ATMs, pre-paid reloading locations and branch offices," Carter says.
By the end of 2014, the majority of Americans will have access to Mobile Deposit.
According to Mitek's press release, "nearly every financial institution in the country will offer the service by the end of the year as they fight to remain competitive."
That's a pretty amazing prediction, considering that there are nearly 7,000 banks in the United states, with another roughly 7,000 credit unions.  When asked how it would be possible for Mitek to sign up may thousands of new customers next year, Scott admits "we're being a bit bold here," but also expresses confidence that it can really happen. 
"The reason I am confident  is that we distribute our services through a large number of channel partners, speaking with a large number of customers.  We have compoanies like Fiserv (FISV) - Get Report, Jack Henry (JKHY) - Get Report, [Financial Institutions, Inc. (FISI) - Get Report] and NCR (NCR) - Get Report,  reselling and hosting the products us.  We have other partners specializing in mid-tier institutions, credit unions and so forth."
Mobile banking adoption will continue to increase.
Mitek expects "mobile banking will be adopted by 60% or more of smartphone users by the end of 2014."
Carter says banks will be moving "toward a fact-based approach, using data analytics to decide on which mobile products to offer their customers."  He added that some banks have mobile account activity limits, but that there is "no discernable difference" in risk to an institution with a $1,000 daily limit and a $10,000 daily limit.
"A top 5 bank told me the other day that they see the mobile channel as the safest channgel they deal with. Unlike otehr chanels, you have the benefit of the user being logged into an app.  They have additional information aboout the device, along with geolocation and other information.  So you know a lot more about that transaction than you do with other channels," he says.
Mitek's Stock
Mitek posted a net loss of $7.3 million for fiscal 2013.  When asked when investors might expect the company to turn a profit, Carter says "given the revenue we're seeing, we're very optimistic about the trajectory of the business."
Of course, for a software developer at the forefront of a transformative technology, customer and revenue growth are the most important items at this stage of the game.
Mitek's stock closed at $6.17 Monday, more than doubling from the end of 2012.
William Blair analyst Bhavan Suri rates Mitek "outperform," and in a note to clients on Dec. 3 wrote that the company "still has a roughly 18- to 24-month lead over its competition," noting it recently received its 18th patent and had 21 more patent applications pending.
"Based on the company's proprietary imaging technology and algorithms, the lack of competition in the mobile deposit market, and the proliferation of smartphones and growth in mobile banking, we believe Mitek could grow revenue more than 50% in fiscal 2014, and we believe the stock will outperform its technology peers," Suri wrote..
RELATED STORIES:
Volcker Reaction Pours In, Even Before Rules Are Published
Volcker Puts Non-Bank Financials Into Play
M&T, 5 Other Banks Shine in Deep Data Dive
Banks Face HELOC Default Threat
Big-Bank Stock Buybacks Should Be Much Higher in 2014
Citigroup Still Loved by KBW, Despite Downgrades

-- Written by Philip van Doorn in Jupiter, Fla.

Philip W. van Doorn is a member of TheStreet's banking and finance team, commenting on industry and regulatory trends. He previously served as the senior analyst for TheStreet.com Ratings, responsible for assigning financial strength ratings to banks and savings and loan institutions. Mr. van Doorn previously served as a loan operations officer at Riverside National Bank in Fort Pierce, Fla., and as a credit analyst at the Federal Home Loan Bank of New York, where he monitored banks in New York, New Jersey and Puerto Rico. Mr. van Doorn has additional experience in the mutual fund and computer software industries. He holds a bachelor of science in business administration from Long Island University.