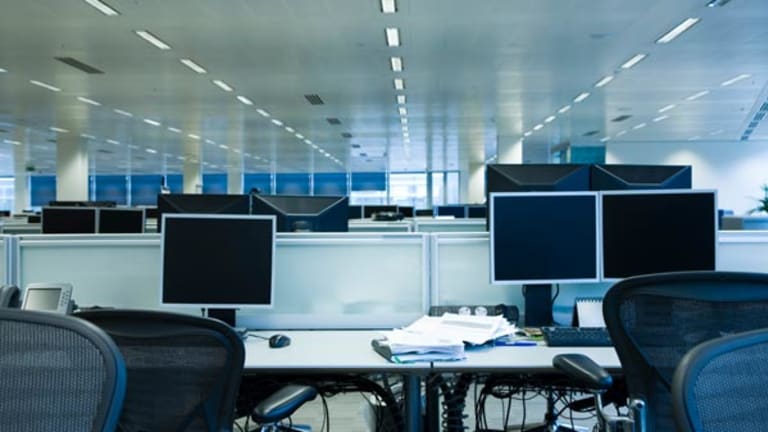 5 Big Tech Stocks With Cash to Spend
Despite lingering concerns about the economy, companies are deploying their cash through acquisitions. Here are some companies to watch.
This is an excerpt from a report co-authored by TheStreet analyst Jake Lynch and Kevin Kelleher, an analyst at the technology research provider GigaOM Pro.
BOSTON (TheStreet) -- The U.S. economy has entered a period of sustained if fragile growth. Companies have reduced hiring even in the wake of the recovery, leaving many of them with rising profits and ample stockpiles of cash. Despite lingering concerns that economic growth could weaken again, companies are opting to deploy their cash in strategic mergers and acquisitions, as evidenced, for example, by Microsoft's (MSFT) - Get Microsoft Corporation Report $8.5 billion purchase of Skype in May.
Given that many of the largest U.S. tech companies have cash on hand in the tens of billions of dollars, M&A activity is likely to continue or even increase in 2011. Companies with low stock valuations may be prompted to engage in cash deals rather than stock-financed transactions. Several factors are driving the trend, including industry consolidation, rising competition, corporate brand building, distribution and marketing, and capital needs at target companies.
TheStreet and GigaOM looked at the market landscape and strategic factors involved in tech M&A. We then examined five large-cap, cash-rich tech companies likely to engage in technology mergers and acquisitions as well as companies that might offer strategic fits for them.
Large-cap companies are expected to boost their equity values in 2011 with record cash on hand. The most obvious methods of doing so are dividend increases, share buybacks and acquisitions. Sectors with the highest predicted growth rates are under the greatest pressure to reward shareholders. Given the technology sector's prospects and available cash, it perhaps faces the loudest calls from investors who want to see the companies expand and boost profits.
Here are five potential acquirers investors should watch this year. For more details, browse the
.
IBM
IBM
(IBM) - Get International Business Machines Corporation Report
has become more serious about the mobile enterprise market. Last summer, the company opened a mobile software R&D center in Littleton, Mass., which focuses on developing software applications for the mobile market. IBM recently partnered with the Wholesale Applications Community, an alliance of global telecom companies, to create a cloud-based platform that will allow mobile phone operators to launch and maintain their own app stores.
IBM's ambitions to expand into mobile software and services could require the company to improve its storage and delivery solutions. Publicly traded storage and data management companies like
NetApp
(NTAP) - Get NetApp, Inc. Report
and
EMC
(EMC)
could be interesting targets, although NetApp's recent market cap of $20 billion would be easier to integrate than the larger EMC, whose market cap is above $57 billion.
IBM is also sure to strengthen its stance in the market for cloud computing. One possible acquisition in this area is Terracotta, which makes an open-source software that writes information to shared clusters of memory, a cheaper and faster alternative to information stored in databases.
Another area of interest for IBM is the market for application delivery services on wide-area networks. When
Cisco
(CSCO) - Get Cisco Systems, Inc. Report
moved into this space, companies had to buy into long-haul networks that carry large loads of data between cities. IBM could get around this costly option by buying a company like
Citrix Systems
(CTXS) - Get Citrix Systems, Inc. Report
, which offers virtualization, networking and cloud technologies. IBM has been making strides in this area, announcing a joint venture with
Akamai Technologies
(AKAM) - Get Akamai Technologies, Inc. Report
in April that aims to help clients transfer information across the Web faster.
Cloud technology could also allow IBM to enhance its activities in so-called clean technology. In March, the company announced a "smarter cities" initiative that relies on cloud computing to manage emergency services, transportation and utilities. Rio deJaneiro has contracted IBM to build an information management center for the city to help it respond to natural disasters. Clean-tech start-ups facilitating this vision could help IBM expand in this area.
In the field of enterprise social infrastructure, some start-ups have emerged that would be attractive buys for IBM,
Oracle
(ORCL) - Get Oracle Corporation Report
and Microsoft.
Bazaarvoice
is a clear example. Its technology helps blue-chip companies track online conversations and user-generated content like ratings, reviews and stories. Bazaarvoice can also help companies seed word-of-mouth and viral marketing campaigns.
Oracle
Cloud technology will be
Oracle's
(ORCL) - Get Oracle Corporation Report
standard growth venue going forward. As such, itcould be a key area of its M&A activity this year.
The company is likely to make plays involving cloud-computing technologies such as NoSQL and Hadoop. NoSQL has emerged in the past couple of years as a highlyscalable and flexible database management system that powers websites like
Google
(GOOG) - Get Alphabet Inc. Class C Report
and
Facebook
. Hadoop is an open source Java software framework used for a broad array of data-intensive tasks such as queries. Like NoSQL, Hadoop can bring efficiencies when handling large data sets. Just as Oracle transitioned away from its traditional model of packaged enterprise software and toward software as a service model, it could make NoSQL and Hadoop a priority in future deals.
Cloudera
represents a typical target. Much as
Red Hat
(RHAT)
has done for Linux, Cloudera commercially distributes and supports Hadoop-based software.
Like IBM, Oracle might also potentially target Terracotta. Another cloud company that could fit into Oracle's plans is
CloudBees
, a Java-based platform. CloudBees also runs a development cloud that is based on Hudson, an open-source technology to which Oracle claims the trademark.
Oracle is as hungry as any company to become a big player in mobile enterprise. In the guessing game of buyout rumors, certain names have surfaced as companies that could strengthen Oracle's hand:
VMware
(VMW) - Get VMware, Inc. Class A Report
,
Juniper Networks
(JNPR) - Get Juniper Networks, Inc. Report
,
Research In Motion
(RIMM)
. While any deal could be a blockbuster that would give Oracle an instant presence in the market, the company is just as likely to opt for a piecemeal strategy of smaller acquisitions.
In the past, Oracle has partnered with smart grid companies, including Grid Net,which provides smart grid networking and management, and CURRENT Group,whose focus is distribution grid management. Web acquisitions might include Box.net,a company transitioning toward a content-management model that might appeal toOracle's clients. Box.net could offer a low-cost alternative to Microsoft's SharePoint.
Microsoft
Mobile and cloud technologies remain too important to
Microsoft
(MSFT) - Get Microsoft Corporation Report
for it to stand on the sidelines much longer. But the circumspect attitude the company has shown in dealmaking suggests that it might focus on smaller-scale targets in areas such as mobile services and advertising.
In cloud computing, Citrix offers benefits similar to those that might help IBM --except that Citrix has a 20-year alliance with Microsoft. Couchbase markets a NoSQLdatabase as a platform for both Web and mobile apps, which hits two of Microsoft'smajor areas of concern in the near future.
Mobile presents much more fertile soil. Few companies are as vulnerable as Microsoft to the shift away from hardware-centric computing to cloud storage and mobile devices. Windows Mobile has seen its share of the global smartphone market rapidly erode. According to research firm Canalys, Microsoft's share of the smartphone market fell to 8.8% in 2010 from 13.9% one year before.
Microsoft responded with a new mobile operating system, Windows Phone 7. Whilethe software has earned mixed reviews, its biggest barrier to gaining widespreadadoption is the reluctance of developers to write apps for the platform. Buying a mobile phone manufacturer could help Microsoft produce enough devices to luredevelopers to Windows Phone 7, and speculation has begun to mount that Microsoftmight buy a company like Nokia or Research In Motion.
In February 2011, Microsoft forged a sweeping alliance with
Nokia
to make Windows Phone 7 the primary operating system on Nokia's high-end handsets. That Microsoft opted for a partnership rather than a merger with Nokia suggests that it remains cautious about large-scale transactions (Microsoft opted for a similar marketingpartnership with Yahoo in 2009 after merger talks hit a snag).
Possible candidates in mobile technology could include
WHERE Inc.
, a Boston-based company whose location-based mobile apps have an active user base of 4 million. WHERE also has an ad network that it claims reaches more than 50 million mobile users, offering a company like Microsoft a significant footprint in the mobile-ad space.
Although
Apple
(AAPL) - Get Apple Inc. Report
and Google have made significant deals in the mobile-ad space with, respectively,
Quattro Wireless
and
AdMob
, there are a number of other start-ups thatcould be attractive purchases for Microsoft.
Jumptap
is another Massachusetts-based mobile ad company that recently made a deal with Japanese ad giant Dentsu, giving it exposure to the Japanese mobile market. Millennial Media claims to reach more than 90 million unique mobile users each month. And Palo Alto-based Mobclix has a strong focus on iPhone apps, which could give Microsoft exposure to a rival platform.
A new wrinkle in online advertising is real-time ad networks. Microsoft has takententative stabs in this area with its AdECN exchange business. Its recent decision tooffload it to
AppNexus
could either presage a capitulation of the market to Google or herald an acquisition of AppNexus.
UberMedia
and
OneRiot
are also active in this space.
Microsoft has another potential strategy to combat Google: align itself with Facebook by building an ad network for the social site. This strategy could be aided by buying social targeting start-ups like
Lotame
,
BlueKai
or AudienceScience. Purchasing
LinkedIn
(LNKD)
, which recently went public, could complement a Facebook alliance by providing the social Web giant with a business-focused social network.
Microsoft could also build on the popularity of its Xbox and Kinect devices byacquiring gaming technology companies like
Rovio
, the producer of the wildly popular Angry Birds games, and
PrimeSense
, a maker of 3-D vision technology.
Cisco
The primary risk facing
Cisco
(CSCO) - Get Cisco Systems, Inc. Report
is the commoditization of its core business of Internet switches and routers. Cisco has been successful in using innovation to keep forwarding the high end of these markets, but it's clear from recent conference calls with analysts that cost cutting is occurring at companies, especially municipal and federal governments, and that demand is growing faster at the lower end of the Internet infrastructure spectrum. Competition from HP and others is pushing down prices, leaving Cisco in a difficult position.
The storage and virtualization sectors could offer appealing venues for Cisco to expand its revenue streams. Cloud software gives Cisco the opportunity to sell a full-service cloud stack -- not just servers but virtualization and management software.EMC and its VMware, which is majority-owned by EMC, would fit this bill. But Cisco's23% operating profit margin in 2010 is substantially higher than those of EMC and VMware (16% and 15%, respectively). Both deals would also tax Cisco's $40 billion cash stockpile, and a severe discrepancy between valuations (14 times earnings for Cisco, versus 31 for EMC and 100 for VMware) would make a stock transaction problematic.
Instead, smaller companies offering access to adjacent markets could draw theattention of Cisco's managers.
Aspera's
high-speed file-transfer technology might offer Cisco a new asset, as could management software firms helping Cisco improve its presence in network visualization. Candidates here include
Xsigo
, a maker of virtual I/O systems for data centers, and
Vyatta
, which makes open-source router software and router hardware. Infrastructure as a service could be another draw, as start-ups such as
Eucalyptus
and
Cloud.com
present entry points.
Mobile presents another challenge for Cisco. As mobile data consumption continues to increase, Cisco must expand beyond the basic mobile infrastructure it offers today. The company can look to targets that help deliver data while minimizing traffic on mobile networks, especially when it comes to the data-heavy area of mobile video. While many candidates are active in this area,
Bridgewater Systems
, which brings video, commerce and social networking services to mobile service providers, might fit Cisco's needs.
Cisco's consumer operations were an area of weakness in its recent quarter, a trend underscored by the February departure of the executive in charge of the consumerdivision. The company said in April that it would shut its Flip camera division, whichhas been struggling to compete with smartphones. Cisco may turn to acquisitions torevive growth in its consumer division. Companies such as
Boxee
,
Rovi
(ROVI)
and
Sonos Networks
(SONS)
may offer appealing targets.
Boxee and Rovi could assist Cisco in its need to socialize its set-top software, rooting its consumer offerings in growing markets and building a more robust platform. Rovi's ownership of grid-guide patents and metadata could also be valuable, as could its new TV-commerce business initiatives. Sonos' multiroom streaming technology could offer an entry point into home entertainment with a more attractive valuation.
Cisco also has an opportunity to bring social Web technologies to its corporate clients through Jive, a Facebook-like social networking platform that allows Web-basedinteraction between employees, partners and customers, as well as Mzinga, whoseSaaS platform assists companies in consumer research and decision-making.
Hewlett-Packard
There are many small and midsize companies that could enhance
Hewlett-Packard's
presence in several fields.
The consumer market is an interesting area for HP. After supplanting the Compaqbrand in PCs, HP devoted marketing dollars to pushing its own desktops and laptops,only to find that consumers were gaining interest in netbooks, smartphones andtablets. In theory, the Palm acquisition should help HP there. But like Microsoft, HP isfinding that a viable mobile OS isn't enough. It needs much more to engage a broadbase of consumers.
Yet forays into the consumer market haven't panned out for HP. Its attempts to move into television sets have proven ill-starred. It could make another attempt with a proven success like Vizio, was to offer a low-cost but useful alternative in HDTVs to theexisting market leaders. Vizio is not only focused on a cost-effective model but it's alsoon the vanguard of companies adopting new technologies in consumer TV sets.
Still, there are other options for gaining a presence in consumers' living rooms without a big bet like
Vizio
. Roku -- known for its set-top box that streams
Netflix
(NFLX) - Get Netflix, Inc. Report
movies,
Hulu
shows and
Pandora
music -- has a platform for Internet-based apps and could, over time, integrate webOS into its hardware.
In mobile, HP could differentiate its mobile platform with compelling services. Beforeit can reach even that goal, though, the company needs to finish a preliminary task:turning webOS into a competitive mobile OS. An important plank in that strategy is amobile-ad network, which would make start-ups like WHERE,
Jumptap
and
Millennial Media
targets for HP as well as others, such as Microsoft.
In networking, HP is moving aggressively against market leader Cisco. An application delivery networking company like
F5 Networks
would be a valuable asset, helping HP in wide-area network optimization, application delivery networks, load balancing and otherareas. Quest Software could provide HP an avenue into virtualization, application anddatabase management.
HP may also be hungering for a bigger role in the cloud-computing story.
Appirio
-- whose mandate is to help enterprises accelerate their adoption of public cloud applications and platforms -- would bolster HP's cloud services portfolio andcounteract IBM's purchase of Cast Iron Systems and
Dell's
(DELL) - Get Dell Technologies Inc Class C Report
acquisition of Boomi. Othercloud-technology buys might include
Opscode
,
rPath
and
Puppet Labs
, which help companies automate IT infrastructures.
--
This is an excerpt from a report co-authored by TheStreet analyst Jake Lynch and Kevin Kelleher, an analyst at the technology research provider GigaOM Pro. For more details, view the full report.
RELATED ARTICLES
Apple Leads, Microsoft Follows on Technology
7 eBay Deals: Will Going Hyper-Local Mean Hyper Profits?
Disclosure: TheStreet's editorial policy prohibits staff editors, reporters and analysts from holding positions in any individual stocks.