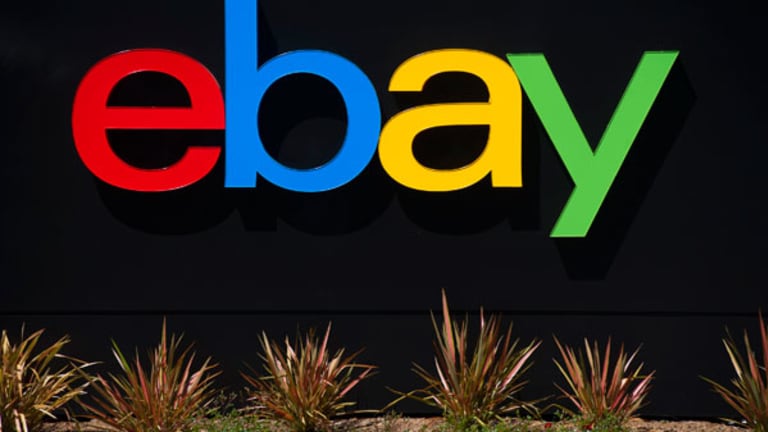 5 Big Takeaways From eBay's Earnings
Five key quotes from eBay's conference call, which bear watching, after revenue growth at the e-commerce giant's payments, marketplace and enterprise divisions was strong but the company gave a slightly light second quarter guidance.
NEW YORK (TheStreet) - EBay (EBAY) - Get Free Report, on Tuesday evening, posted a mixed first quarter earnings report. While revenue growth at the e-commerce giant's payments, marketplace and enterprise divisions is generally in the high teens, the company gave second-quarter guidance that was a bit weak.
EBay: We Are Not Announcing Any Large U.S. Acquisition
EBay Takes $3 Billion Repatriation Charge, Beats Earnings
More to the point, eBay raised more than a few eyebrows after disclosing a plan to repatriate $6 billion in net foreign earnings, creating a $3 billion non-cash charge against the company's first quarter earnings.
That charge meant eBay lost $1.82 per share in the first quarter. Adjusted EPS to exclude that non-cash charge, however, beat analyst consensus and the company's previous guidance. EBay reported a non-GAAP profit of 70 cents a share on revenue of $4.3 billion, beating core earnings forecasts.
But what is there to make of the $3 billion tax-related charge? Taking eBay's words at face value, the $6 billion net repatriation may aid the company in a variety of ways, bolstering U.S. cash balances significantly and allowing for investment in products such as PayPal, Bill Me Later and StubHub, while also giving the financial might to quickly make an acquisition.
According to eBay, the repatriation signals it sees investment opportunity in the U.S. versus abroad where much of the company's foreign earnings had been parked. When pressed to explain that change, eBay was a bit unclear as to whether it saw immediate investment opportunity in the U.S., for instance a large acquisition, or whether its repatriation reflected a long-term change.
"The company denied having a specific acquisition target(s) in mind, but we believe this move sends up a bright flare over Silicon Valley that it is looking for deals," Wells Fargo analysts said in a client note.
On a call with analysts, eBay confirmed that it continues to invest heavily in BRIC countries. However, the performance of eBay's BRIC investments and growth forecasts may be diverging. While eBay continued to express confidence in the company's growth trajectory in China and India, CFO Robert Swan did confirm geopolitical risks in Russia and a sharply slowing economy in Brazil had caused business in both regions to recently slow year-over-year.
One area of weakness was eBay's Marketplace division in the U.S>, which grew 10% year-over-year, while U.S. e-commerce grew 12% in the second quarter. Those revenues were impacted by weak auction activity at eBay and a falling take rate at StubHub, according to Bank of America Merrill Lynch analysts.
eBay shares were falling over 6% to $51.05 in early Wednesday trading.
Overall, many may be scratching their head from eBay's results, but, it's hard not to see the company as among the best-positioned in Silicon Valley to profit from consumers' increasing reliance on smartphones, mobile applications and new payment technologies to shop.
Furthermore, after a bruising battle with activist investor Carl Icahn that did cause some proxy-related expense to increase, eBay's investments such as Braintree, Magento and StubHub appear poised to pay off.
EBay Earnings: All Quiet On The Russian Front?
This year may be a crucial time where eBay's long-term investments in mobile commerce, local commerce, international expansion and data analytics more apparent to shareholders, Carl Icahn included.
Here are five key quotes from eBay's conference call, which bear watching.
Growing Opportunity in the U.S.
"Our capital allocation philosophy has been to maintain our financial flexibility to capitalize on opportunities as they arise. The reality is, we're seeing growing opportunities in the U.S. We announced a large stock buyback in the quarter, and we are executing aggressively. Additionally, we're an acquisitive company and we need to ensure we have the resources available to capitalize on targets that become available both domestically and abroad. Just to be clear, we are not announcing any large U.S.-based acquisition, nor are we committing to finance our share buyback with offshore cash. What we are doing is ensuring we have the capital available for U.S. needs. And in light of the sequence of events in the quarter, and the opportunities in front of us, we now have greater financial flexibility to capitalize on them," eBay CFO Robert Swan.
Maintaining Guidance, But Promotional Spending May Rise
"We feel good about the start of the year and we are maintaining our full-year non-GAAP guidance. Let me provide you a little more context. First, we had a solid start to the year with some of the benefit from delayed spending at PayPal. Second, we were opportunistic buying back shares of our stock in the quarter, and this will be offset by the increased tax rate from the change in our foreign tax election. Third, we have and will continue to protect our franchise and make fee changes as appropriate to compete and win, much like the changes we are making at StubHub for the year. And finally, favorable currency tailwinds will be offset by our higher proxy-related costs.
So for the full year 2014, we expect revenue of $18 billion to $18.5 billion, representing growth of 12% to 15%. We anticipate non-GAAP EPS of $2.95 to $3 a share, representing growth of 9% to 11%. And we now expect our full year 2014 non-GAAP tax rate to be in the range of 20% to 21%. For the second quarter 2014, we expect revenue of $4.325 billion to $4.425 billion, representing growth of 12% to 14%. And we anticipate non-GAAP EPS of $0.67 to $0.69, representing growth of 7% to 10%.
StubHub's Falling Take Rate
We continue to make investments with fees that are competitive relative to the value proposition that we provide. More specifically, this year we have made changes to StubHub's fee structure. The fact is we are going to lower fees and that lowering of fees this year will have a reasonable impact on our overall revenue for the year. And we're doing it because we've built a great franchise. Now we're going to invest to protect and extend that franchise to be the leader in secondary tickets going forward. But it will have an impact both on revenue and earnings for the year, and despite that, despite those actions to protect our position, we'll maintain our full-year guidance on top and bottom line.
Explanation of the U.S. Repatriation
[H]istorically we've assumed that the significant majority of our international earnings would be permanently be deployed internationally. And as a result, we didn't provide for U.S. taxes for those earnings. I think what's changed is, the opportunities in the U.S.,while we have a strong balance sheet and our cash balance continues to grow, the opportunities in the U.S. are even bigger. Obviously, the $5 billion buyback that we announced, and we will continue to be acquisitive here in the U.S.
So when you look at our philosophy around capital allocation and where we see the majority of the cash being used, our historical election was no longer valid, so that resulted in the accounting change," CFO Robert Swan.
Come On Is There an Acquisition on The Horizon?
"We have a very, I'd say consistent approach to how we assess acquisitions, which is we look for acquisitions that could strengthen our core business. Those primarily tend to be outside the U.S., things like our acquisition of GittiGidiyor in Turkey or Gmarket Korea. Second, we look for ways to extend our business platforms, our business models. So the acquisition of StubHub would be an example.
The acquisition of Bill Me Later would be an example; the acquisition of Braintree. And if you look at what's happening in the world of commerce and payments, there's a lot of action, a lot of activity. So, we continuously assess opportunities to where we think it will be strategically and financially valuable to extend our platforms, our eBay and PayPal and eBay Enterprise platforms.
And then the third area is more capability acquisitions, where we're buying a technology or buying a management team, buying capabilities that are new to us. And so the acquisition of Zong would have been a case of that. Or the acquisition of Shutl in the UK, where we're buying a technology we wouldn't otherwise have, but combined with our current technologies or current platforms it can generate growth. So, we have nothing specific we're signaling other than there's a lot of activity and we want to have the financial flexibility and freedom we need while also doing the share buyback. So we just think this positions us to be on our toes as we look forward over the coming years," CEO John Donahoe.
New PayPal Products
"[On] PayPal, David and team have really worked on revamping many of our major flows, so new onboarding flows, the checkout experience, both on mobile and on web, updating PayPal Here, you'll begin to see us do some things and experimentation on the local front around Check-In and Beacon. So I view this as process of continuous innovation and I think our capacity and our ability to innovate and then roll out and execute is just getting better each year. And over time, what drives growth is the aggregation of a lot of little things more than any one big thing," CEO John Donahoe.
BRIC's Diverge
"[We] have a very global footprint, but we also believe that we have significant opportunity in the four BRIC markets. And we are positioning ourselves to capitalize on those. We start with our strength which is cross-border trade. And over the years we've built cross-border trade where we get a growing user base within each country, and then we migrate to how do we build a domestic offering. And I think that path has evolved a little bit differently market-by-market.
India has always been a good market for us. We made an acquisition there a decade ago and more recently we made an investment in Snapdeal who has a very complementary offering to what it is that we provide in the local market. So there that approach has been a cross-border business but also a strong domestic business coupled with a complementary partner where we took an equity interest in, and we're obviously excited about the potential long-term growth of India.
Russia and Latin America, Brazil in particular, have been growth opportunities for us, I would say, in both cases despite what I'd characterize as some relatively good traction over the course of the last 12 months, either because it's the state of affairs in Russia or some of the higher cross-border barriers that have been put in place in Latin America. While those have been good sources of growth, they're still relatively small, and they're not growing as much in the last 60 days as they were in the second half of last year. But still, these are emerging markets. They're big opportunities for us, they're relatively high beta. And we'll be disciplined in terms of how we approach those markets over time," CFO Robert Swan