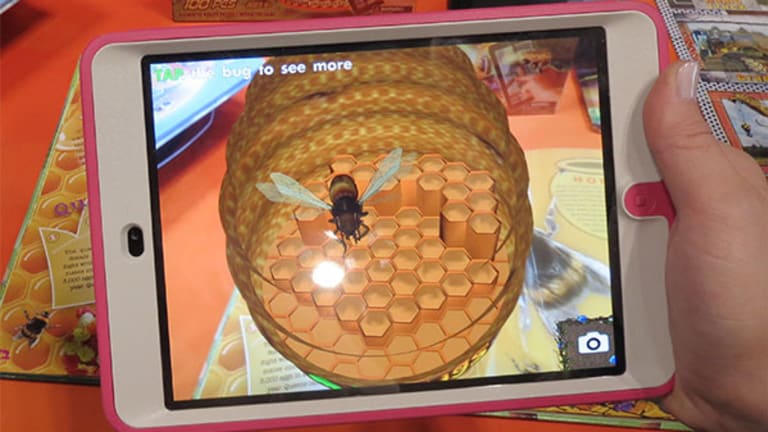 5 Awesome Toys Controlled by Apple iPhones
More than 30,000 attendees crowded last week's American International Toy Fair, hosted by the Toy Industry Association in New York. Here are a five digital toys we found that kids are sure to love.
NEW YORK (TheStreet) - More than 30,000 attendees crowded last week's American International Toy Fair, hosted by the Toy Industry Association at the Jacob Javits Center in New York.
Throughout the four-day event big and small toy makers and kid-friendly product companies showcased their wares to buyers, the media and other industry types.
Traditional brands like Crayola, LEGO and Mattel (MAT) - Get Free Report invaded the Javits center to show off their latest gear, but there were a host of smaller companies looking to get their merchandise in stores.
TheStreet headed to the Javits Center last week to take in this year's Toy Fair, but one day wasn't nearly enough to survey the hundreds of companies exhibiting.
That said, in today's digital age, kids are more comfortable than ever with technology. In fact, the association hosted its Digital Kids Conference over the final two days of the Toy Fair.
"Digital devices are really the fork and spoon for kids today," Tony Bordon, head of Lionel Trains' digital media division, said during a presentation on "Reinventing a Heritage Brand for Young Digital Consumers."
Plenty of companies were at the Toy Fair to display their Apple (AAPL) - Get Free Report iPhone or Google (GOOG) - Get Free Report Android-led toys. Here are a few digital toys we found that kids are sure to love.
WikiBear
Commonwealth Toy & Novelty Co.
Smarter than a ..... teddy bear?
Maybe it was the resemblance to Ted, but WikiBear was getting a lot of attention at the toy fair. Of course, WikiBear is a friendlier, G-rated version of the movie version stuffed bear persona, voiced by Seth MacFarlane.
Targeted for kids ages four to eight, WikiBear is a battery-operated voice-activated stuffed (hello Bluetooth!) bear that connects wirelessly to any smart device. Kids simply have to download the app and start talking or asking questions.
If the information is in Wikipedia as well as other Web sites or content on the attached smartphone's apps (that could include asking it to play music, read from a downloaded book or about local news such as sports or weather), WikiBear should have an answer for them.
WikiBear also holds original content such as stories about cowboys, wizards, fairies and princesses for children, the company says. And it has its own opinions for questions such as favorite color, ice cream flavor or story it likes. WikiBear can remember names, likes and dislikes and more to allow the stuffed animal to interact with kids.
The high-tech teddy bear is positioned as a confidence booster and good for socially anxious children, the company says.
While the bear is still in beta, it's set to officially hit stores in September, with a few slight changes. (For one, WikiBear's voice will be changing to mimic a child's voice to sound less robotic.) WikiBear will sell for between $59.99 and $69.99.
Tattoos Alive
Glimmer Body Art
Here's the latest innovation in water-based tattoos, of course involving tablets and smartphones.
Glimmer Body Art launched Tattoos Alive at last week's Toy Fair, positioning the tattoos as an innovative twist on the traditional Cracker Jack tattoo.
It's targeted for girls and boys, ages 6 through 14, where downloading an app is second nature. The tattoos turn into 3-D creations that sing, dance or crawl after scanning a smart device and associated app over the tattoo.
"Static robots, dinosaurs and princesses turn into jumping, running and dancing creations. Spiders will crawl up arms, peace signs will turn into animals that rock out to pop songs and dragons and fairies dance to music," according to the press release.
Kids can take a "selfie" photo in different settings to make the memory last forever.
The tattoos will be available in specialty stores as of April 15. The tattoos are sold for $1.99 for an envelope of six, and $4.99 for a box of 24. Kids must also purchase a Tattoos Alive kit, download the free app to scan over the tattoo.
Tiggly
Tiggly provides educational iPad toys for toddlers and pre-school aged children. With kids learning practically soon after birth how to operate a smart device these days, the toy seeks to match digital and physical play for kids.
Rather than children sitting watching a video, Tiggly's physical shapes and counting blocks are used through a program that is run through a tablet.
Toddlers aged 18 months to four years can practice learning shapes and numbers through the software that will help develop their motor skills, spatial reasoning and creativity. It is designed for both solo and group play, the company says.
Tiggly is sold online for roughly $30 on Amazon (AMZN) - Get Free Report, Giggly.com, Nordstrom (JWN) - Get Free Report and others. Offline it's sold at Apple stores, Imaginarium and other specialty retailers. Tiggly comes in seven different languages.
Popar
Digital Tech Frontier
Continuing with the 3-D theme, Popar Toys seeks to enhance children's reading experience by providing an educated, yet fun and exciting experience with books.
Popar says on its Web site that it uses Augmented Reality technology to create the immersive reading experiences.
While the books can standalone, users who download the app and then scan a book or catalog code will definitely experience an entirely new and innovative way to use the books as a learning tool. Objects and animations literally pop off the books when viewed through a tablet. Themes include bugs, safari, planets and princess personifications as well as sports, construction, the solar system and world landmarks (geography).
During one specific book demonstration showing human anatomy, it's hard not to think that teachers would benefit from using an interactive tool like this in their classrooms.
The book are recommended for ages 5 through 13 for both boys and girls, and retail for $12.99 to $19.99.
PowerUp
Turn your old paper airplane into a smartphone-controlled flying machine.
PowerUp 3.0 is a paper airplane conversion kit that includes Bluetooth technology to enable roughly 10 minutes of flight. Downloading the app allows users to ascend or descend using the throttle, tilt the iPhone left or right for maneuvering, as well as providing an artificial horizon, among other things.
The Kickstarter-funded campaign was so popular that it exceeded their $50,000 goal in eight hours over Thanksgiving. The campaign closed in January with $1.2 million in funding from more than 21,000 backers.
PowerUp is recommend for ages 14 and up.
It's selling for $49.99 and will be available in June.
The company is taking pre-orders online and will also be available on Amazon.
--Written by Laurie Kulikowski in New York.
Disclosure: TheStreet's editorial policy prohibits staff editors, reporters and analysts from holding positions in any individual stocks.