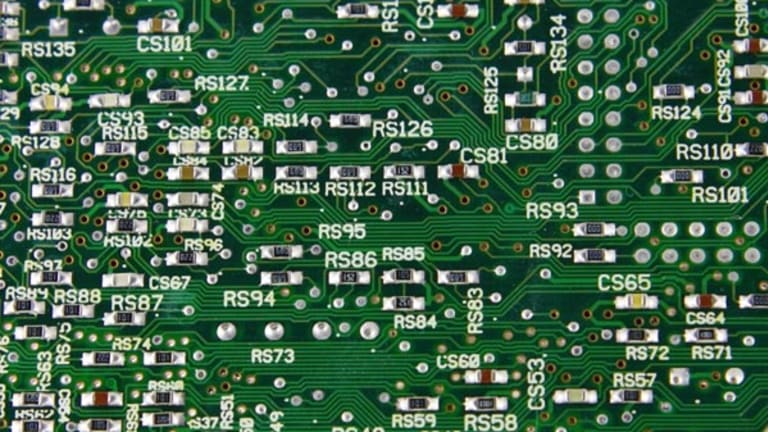 (LED stock story updated for Cree earnings, analyst commentary, bullish ratings on Veeco and Rubicon ahead of earnings reports)
NEW YORK (
) -- LED lighting stock plays like
Cree
(CREE) - Get Cree, Inc. Report
and
Veeco
(VECO) - Get Veeco Instruments Inc. Report
tend to elicit strong sentiment from investors, and Cree's earnings disappointment on Tuesday afternoon in the after hours session got things off to a volatile start for the LED stocks in this earnings season.
Cree shares are down close to 10% since it missed the street consensus on the top line and guided lower than the street for the next quarter. Another round of bull and bear debate over the fate of the LED stocks is off and running, and the bears have the early lead thanks to the Cree numbers.
Bears are focusing in on a new target too, Cree's decision to reduce its spending plans for 2011.
First a quick recap of recent trading leading up to the Cree results. It's been all or nothing with the outlook in the LED lighting market recently. From August to the end of September, negative sentiment sent the LED stocks lower as weak data rolled in from the consumer electronics market and fears of an inventory glut made the LED bears triumphant. In October, though, the bottom in the LED stock selloff seemed to be reached and Cree and Veeco recovered somewhat.
Last week, amid a big rally in shares of Cree, Veeco, and European LED equipment maker
Aixtron
(AIXG)
, there were a host of theories in the market for the rebound.
A key official in the lighting business of
General Electric
(GE) - Get General Electric Company (GE) Report
predicted that LED lighting would represent 75% of GE's lighting business in 10 years. Some LED stock analysts said it takes little more than a comment like that from GE to jumpstart a rally. Other LED stock watchers note the 10-year time horizon from GE shouldn't be news to anyone who follows the LED space.
LED stocks earnings, though, may provide a better read-through of sector fundamentals. Cree answered one question on everyone's mind already: would it recover from last quarter's surprising earnings disappointment? No, at least not yet.
Equipment maker Veeco distanced itself from a knee-jerk reaction to Cree, actually ending up on the day after Cree reported. Was it a sign that investors finally understood the the LED equipment cycle isn't so closely tied to the Cree outlook?
On that point, Mark Miller, analyst at Noble Financial Group, said, "Cree and the equipment makers like Veeco and Aixtron may trade like a group, but Cree is far more exposed to short-term pressure because it has more competitors and its order backlog is not as large as the equipment makers."
Can Veeco continue to show momentum in LED equipment sales, or should investors sell any LED stock based on the Cree results?
Has equipment maker Aixtron peaked and is set up for a fall? Will
Rubicon Technology
(RBCN) - Get Rubicon Technology, Inc. Report
earnings show that its business is under the type of margin pressure typical of tech commodities?
Cree shares, which reached as high as $83 this year, were near the $53 mark before its after hours release on Tuesday, which put them close to flat in trading in the year-to-date period. Cree shares were back down in the range of $48 after its earnings disappointment.
What follows is a quick review of the bull and bear arguments to monitor in the quarterly numbers set to be released by the rest of the LED lighting stocks, and some post-Cree earnings conference call highlights.
The LED earnings reports should give investors some fundamentals on which to base their LED stock trading. Given previous earnings periods, though, that trading is likely to again be volatile.
Analyst Opinion on Cree:
Yari Reiner, Oppenheimer & Co.:
"Even with the recent stress of the inventory correction, remember that the LED backlighting only represents 25% of the TV market, and within the next two to three years the penetration rate should approach 100%, so the opportunity to take more share remains big. Cree doesn't want to be tied to this commodity market, but Cree still has a long way to go in decoupling, even if its current quarter exposure to the commodity flat panel market is on the order of 10% to 15%.
(Editor's note: Cree said in its earnings that backlighting exposure was roughly 6% to 7% of sales)
"The key metrics for Cree will be margins and the top line
(Editor's note: in addition to missing the street revenue peg, Cree gross margin dipped slightly from the prior quarter. Cree bulls, and even some Cree beats argue that the decision to reduce spending for 2011 will help to sustain margin levels. The staunchest of Cree bears say that the long-anticipated margin erosion has begun).
"On the other hand, if the Cree numbers disappoint, it's going to provide some support to the gamut of skeptical assessments of Cree, including the fact that the inventory correction in the commodity market could take longer than expected, that the distinction between the commodity market and general lighting is not as clear as believed, and that others are encroaching on Cree in general lighting."
(Editor's note: Cree stressed in its earnings conference call that it plans to be a pricing leader in the LED sector. Specifically, Cree said: "Chip demand was soft and there was price erosion, but the net result is that margins held up pretty well, so we have leverage in the factory. In the LED component business pricing has come down each quarter, but we were being aggressive 6 to 9 months ago. If we want to drive this market from 2% to 50% or higher, we have to reduce the price of LED lighting and we want to be pushing that.")
Andy Abrams, Avian Securities:
"Everyone knows that the flat panel backlighting market is what brought Cree stock down from the $70s to the $50s. The next question is about the general lighting business and it's harder to answer. I'm not sure how it will play out. Backlighting has been the much easier opportunity, and the penetration rates in backlighting are still low, while on the other hand I don't think there will be a gigantic rush to feed the general lighting industry. Margins in the lighting business are the more important part of the equation."
Patrick Ho, Stifel:
"The summer swoon in the LED stocks was driven by the importance of backlighting. That's a technology sector driver. I remain more cautious or you could even say bearish about the general lighting market. I'm not saying it won't be adopted, but I'm more cautious on the timing and the price point. Pricing in the LED lighting market still needs to come down a lot before there will be general adoption."
Bill Ong, Merriman Curhan Ford:
"I'm still concerned about Cree because the backlighting market has excess inventory and it weighs on Cree, even though it's not the lion's share of their business. The general lighting market is seeing increased competition, too, leading to margin pressure."
Analyst action on Cree post-earnings:
Bank of America/Merrill Lynch and Morgan Stanely cut Cree to neutral from buy.
Gabelli Securities went from a buy to a sell on Cree.
Sterne Agee reduced its price target on Cree from $112 to $82.
Analyst opinion on Veeco earnings movers:
Yari Reiner, Oppenheimer & Co.:
"The fundamental question is to what extent tools shipped this year will be sufficient for the growth to come in 2011. What we've seen again and again is that tool orders go through waves: new applications hit and there is a wave of demand, but after the surge there is a fall-off as tools are digested.
"A very big factor here is beyond the typical question of supply and demand, the distortion created by government subsidies in China and a larger part of incremental orders from China reflecting subsidies to local and international companies with lighting manufacturing in China. As long as that lasts it can keep tool orders up, even if the underlying demand doesn't support that level of installations. There is certainly a risk that China reduces support, but given the opacity of Chinese government thinking, it's always difficult to assess and quantify.
"Cree is more linked to the sales trends than the equipment makers like Veeco. The equipment makers only grow revenue when growth is accelerating. It's when the LED makers decide they need more capacity that tool makers grow. Toolmakers need to see accelerated growth from customers. Therefore, results from toolmakers will be a reflection of what's going on with Chinese subsidies and a reflection of the extent to which LED makers were perhaps overly aggressive in 2010 ordering."
Mark Miller, Noble Financial Group:
"I think there's been lots of investor disconnect in the LED space and people playing too much short term concern that shipments top out in the fourth quarter. The general lighting opportunity is really starting to ramp in the second half of next year. Hedge fund Caxton Associates recently announced a 5.3% stake in Veeco and we are hearing that hedge funds are backing off on Veeco short positions with general lighting starting to ramp.
"End shipments will be pausing for Veeco, but there won't be a crater-like decline. We expect a record quarter for Veeco. Veeco having a great quarter shouldn't be a surprise to anyone, and people who thought the worst are thinking twice."
Patrick Ho, Stifel:
"Veeco shares have moved in the $30 to $40 range, but are again nearing $40, which could be close to a near-term top and I wouldn't be surprised to see shorts come in again. That said, I wouldn't be surprised if Veeco delivers strong results and a decent outlook. If Veeco gives good guidance I wouldn't be surprised to see the stock up. But expectations continue to rise for Veeco, and any signs or talk of pause in new orders or revenue leveling will serve as a negative catalyst. It's the second half of 2011 and 2012 where the uncertainty is focused."
Bill Ong, Merriman Curhan Ford:
"I still think Veeco has revenue upside. Orders went up last quarter from 268 to 347 and revenue went up from $153 million to $260 million. Veeco has a very easy set of comparison numbers so should go up as a result of reported bookings lifting revenue.
"Still I'm concerned about the overheated spending that the Chinese have been doing, buying lots of Veeco tools and Aixtron tools and spending headed down. China has been propping up the strong orders and there will be a day of reckoning."
Recent analyst action on Veeco:
Barclays Capital initiated coverage of Veeco this week with an outperform and a $50 price target. Notably, Barclays also initiated on Aixtron and Cree, but at a hold on both of these LED companies.
Here's the tale of the earnings tape on Veeco:
Consensus EPS Estimate:
$1.25 per share
Range of EPS Estimates:
$1.18 to $1.32
Earnings Consensus Direction in Previous 30 Days
: up slightly
Previous Quarter EPS:
$1.01 (outperformed Street consensus of 18 cents)
Consensus Revenue:
$273.7 million
50-Day Moving Average:
$35.87
Share Price Gain or Loss on Day of Last Earnings:
$4 loss
Lowest Share Price Since Last Earnings:
$31 (August 24)
Highest Share Price Since Last Earnings:
$$45.52 (August 4)
Analyst Opinion on Aixtron Earnings Movers:
Andy Abrams, Avian Securities:
"The positive trend for Aixtron and Veeco is that the equipment makers shipped a lot of tools, so even if things are slowing down, with the lead times on equipment orders we won't see it yet. We might see it in order numbers but not in the top line. The shipment numbers should be good, but with all the orders coming from China, orders are what count. Everyone else has slowed down their buying but China. What needs to be decided is whether the bears were wrong about the slowdown. Are things getting back to normal? Everyone knows revenue will be good, but if the backlog is changing and customers pushing orders out past 12 months that's a big negative.
"Strong revenue may shift investor sentiment for a day or two, but people are already looking past that. We are near an inflection point for the equipment makers: either things slow down on orders or everyone misunderstood how big this order cycle is. Right now people assume we are getting near the end of the order cycle and getting into an oversupply situation.
"That said, I'm not a big believer in the China subsidy concern. Most of the companies buying equipment are medium to large-size producers and it's the really small players in China who couldn't keep ordering without the subsidies. The big manufacturers in China wouldn't be paying for a big chunk of these operations if they didn't think there was time left in the demand cycle. Also, China wants to dominate this industry and will continue subsidies for a while. Sure, you have to be more cautious about China managing the LED business, but in all honesty, if they took all the subsidies away it would only make a small difference to large manufacturers."
Bill Ong, Merriman Curhan Ford:
"One metric I'm looking at in the LED market is the capital spending intensity number. The ratio of dollar spent divided by revenue is at 23%, and that's high for the semiconductor space. For a healthy supply/demand balance, companies need to be investing 20 cents on the dollar, or within an 18% to 22% capital investment range. Even 22% was overheated for the chip sector in the 90s.
"Both Veeco and Aixtron may react to the Cree results, but Cree is not a pure read for them, just a general macro read on LED demand. If Cree says their business is showing weakness it will have an impact on the equipment makers, but it will be a knee jerk reaction if Cree misses. We won't find out whether any derivative trade based on the Cree earnings has staying power until the equipment makers release their quarterly numbers.
"While Veeco has revenue upside left, I'm not so sure about Aixtron. I think Aixtron may be topping out. Its bookings were up 3% in March and 4% in June, and maybe 5% in the September quarter.
Recent analyst action on Aixtron:
Barclays launched coverage at a hold and a price target of $32, citing lack of upside potential.
Piper Jaffray reiterated an underweight and lowered its price target by $1.40 on Aixtron this week after a trip to Asia and fears about weak end market demand.
Here's the tale of the earnings tape on Aixtron:
Consensus EPS Estimate:
50 cents per share
Range of EPS Estimates:
47 cents to 52 cents
Earnings Consensus Direction in Previous 30 Days:
static
Previous Quarter EPS:
42 cents (outperformed Street consensus of 61 cents)
Consensus Revenue:
$205.1 million
50-Day Moving Average:
$28.07
Share Price Gain or Loss on Day of Last Earnings:
no change (Aixtron shares had dropped by more than $3.50 in three days leading up to earnings)
Lowest Share Price Since Last Earnings:
$24.30 (August 24)
Highest Share Price Since Last Earnings:
$32.62 (Oct. 14)
Analyst opinion on Rubicon earnings movers:
Bill Ong, Merriman Curhan Ford:
"I initiated with sell a week and a half ago on Rubicon, and I'm concerned about the pricing premium pretty much coming to an end. Pricing has stabilized and margins at 50% represent a peak level, especially with more competition. This is a commoditized market. The IP in the LED space is in the chip and equipment, not in Rubicon's sapphire substrate.
"The Rubicon situation reminds me of when polysilicon prices in 2007 went from $50 to $450 dollars and goosed margins for suppliers to the semi and solar sector. When pricing fell because of increasing supply, polysilicon went right back down. I see Rubicon enjoying this pricing premium because of shortages, but with increased supply coming on in Japan and China, the argument that Rubicon is best of breed is hard to make.
"Rubicon will print a good number for the September quarter, but I think it's as good as it gets: margins will flatten going into the new year, and the earnings catalysts are negative. The number they print is about the past, and with the weakening in the LED market since August and increasing supply in the lighting market, customers who were scrambling to buy at premiums won't be paying up any more. The demand is still strong enough for Rubicon to sustain momentum for several quarters. They may even acknowledge backlighting weakness but argue that they are so well positioned it doesn't matter. I think it's tough to make that argument when everyone around you is falling."
Yari Reiner, Oppenheimer & Co.:
"This is a pure commodity market with pricing determined by supply and demand, and supply has been tight over past year and as a result Rubicon growth has been pronounced. The question for Rubicon is how long the supply demand imbalance remains. It's easy to get a handle on the supply side of the equation. We know the main players and how much capacity they are bringing online. What's more difficult is the demand picture.
"Our estimate is that the supply demand imbalance begins to shrink after the fourth quarter, but the market won't see the change until the final months of 2011. That means several more quarters of strong earnings for Rubicon.
If Rubicon is unable to provide meaningful upside to current estimates for the fourth quarter, it will be a negative earnings catalyst. Investors get the sense that the third quarter marked the top in pricing and pricing trends are beginning to deteriorate. Investors have been burned through lots of experiences with upstream companies like Rubicon and tend to be conservative, but it's hard to be too conservative when things are going well. That said, any sober commentary from Rubicon would be read by the market as a negative catalyst."
Recent analyst action on Rubicon:
J.P. Morgan added Rubicon to its U.S. Equity Analyst Focus List on Thursday with a price target of $36, citing earnings upside and predicting a 'beat and raise' quarter. Rubicon shares rallied by more than 7%.
Here's the tale of the earnings tape on Rubicon Technology:
Consensus EPS Estimate:
30 cents per share
Range of EPS Estimates:
28 cents to 40 cents
Earnings Consensus Direction in Previous 30 Days:
up slightly
Previous Quarter EPS:
18 cents (outperformed Street consensus of 61 cents)
Consensus Revenue:
$20.3 million
50-Day Moving Average:
$22.64
Share Price Gain or Loss on Day of Last Earnings:
lost $5 in week post-earnings
Lowest Share Price Since Last Earnings:
$18.74 (Oct. 13)
Highest Share Price Since Last Earnings:
$28.17 (Sept. 3)
--Written by Eric Rosenbaum in New York.
To contact the writer of this article, click here:
NAME
.
RELATED STORIES:
>>LED Stocks, More Bad News From Display Market
>>LED Stock Losers: the Shorts Own Veeco
>>When Will the Bleeding End for Cree, LED Stocks
>To follow the writer on Twitter, go to
.
>To submit a news tip, send an email to:
.
RELATED STORIES:
Copyright 2009 TheStreet.com Inc. All rights reserved. This material may not be published, broadcast, rewritten, or redistributed.