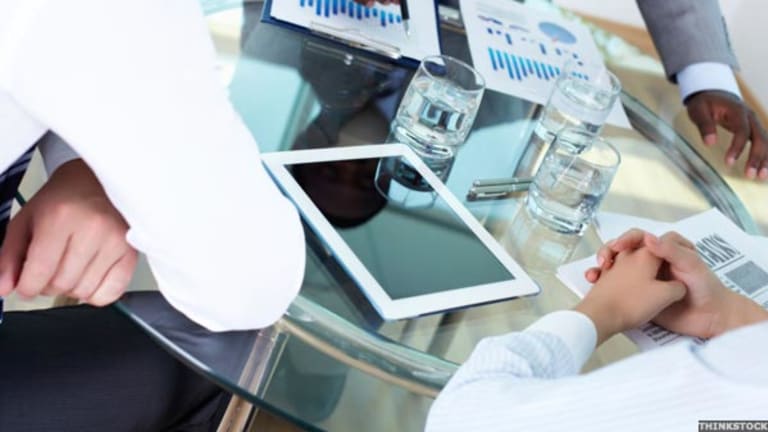 4 Tech Giants to Post Big Earnings Gains
Amazon and Qualcomm are among technology companies expected to benefit from stronger spending.
BOSTON (TheStreet) -- Apple's (AAPL) - Get Apple Inc. Report and Google's (GOOG) - Get Alphabet Inc. Class C Report earnings reports last week were overshadowed by news about changes in the top ranks.
As second-tier technology companies release fourth-quarter earnings this week, investors are likely to get a better view of the industry's strength as the economy rebounds.
Amazon
(AMZN) - Get Amazon.com, Inc. Report
,
Yahoo
(YHOO)
,
EMC
(EMC)
and
Qualcomm
(QCOM) - Get Qualcomm Inc Report
are expected by analysts to show solid earnings gains and close out 2010 on an up note, as the recovering economy late in the year boosted demand for their products and services.
That sets the stage for potentially big gains in 2011. Technology stocks should benefit from customers' postponement of capital spending for the past two years, which means many are in dire need of upgrades to computer systems. Their large-cap shares are seen as cheap on a historical basis as they haven't participated much in the market's run-up over the past two years.
In addition, the increasing use of the Internet and the potential growth in advertising on Web pages, the booming use of mobile-computing devices and the concurrent demand for data storage -- thanks to the growth of cloud computing -- contribute to a positive outlook for each of these firms, in one way or another.
For example, only 14% of global advertising spending is currently online, according to advertising research firm ZenithOptimedia, so Amazon and Yahoo are in the forefront of firms that could tap into future growth.
And EMC has been the data-storage industry leader for 30 years and has the wherewithal to continue in that role as it's already a player in the booming cloud-computing business.
Potentially contributing to investor confidence in these companies is that their executives all have "skin in the game," a term coined by renowned investor
. It refers to top executives' investment in their own companies.
What follows are the fourth-quarter earnings expectations of four large tech companies, arranged by reporting dates, starting with Yahoo.
Yahoo
(YHOO)
, an online media company, releases earnings Jan. 25 and is expected to report 22 cents per share compared with 11 cents in the same quarter a year earlier. That would bring 2010 earnings to 87 cents per share on $4.6 billion in revenue. In 2009, it earned 42 cents on $4.7 billion in revenue.
The outlook for 2011 is for revenue flat to last year at $4.7 billion and earnings of 79 cents per share, or down 9%.
Yahoo is one of the most popular Internet destinations in the world but is facing increased competition from a range of sources, including traditional media companies and hip new sites, such as Facebook and YouTube.
Yahoo has loads of cash to make acquisitions, which may be one way of diversifying and building revenue. It offers its users numerous free services, including search, e-mail, instant messenger, financial information, news, video downloads and a variety of community platforms. Advertising accounts for about 90% of sales, and the balance comes from fees on premium services.
Shares are down 2.4% this year, after losing 1% in 2010 and gaining 38% in 2009. It has a market value of $21 billion. Analysts give its shares the following ratings: six "strong buys," seven "buys," 21 "holds," one "reduce" and one "sell," according to Thomson Reuters. They have a 12-month price target of $18.20 on its shares, a 12% premium to the current price.
Its forward price-to-earnings (P/E) ratio of 21.4 is well below that of its peers' average of 31.2. Jerry Yang, a co-founder and former CEO, is an executive director and holds a 3.6% stake, worth about $764 million. David Filo, also a co-founder and now playing the role of "chief Yahoo" at the company, holds a 6% stake worth about $1 billion.
EMC
(EMC)
, a leader in the computer-storage industry for 30 years, posts earnings Jan. 25 and is expected to report 41 cents per share versus 33 cents last year. Over the past two years, it has a pattern of steadily improving quarterly earnings. Earnings for 2010 are forecast at $1.25 per share on revenue of $16.3 billion. It earned 90 cents a share in 2009.
For fiscal 2011, analysts estimate that EMC's earnings per share will grow by 15% to $1.45.Those same analysts rate shares: 12 "buy," 16 "buy/hold" and 12 "hold," said Standard &Poor's. S&P's own analysts say EMC is "a market leader, generates consistent free cash flow and has a strong balance sheet. However, we see the storage segment as somewhat cyclical, highly competitive and often typified by pricing pressure."
But others think it will ride the exponential growth of the cloud-computing sector, where it has a 20% share of that market, to sustained earnings increases, as EMC's Web-based storage solutions are seen as fulfilling the needs of corporate cloud computing clients.
By 2013, cloud computing is expected to be a $16.7 billion niche market. EMC has more than $6 billion in cash on the books and more than $2 billion in recurring cash flow, so it has the resources to buy into new storage technologies as well as fund internal development. For example, in November, it bought Isilon Systems, a maker of scale-out network-attached storage systems, for $2.25 billion.
Shares are up 4.1% this year, after gaining 31% in 2010 and 62% in 2009. The company has a market cap of $47.3 billion. EMC's Chairman and CEO, Joseph Tucci, owns about 1.5 million shares worth an estimated $31 million.
Qualcomm
(QCOM) - Get Qualcomm Inc Report
, a leader in the digital wireless telecommunications sector, reports first-quarter earnings for its new fiscal year Jan. 26. Analysts expect 72 cents per share, compared with 62 cents last year on $10.4 billion in revenue. Earnings for 2010 are seen at $2.46 on annual revenue of $11 billion in revenue.
For 2011, the outlook jumps to earnings of $2.78 per share on revenue of $12.8 billion, then another jump in 2012, to earnings of $3.05 per share and revenue on $14 billion. The company is the innovator of code division multiple access (CDMA) technology, a key communications standard used in wireless networks, and it has a string of patents that makes it a formidable player for years to come in the rapidly-growing industry.
A Morningstar analyst notes that the company "is poised for strong licensing revenue growth and improved profitability over the next several years, as all three next-generation 3G networks that are being adopted use CDMA technology."
Shares are up 3.7% this year, after gaining 9% in 2010 and 31% in 2009. Analysts give its shares 13 "strong buy" ratings, 19 "buys," seven "holds," two "reduces" and one "sell," according to Thomson Reuters.
The company has a huge institutional share ownership of 83.2%. Irwin Jacobs, a co-founder, former CEO and current board member, owns 1.4% of shares, worth just over $1 billion, while Paul Jacobs, its current chairman and CEO, owns about 1.6 million shares, worth more than $77 million.
Amazon.com
(AMZN) - Get Amazon.com, Inc. Report
, the leading online retailer, is due to report quarterly earnings Jan. 27. They are expected to be 88 cents per share, up only slightly, from 85 cents last year, but that brings earnings for 2010 to $2.50, up 22% from 2009. Revenue is seen growing 40% in 2010, to $34.2 billion, and that is expected to grow 28% to $44 billion in 2011.
Analysts' outlook for 2011 is for earnings of $3.47 per share, according to Thomson Reuters. Its poll of analysts, results in 13 "strong buy" ratings, 12 "buys," 11 "holds," one "reduce" and two "sells." TheStreet Ratings gives it a "buy" rating, and has it on its list of top-rated Internet and catalog retail stocks.
Amazon.com designs its Web sites to attract buyers to a wide range of products across an array of sellers. It also manufactures and sells the Kindle e-reader. Standard & Poor's analysts say that its "relentless focus on providing value to consumers through selection and price bodes well for the company to gain notable market share during this challenging economic period."
Shares are up 1% this year, after gains of 34% in 2010 and 162% in 2009. The company has a market cap of $84.7 billion. Its founder and CEO, Jeff Bezos, owns almost 20% of its shares, worth roughly $17 billion.
>To see these stocks in action, visit the
portfolio on Stockpickr.
Disclosure: TheStreet's editorial policy prohibits staff editors and reporters from holding positions in any individual stocks.