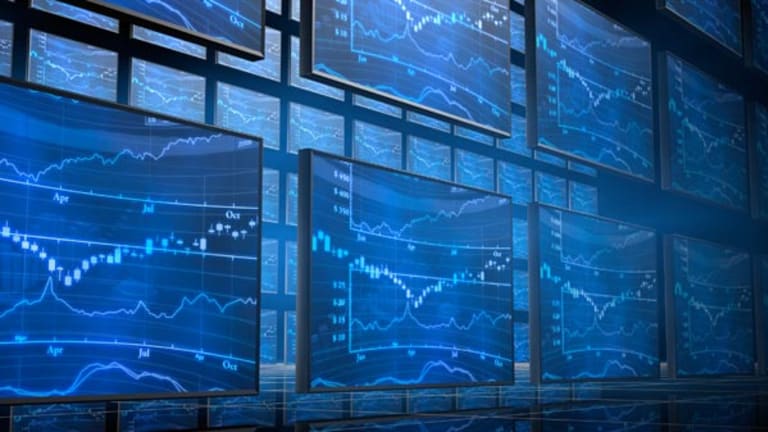 4 Stocks Poised for Apple iPad 3 Boost
Apple's big product launch on Wednesday could potentially spell good news for the tech giant's partners Qualcomm, TriQuint, Corning and Nuance.
SAN FRANCISCO (
) --
Apple's
major product launch on Wednesday could potentially spell good news for the tech giant's partners
Qualcomm
(QCOM) - Get Qualcomm Inc Report
,
TriQuint Semiconductor
(TQNT)
,
Corning
(GLW) - Get Corning Inc Report
and
Nuance
(NUAN) - Get Nuance Communications Incorporated Report
.
True to form, the Cupertino, Calif.-based company is keeping details of its new product close to the vest; but the speculation is that the world will get a look at a new version of Apple's phenomenally successful iPad at San Francisco's Yerba Buena Center on Thursday.
The blogosphere has been rife with rumors about the iPad 3, which could have major implications for, say, chip maker and 4G specialist Qualcomm, as well as Nuance, which reportedly helps Apple provide its Siri voice tool.
Clearly, providing a component for an Apple product can take a company's stock to new levels, particularly if the iPad 3 continues Apple's tablet momentum.
"As we have said before, our supply chain checks indicate that this iPad refresh will likely be a significant one with beefed up specs including a higher resolution screen, much faster processor, Siri software and 4G LTE wireless," explained Sterne Agee analyst Shaw Wu, in a recent note.
"We anticipate Apple will launch the iPad 3 on March 7 and believe Apple will continue to grow faster than the overall computer/tablet markets," added Mike Walkley, an analyst at Canaccord Genuity, also in a note. "iPad 3
is likely to dominate tablet sales for the remainder of 2012."
Investors, of course, will not know for certain which suppliers are lurking within the new iPad until the first 'teardowns' of the product appear. Rumors have suggested that the new iPad could hit the shelves later this month. In the meantime, here are
already closely associated with Apple's tablets (and smartphones) that are attracting attention ahead of Wednesday's event:
Qualcomm
Widely regarded as one of the best-positioned companies for the
push
to 4G LTE networks, there has been plenty of speculation that Qualcomm could be an iPad 3 winner.
The tech giant already uses Qualcomm in the
Verizon
(VZ) - Get Verizon Communications Inc. Report
CDMA version of the iPad 2, according to a
, as well as within the
Verizon iPhone
and the iPhone 4S.
Qualcomm's close relationship with Apple has prompted speculation that the San Diego-based firm could also be in line to provide 4G technology to the iPad 3.
"If it includes LTE then Qualcomm
could benefit," explained Canaccord's Walkley, in an email to
TheStreet
. Walkley rates Qualcomm shares buy, citing strong tablet and smartphone sales in 2012, as well as the longer-term 4G upgrade cycle. The analyst has a $75 price target on the company.
"We can't comment on market rumors," explained a Qualcomm spokesman, in an email to
TheStreet
.
Qualcomm
past Wall Street's estimates in its recent fiscal first-quarter results, and raised its guidance as the chip maker continues to ride the smartphone and tablet wave.
Nuance
"Presumably the next iPad will have Siri on it," said Ezra Gottheil, an analyst at Technology Business Research (TBR), noting that this could play to Nuance's strengths. Siri, the much buzzed-about tool that first appeared on Apple's iPhone 4S, is said to use technology from the voice recognition software specialist.
Siri has certainly shone a spotlight on Nuance. The Burlington, Mass.-based firm's stock has climbed more than 47% in the last six months, despite missing analysts' expectations in its recent
.
A spokesman for Nuance told
TheStreet
that the company does not comment on customers' product plans. "With regard to our relationship with Apple, all I can say is that Apple licenses Nuance technology for certain of its products," he added, in an email.
TriQuint
Processor specialist TriQuint already has components in the prior versions of the iPad, so investors should look out for iPad 3 'teardowns' to see whether its products are also in the new tablet.
The Hillsboro, Ore.-based company, which makes products such as power amplifiers, also has chips within the iPhone 4S.
News of TriQuint's
sent the company's shares surging when the teardown appeared last year.
TriQuint declined to provide comment for this story. The company's stock has done well in 2012, rising more than 20%, but as Tuesday's close at $5.74, it's still down more than 55% in the past year.
Corning
There have been
that Corning's Gorilla Glass 2 could feature on a new iPad.
Corning already manufactures its hardened Gorilla glass for the tech giant's iPhones, most of which is built in Corning's facility in Harrodsburg, Ky. Gorilla glass has been in the iPhone since the gadget was introduced in 2007.
A spokesman for Corning told
TheStreet
that the company cannot comment on any additional Apple products.
Although Apple has traditionally kept its supplier relationships under wraps, the tech giant recently
that it works with Corning, mentioning the company as part of its job creation effort.
>>To see these stocks in action, visit the
4 Stocks Poised for Apple iPad 3 Boost
portfolio on Stockpickr.
--
Written by James Rogers in New York.
>To follow the writer on Twitter, go to
http://twitter.com/jamesjrogers
.
>To submit a news tip, send an email to:
.
Check out our new tech blog,
Tech Trends
. Follow TheStreet Tech
.