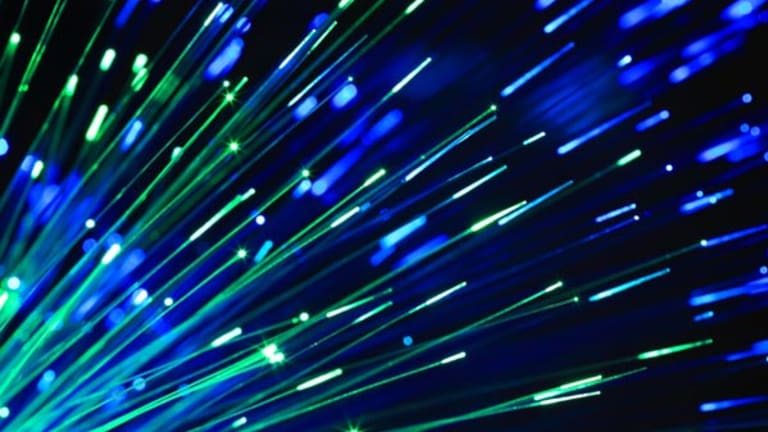 4 New Reasons for Apple Stock to Bounce
Apple is blazing a trail that no company has ever traversed. Consider the following four insights from Steve Jobs.
NEW YORK (TheStreet) -- Steve Jobs couldn't help himself, he just had to sit in on Apple's (AAPL) - Get Free Report first $20 billion quarterly conference call. His presence certainly added to the depth of insight coming from Apple management.
In fact, Jobs revealed four insider opinions on the future of tech that if true, will result in Apple stock continuing its run to overtake
ExxonMobil
(XOM) - Get Free Report
as the world's largest cap stock.
As a rare jack-of-all-trades innovator, Apple is blazing a trail that no company has ever traversed. Consider the following four insights from inside the brain of Steve Jobs:
1. Touch Screen Software Is King.
Jobs jabbed, "We've now passed RIM. I don't see them catching up with us in the foreseeable future. It will be a challenge for them to create a mobile software platform and convince developers to support a third platform." He continued, "Touch screen software OS is difficult to produce."
Research in Motion
( RIMM) has lost its position atop the smartphone totem pole because of their inability to produce a reliable touch screen OS.
Microsoft
(MSFT) - Get Free Report
had to abandon its touch screen courier tablet and replaced it with the 7.0-inch dual screen tablet that includes an old fashioned keyboard with an anemic two hours of battery life. Although Microsoft would never admit its reasoning behind the switch,
rumors persist that they couldn't get the touch screen OS to function properly on the larger screen .
HP
(HPQ) - Get Free Report
had to delay its slate tablet, then it abandoned its Android tablet, and now we are waiting to see if they can produce a WebOS tablet. Apple software competitors were caught off guard and unprepared to replace the click of a mouse with the touch of a finger. Don't let those headlines that proclaim a "disappointing" 4.19 million iPad sales fool you.
The iPad is set to explode with its 10,000
Walmart
(WMT) - Get Free Report
,
Target
(TGT) - Get Free Report
,
AT&T
(T) - Get Free Report
,
Verizon
(VZ) - Get Free Report
and Apple store distribution points for the holiday season. I'll let Jobs have the last word, "We've got a tiger by the tail here, and this is a new model of computing which we've already got tens of millions of people trained on with the iPhone, and that lends itself to lots of different aspects of life, both personal and business," he said.
2. China Is the Prize of Prizes.
U.S. companies would give anything to produce a hit product for the Chinese middle class. It appears that
Apple's precedent in Japan is replicating itself in China. Both countries were slow to adopt the iPhone in the initial year of availability but both countries saw demand outstrip supply in year two. Japan is usually ahead of the rest of the world when it comes to adopting new technology. They were the first country with universal access to 3G networks and now
Japanese consumers have rewarded the iPhone with 72% of smartphone market share .
China has more than twice as many users of mobile phones than the United States has people and those consumers are sending the same kind of signal that we witnessed in Japan. They are beginning to flock to Apple. Apple management mentioned in the conference call that its four new stores in China are the highest trafficked in the world and among the highest performing. After halting pre-orders for the iPhone 4 at more than 200,000, Apple is still having trouble meeting the demand and recently instituted a one phone per purchase requirement. The mind gets lost in a web of extrapolation when forecasting what might happen in 2011 when Apple has 20 retail stores operating alongside the planned 100 Apple retail stores to be operated by Foxconn's Chang Uei Precision Industry Co. Apple China is a major catalyst for this stock.
3.iPad Enterprise Adoption Is Gaining Steam.
COO Tim Cook explained, "I've never seen an adoption rate on the enterprise side like this in my life. Enterprise is historically much slower moving on adoption," he said. "We have built and are building additional capacity to call on businesses, and we're putting a lot of energy into that -- we aren't treating this lightly or as a hobby."
Steve Jobs added, "We haven't pushed it real hard in business and it's being grabbed out of our hands." The fact that the iPad sold 4.19 million units for the quarter and has sold 7.46 million this year is quite a feat considering most analysts initially thought Apple would sell between 2 to 3 million units for the entire year. "The iPad is clearly going to affect notebook computers," Jobs said. "I think the iPad proves it's not a question of if, it's a question of when." Success in the enterprise sector has alluded Apple in the past, perhaps this is the start of a next generation halo effect to further increase Apple market share. Apple will easily eclipse 10 million iPad's sold in 2010 and realistically could approach 7 million units sold in Q4 alone. Distribution of iPad's at the company holiday party will make 2010 a year to remember.
4. Future Product Announcement.
"We're not done. We're working on a lot of things for the future," announced Jobs. Investors have no real expectation for Wednesday's 'Back to the Mac' event but a refreshed lineup of computers with the possibility of a multi-touch MacBook Air would provide more upside to the stock. Jobs also hinted that Apple has its eye on one or two key acquisitions. Considering that the future of the industry is all about mobile app integration, I suspect those acquisitions will strategically benefit the visionary in his quest to put a dent in the universe while simultaneously boosting the value of Apple investor portfolios. Apps will end up in cars, appliances, televisions, toys, etc... and Apple has the cash to make sure they own this new revolution.
How long will the post earnings/profit taking selloff in Apple stock last? Not very. Investors will be thrilled to get an entry point in the $290's but it won't last long. These four insider opinions serve as worthy catalysts to take the stock higher into year end.
At the time of publication, Schwarz was long AAPL.
Jason Schwarz is an option strategist for Lone Peak Asset Management in Westlake Village, Calif. He is also the founder of the popular investment newsletter available at www.economictiming.com. Over the past few years, Schwarz has gained acclaim for his market calls on the price of oil, Bank of America, Apple, E*Trade, and his precision investing in S&P 500 option LEAPS. His book, The Alpha Hunter, is set to be released by McGraw Hill in December 2009.