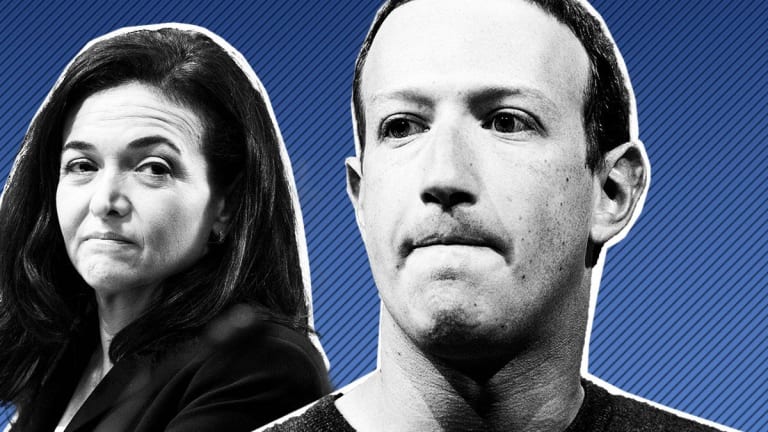 4 Key Challenges Facing Facebook in 2019
It was a memorable year for Facebook, for all the wrong reasons. Can Facebook repair its reputation -- and its share price -- in 2019? Here are some of the key issues facing the battered social network.
For Facebook (FB) - Get Report , 2018 was a momentous year for all the wrong reasons.
Its stock has lost about 20% of its value since the beginning of the year, owing to a string of scandals over Facebook's mishandling of user data and slow response to issues like foreign election interference on its platforms.
Is Facebook up to the task of mending its reputation -- and its share price? Here are some of the key challenges facing the social network in 2019.
1. More Bad Headlines
Facebook's parade of horribles hardly bears repeating, but negative stories about Facebook's transgressions won't magically cease when the calendar flips to 2019. Just in the past week, a bombshell Congressional report found that Russian actors exploited Facebook's demographic targeting to sow divisive political messages and discourage voting. The report also found that the most popular bogus accounts were on Instagram, which until now has largely managed to escape the same level of scrutiny as Facebook's main News Feed. Continuing nasty revelations around Facebook's ad targeting could put the company on the defensive in justifying its cleanup efforts -- and even its very business model.
2. Monetization Pressures
With engagement declining on Facebook's main News Feed, Facebook is under pressure to monetize more of its products. That might mean packing more ads into Instagram, its 1 billion-strong photo sharing app. And it will also likely mean expanding into greater varieties of content that could carry ads, such as new longer-form video on Facebook Watch that the company plans to roll out in 2019 alongside new ad tools. Monetizing Messenger and WhatsApp is likely a more remote prospect for Facebook -- but in addition to reassuring users that it's trustworthy, investors need to see that Facebook can continue innovating in its core business of advertising.
3. Governance Troubles
With more negative reports coming out virtually every week, and employee morale hitting new lows, the heat isn't off Facebook's leadership. Some have called for COO Sheryl Sandberg to be fired; others have called for greater checks on Mark Zuckerberg, who controls the majority of voting shares. In recent months, the call for a shake-up at the top of Facebook have grown louder, with Stifel's Scott Devitt writing in a recent note that management changes would mean "positive catalyst for the stock and accretive to long-term shareholder value." Facebook's executives or board haven't hinted at any big changes as of yet, but at least one formal challenge to Zuckerberg's iron grip on Facebook is underway in the form of a shareholder proposal to permanently split the roles of CEO and chairman.
4. Declining Trust in Tech
Even if Facebook can rebuild some of its lost credibility, there is evidence that appetites for super-addictive tech and social media products are on the wane, at least in advanced economies. A Pew Research report found that social media use has plateaued in the U.S. and other developed nations, and some other tech giants -- such as Apple (AAPL) - Get Report -- are even rolling out tools to combat tech addiction and help people spend less time in apps. Unlike some of its peers, however, Facebook's business model is reliant on hooking their users' attention -- and over time, that model could simply fall out of favor. As noted by Truvalue Labs, which tracks companies' ESG data (shorthand for environmental, social and governance scores), Facebook's period of highest growth and strongest profit margins coincided with mounting signs that it was unfairly compromising the well-being of its users, in more ways than one: "If we see a structural shift where people become more aware that it's not healthy, a reversal will negatively impact Facebook's core business," said Truvalue Labs' Andre Shepley.
Facebook and Apple are holdings in Jim Cramer's Action Alerts PLUS Charitable Trust Portfolio. Want to be alerted before Cramer buys or sells these stocks? Save 66% with our '12 Days of Holiday Deals' Sale. Join Jim Cramer's Action Alerts PLUS club for investors and get our best deal of the year. Click here for details or to sign up.