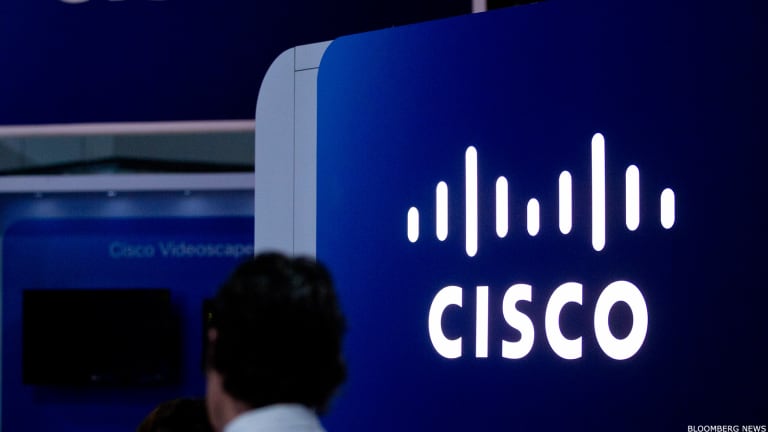 4 Hot Acquisition Targets for Cisco Systems After It Shuns FireEye
The tech security sector has an abundance of takeover targets for companies like Cisco to gain a competitive edge against cyber-criminals.
NEW YORK (TheStreet) -- Even though Cisco Systems (CSCO) - Get Cisco Systems, Inc. Report snuffed out speculation it would consider acquiring FireEye (FEYE) - Get FireEye, Inc. Report, it left the door open to buying other firms that could add value as cyber-criminals continue to evolve with more advanced techniques.
The market holds a variety of smaller publicly traded firms could provide alternatives to a FireEye acquisition by beefing up capabilities and technology solutions in the digital area that is increasingly vulnerable to security breaches. 
Cisco's outgoing CEO John Chambers, who will soon be replaced by newly named CEO Chuck Robbins, tampered speculation the San Jose-based Cisco would acquire security company FireEye in an earnings call late Wednesday. In fact, FireEye's management said the company is not even for sale and won't be until at least annual revenue reach $1 billion, according to a report from Re/Code citing "sources familiar with management."
Regardless of FireEye's availability, Cisco CFO Kelly Kramer said the company is keeping an open mind on acquisitions, not just in security, but all areas, including software and cloud.
"We'll continue to be very acquisitive in the future," Kramer told TheStreet, without mentioning any possible targets. "The security space is very interesting -- it's very fragmented and it's an area we'll always look to grow in, both organically as well as inorganically."
In recent years, Cisco has firmed its software-defined networking abilities with acquisition like Cariden, Tail-F and Insieme Networks. Chambers has previously said the company is poised to be quite aggressive in acquiring more software vendors to complement its existing capabilities. Cisco has indeed already proven it wants to expand its security services with private acquisitions like Neohapsis, a deal that should close in the second quarter of 2015.
Though several analysts spoken to refused to comment on the record regarding potential acquisition targets, here are four technology security and software firms that could potentially pad Cicso's operations and give it a competitive edge.
Palo Alto Networks (PANW) - Get Palo Alto Networks, Inc. Report. This Santa Clara, Calif.,-based company's main products are advanced firewalls and it markets 10 platforms of firewall throughput. Its technology helps corporate security follow its users in an increasingly mobile-favored environment. Last year, Palo Alto Networks, with a market cap of about $12.6 billion, acquired Cyvera for about $200 million and Morta Security for an undisclosed sum.
Shares are up over 25% for the year to date, trading at the top of its 52-week range of $57.47 to $158.24.
Check Point Technologies (CHKP) - Get Check Point Software Technologies Ltd. Report. Based in Tel Aviv with development centers in California, Sweden and Belarus. Check Point has a strong footing in the antivirus industry with its combined software and hardware products for IT security including network security, endpoint security and data security. Its market cap is $15.8 billion.
Checkpoint Technologies shares are up 11.4% year to date with the stock having marked a 14-year high earlier Friday morning.
Proofpoint (PFPT) - Get Proofpoint, Inc. Report. Based in Sunnyvale, Calif., Proofpoint provides SaaS (software-as-service) technology for inbound e-mail security and outbound data loss prevention among others. The company recently signed an agreement to acquire Emerging Threats, which provides advanced threat intelligence with an automated collection and analysis system, for about $40 million.
Shares are up 14% for the year to date.
Guidance Software (GUID) . Pasadena, Calif.-based Guidance Software, with a market cap of $202.1 million, has a product line focused on four key areas: endpoint security analysis, cyber security, e-discover and digital forensics. It has added threat intelligence and security incident response with its tools for digital forensics.
Shares of Guideware are down 7% for the year to date and are down nearly 32% over the past year.
This article is commentary by an independent contributor. At the time of publication, the author held no positions in the stocks mentioned.