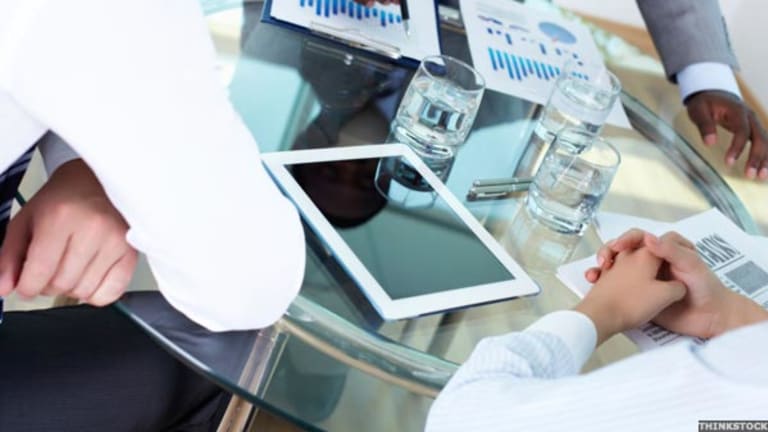 3 Ways Google Can Take On Microsoft
A few tweaks could help Google Apps cut further into Microsoft's core Office business.
The following commentary comes from an independent investor or market observer as part of TheStreet's guest contributor program, which is separate from the company's news coverage.
By Anthony John Agnello Consumer and Technology Writer for InvestorPlace
NEW YORK (
) --
Microsoft
(MSFT) - Get Report
has generated approximately $60 billion in annual revenue since 2008. You would think the bulk of that money comes directly from its Windows operating system. Even as
Google
(GOOG) - Get Report
warps the computing industry through its massively popular mobile operating system Android and now on PCs with the Chrome platform, Microsoft's Windows is still running on more machines than any other platform.
Until last year, however, Windows was a distant second place among the company's divisions. The real money at Microsoft has been in the $18 billion-per-year Business Division. That division's breadwinner is Microsoft Office -- the collection of apps and services like Microsoft Word, Excel and others that are common fixtures in every corner of modern life.
Also see: 5 best Black Friday electronics deals of 2011
Google has made some headway into Microsoft's office tools territory. Beginning in 2006 with Gmail For Your Domain, a service that let businesses use Google's email service for their operations, Google Apps has blossomed into the industry's most viable Microsoft Office competitor. Google offers a full range of tools -- Google Docs, Google Calendar, etc. -- through the Web rather than as downloadable or disc-based tools like Office, and information is stored in the cloud on Google's servers. These days, Microsoft is pushing hard to offer the same range of services through
.
Follow
TheStreet
on
and become a fan on
While it's unclear how many Google Apps users pay the $50 per year for the full range of services, more and more business are turning to it instead of Microsoft's products. The
InterContinental Hotels Group
(IHG) - Get Report
switched over to Google Apps this year, as did the National Oceanic and Atmospheric Administration and the Wyoming state government. Google Apps head Dave Girouard told
The New York Times
on Sunday that 5,000 businesses sign up for Google Apps every day.
Also see: 5 dividend aristocrats to buy for 2012
Microsoft is undisturbed, though. Since it released in June 2010, Microsoft Office 2010 alone has seen more than 100 million licenses sold. Office is more than a successful product -- it is, for many people, equal with the technology. People don't use word processors, they use Word.
What can Google do to turn its office tools business into a real threat to Microsoft? Here's three ways Google can challenge Microsoft Office:
1. Evolve Mobile
One thing that draws businesses to Google Apps is the uniformity of access. A spreadsheet on an office PC can be studied just as easily on a smartphone or tablet. While many Google Apps services like Gmail and Google Calendar are available natively on Android phones, there's still opportunity to innovate.
Also see: Amazon phone for 2012 holiday season?
The real money would be in new word processing tools that are as easy to use on a touchscreen device as they are with a keyboard, for typing and editing. The increasing size of Android phones -- just look at device's like HTC's Thunderbolt for a look at increasing screen real estate -- would certainly ease the process.
It's a race between Google and Microsoft for who can make the most usable mobile office tools. Whoever wins will get a serious leg up in the overall battle. The company's new identity as a smartphone manufacturer, through its acquisition of
Motorola Mobility
(MMI) - Get Report
, could fuel Google's efforts here.
2. Social Integration
Google already is drawing close links between its Google+ social network and Google Apps to make both services appealing to businesses. Companies can set up
that allow departments and teams to work together on projects remotely with video, messaging and document-sharing tools all in one easy-to-access, aesthetically pleasing interface.
Girouard told the Times that Google+ integration is a central part of Google Apps' future development. "We're headed to a place where all productivity is inherently social." He's not wrong. As Google+ still is getting its footing among social network users, finding ways to leverage popular networks like Facebook into Google Apps could help spur adoption in the short term.
3. Free for All
Google Apps for Businesses offers a lot for $50 per user per year, including 25 gigabytes of storage, Google Video access and more. It also makes the text advertisements that plaster free Google Apps tools optional. Advertising revenue always has been one of Google's rich veins, though, and it might be able to further kick start Google Apps' adoption by embracing users' blindness toward more advertisements.
Making Google Apps for Business free with ad-supported revenue might prove more profitable than charging for each user. It also would help undercut Microsoft's Office 365, which costs $2 to $27 per user per month.
As of this writing, Anthony John Agnello did not own a position in any of the stocks named here.
Also see:
Get the latest IPO date and IPO offering news for the hottest picks on Wall Street
.
The 5 best deals in the financial world
Apple, iPhone need to branch out in 2012
This commentary comes from an independent investor or market observer as part of TheStreet guest contributor program. The views expressed are those of the author and do not necessarily represent the views of TheStreet or its management.