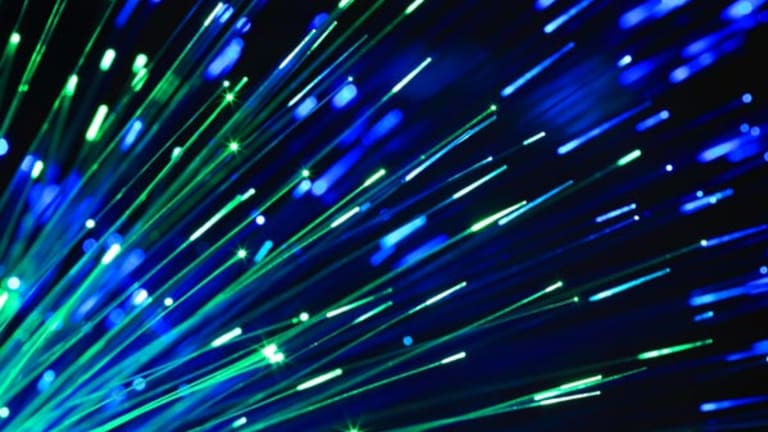 3 Top 'Cloud' Stocks to Own in 2012
Cloud computing is becoming a mainstream technology.
Editor's note: As part of our partnership with Nightly Business Report, TheStreet's James Rogers will appear on NBR Monday (check local listings) to look at the top cloud-computing stocks for 2012.
NEW YORK (
) -- With cloud computing becoming a mainstream enterprise technology, investors should pay attention to
EMC
(EMC)
,
Salesforce.com
(CRM)
and
Rackspace
(RAX)
in 2012.
No longer perceived as a niche corner of the tech sector, a growing number of businesses are harnessing the power of cloud services. Rackspace, for example, counts
Kraft Foods
undefined
,
Under Armor
(UA)
, and
Vodafone
(VOD)
, among its customers, while Salesforce.com provides services for
HP
(HPQ)
and
Time Warner Cable
(TWC)
.
There are different types of cloud technology available for enterprises, from "public" clouds, where customers access services like storage and server power from third-party companies, to "private" clouds, which are run at customers' own sites. Private clouds could be used, for example, to provide company-wide marketing or HR services across multiple locations.
Tech research firm IDC estimates that revenue from public IT cloud services alone exceeded $21.5 billion in 2010 and will reach $72.9 billion in 2015, growing four times faster than the IT market as a whole.
The good news is that there are many ways for investors to ride the cloud wave, from companies providing core hardware and software, such as EMC, to actual cloud service providers like Rackspace. Salesforce.com, which reported impressive fourth-quarter results last week, is the trailblazer in what's known as Software as a Service, or SaaS, providing a host of specialized services from its data centers.
"While the software as a service trend has been growing rapidly since 2005, it is now exploding as major enterprises are accelerating their adoption of cloud computing," said Pat Walravens, an analyst at JMP Securities, in a note released last week. "Our sense is that Salesforce.com and other SaaS companies are increasingly taking market share from traditional enterprise software vendors like
Oracle
(ORCL)
and
SAP
(SAP)
."
As cloud deployments become increasingly common in corporate America, these are the cloud stocks that investors should keep an eye on in 2012.
EMC
Market cap: $56.4 billion
Data storage heavyweight
EMC
(EMC)
may not have the glamour of
Apple
(AAPL)
or
Google
(GOOG)
, but offers investors an ideal opportunity to tap the cloud boom.
"I actually think EMC is the single best positioned enterprise infrastructure company to service the cloud over the next several years," said Brian Marshall, an analyst at ISI Group, in an email. The storage giant offers key technologies that companies need to build out their cloud offerings, such as storage hardware and virtualization software from its highly successful
VMware
(VMW)
subsidiary. Other key weapons in EMC's cloud arsenal include its RSA security offerings, network-attached storage from its
Isilon
acquisition, as well as data analytics and disaster recovery technology, according to Marshall.
EMC also touts its Atmos hardware and software as a cloud-specific offering that can be used within both enterprise and service-provider data centers.
The company's multi-pronged attack on the cloud market certainly seems to be working. EMC, for example, recently reported
, powered by customers' cloud-computing efforts. The Hopkinton, Mass.-based firm is also
to provide storage systems for
Apple's
(AAPL)
iCloud service, although EMC has been tight-lipped on this topic.
One of tech's more consistent performers, EMC's shares have risen more than 27% this year, far outpacing the 7.5% gain at rival
IBM
(IBM)
and the 3.4% advance at
HP
(HPQ)
. The Nasdaq composite index increased 13.7% over the same period.
Underlining EMC's upswing, the company has surpassed HP in terms of market cap. EMC was also
by
JP Morgan
last month on the strength of market share gains and the storage maker's strong operating leverage.
Moreover, the storage specialist's shares have also been attracting attention from
, according to 13F documents recently filed with the SEC.
TheStreet
Ratings rates EMC "buy."
Salesforce.com
Market cap: $19.5 billion
Salesforce.com has already been touted as one of
TheStreet's
big tech
rebound stocks for 2012
. The cloud company, which helps firms manage their customer relationships via the Internet, is certainly living up to this billing.
The San Francisco-based company
Wall Street's estimates in its fiscal fourth-quarter results last week, and also offered robust guidance, much to the delight of investors.
Salesforce enjoyed a massive revenue hike during the quarter, with sales climbing 38% year over year to $632 million. The firm's deferred revenue, which is received for services not yet provided, also surpassed the $1 billion mark for the first time.
Highlighting the Oracle and SAP's rival's versatility, some 40% of Salesforce's new business came from outside of its core Sales Cloud.
Speaking during a conference call to discuss the results, Salesforce CEO Marc Benioff said the company clinched over 100 seven-figure deals and nine eight-figure deals during the quarter. The firm also closed its first nine-figure transaction during the opening days of 2012, he added.
This trend can only bode well for investors.
"We see two reasons for these large deals," noted Pat Walravens of JMP Securities. "First, larger enterprises are increasingly adopting cloud computing to meet their IT needs. Second, Salesforce.com's social enterprise message appears to be resonating and broadening the number of solutions that customers are buying from Salesforce.com."
Social enterprise
technology harnesses the power of social networking for the corporate realm. Last year, for example, the cloud specialist unveiled its Radian6 social monitoring cloud which aggregates data from the likes of
Facebook
,
Twitter
and
YouTube
.
"The social enterprise orientation is the company's 'secret sauce', a significant product differentiator and a powerful vision for a new class of SaaS based applications which embrace a new set of social processes," explained Rick Sherlund, an analyst at Nomura Equity Research, in a note. "CEO Marc Benioff has a Steve Jobs-like affinity for market innovation and pioneering leadership."
It hasn't been all plain sailing for Salesforce, though, and the company's stock
thanks to weaker-than-expected third-quarter billings growth late last year. Now, though, the company's turnaround has started.
"Salesforce has answered in the affirmative the nagging question that many (including us) had about the firm's ability to scale from an interesting apps company to a substantial platform and social apps business," said Richard Davis, an analyst at Canaccord Genuity, in a note. "At this point, we believe there is every reason to expect Salesforce's fundamental momentum to continue to be quite strong."
Davis, who has a $170 price target on Salesforce, acknowledged that the company's stock could potentially hit $200 this year. Salesforce shares are currently trading around $143.
Rackspace
Market cap: $7.08 billion
Although hardly a household name like rivals
AT&T
(T)
and
Amazon
(AMZN)
, Rackspace has quietly carved out an impressive niche in the growing cloud market.
Unlike many of its competitors, Rackspace focuses solely on cloud computing, a strategy that has served it well. The San Antonio, Texas-based firm recently continued its run of strong quarterly results, putting out impressive
.
Walravens of JMP Securities expects this upward trajectory to continue.
"Rackspace is poised for continued growth because the market opportunity is lightly penetrated (less than 5%) and because the 'cloud services leader' message continues to resonate with enterprises big and small," he said in a recent note. "We believe the company faces a massive market opportunity as companies look to a specialized cloud computing service provider to address their IT needs."
Around 80% of Rackspace's revenue comes from "dedicated" cloud services, or applications that the company hosts on servers devoted to specific customers. The remaining 20% of the firm's sales come from its pool of Rackspace hardware and software that's not specifically allocated to given customers.
Rackspace's total customers climbed to 172,510 at the end of the fourth quarter, up from 161,422 at the end of the prior quarter.
The company is also gearing up for a busy 2012, and is planning to launch a host of new products, such as server load balancing and database services, as well as a high-performance storage offering.
The cloud specialist clearly has plenty to offer investors in the future, as evidenced by its high price-to-earnings ratio of 97, indicating the potential for earnings growth. Rival AT&T, in contrast, has a price-to-earnings ratio of 46.
"The company's fanatical support message continues to resonate well with its customers," noted Walravens. The analyst, however, warned that Rackspace's biggest challenge is recruiting enough staff to support its growth.
Rackspace recently told
TheStreet
that it added 241 new hires during the fourth quarter, bringing its total workforce to around 4,000. The company is "hiring like crazy" at the moment, according to Bryan McGrath, the Rackspace vice president of finance.
TheStreeet
Ratings rates Rackspace "buy."
--Written by James Rogers in New York.
>To follow the writer on Twitter, go to
http://twitter.com/jamesjrogers
.
>To submit a news tip, send an email to:
.
Check out our new tech blog,
Tech Trends
. Follow TheStreet Tech
.