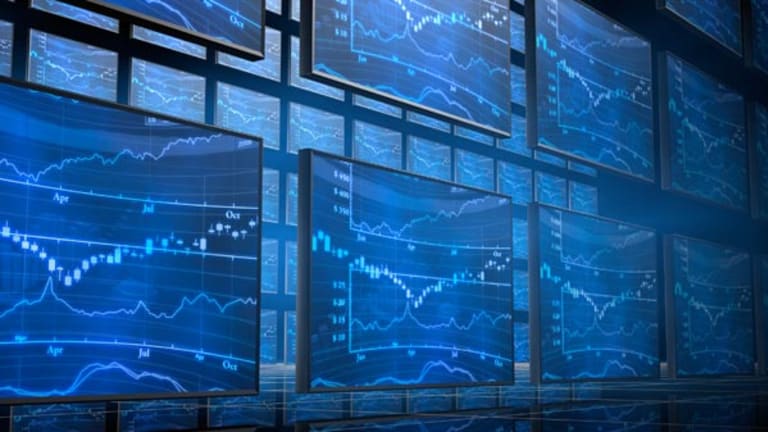 3 Top Android-Related Stocks
Telcos like Verizon, AT&T and Sprint are launching new Android phones at a fast clip. Here are three Android-related stocks to bet on.
NEW YORK (TheStreet) -- Earlier this week, we examined three Google (GOOG) - Get Alphabet Inc. Class C ReportAndroid OS-related stocks that investors should stay away from. Now it's time to turn the tables and talk about three companies that, thanks to Android, are viable investment targets.
Google is an obvious winner for investors looking to buy companies that are profiting off Android's success. But there are less obvious investment alternatives that are doing a fine job of capitalizing on the growing success of Android, which now owns about 9% of the mobile marketplace, and according to NPD, about 28% of all sales in the first quarter of 2010.
Let's take a look at three stocks that any savvy Android-focused investor should put their money behind.
At first glance,
Adobe
(ADBE) - Get Adobe Inc. Report
might seem like a tough company to bet on. The embattled firm has seen its profits slide from $723 million in 2007 to $386 million in 2009. Meanwhile, the company's Flash software, arguably its most important Web service, has been banned on
Apple's
(AAPL) - Get Apple Inc. Report
iOS 4 operating system, causing some to wonder if Adobe's days are numbered in the mobile market.
But that's just half the story. Aside from the fact that Adobe's stock price has risen about four points over the past year, the company's Flash 10.1 standard is now capable of running in Google's Android OS. On Tuesday, the company announced that Flash 10.1 will also be supported by RIM's BlackBerry operating system, as well as Windows Phones launching later this year.
More on Adobe vs. Apple Will Adobe Agitate Apple?
Adobe's ability to bring Flash to every platform besides iOS 4 is a key victory for the company. According to Adobe, about 75% of Web videos and more than 70% of Web-based games run on Flash. That means Apple's iPhone and iPad won't work with the vast majority of Web sites on the Internet. Meanwhile, Android owners will be able to use Flash to access any Web site they choose. That alone gives Google a major advantage over Apple. And as Android continues to capture more market share, customer gripes over browsing woes could put pressure on Apple to finally adopt Flash.
Android is the key to Adobe's success. As long as Google's operating system continues to gain market share, Adobe will be just fine. And ironically, Apple could eventually ensure that.
Verizon
(VZ) - Get Verizon Communications Inc. Report
has found a profitable relationship with the iPhone's best alternative, Android. Thanks to that relationship, it's positioned well to capitalize on the expanding mobile market.
Over the past four years, Verizon's revenue has grown from $88 billion in 2006 to a whopping $107 billion in 2009. Amazingly, that growth occurred during the iPhone craze that caused many Verizon customers to jump to
AT&T
. Growth aside, it was Verizon's decision to capitalize on Android that has made the company a far more viable investment target.
Currently, Verizon offers the two best Android-based devices on the market: the HTC Droid Incredible and the
Motorola
( MOT) Droid. The Droid Incredible is back-ordered until late July. The Motorola Droid, which is only available in limited quantities, is selling "extremely well," according to Motorola CEO Sanjay Jha. Plus, Motorola unveiled the
yesterday, which sounds like the company's best answer to the iPhone yet.
Although the iPhone is a nice device in its own right, some consumers want nothing to do with Apple's smartphone or its carrier, AT&T. And now that they know that Verizon is the best place to go if they want an iPhone alternative, look for Verizon's financial performance to grow as Android continues to gain popularity.
Synaptics
(SYNA) - Get Synaptics Incorporated Report
might not the first company that comes to mind when trying to find a flashy investment target, but it could be the dark horse that every Android investor should know more about.
Synaptics is a provider of PC and mobile interface solutions. The company offers touch-screen products for smartphones, touchpads for laptops and much more. Although there are other firms that deliver touch-screen products to vendors, Synaptics has the trump card in the Android space: it's a member of the Open Handset Alliance, the organization led by Google that provides the vision for Android OS.
In other words, it's positioned extremely well in the market.
Going forward, Synaptics' ClearPad mobile touch-screen product will play a central role in the company's success. The Google Nexus One, among other smartphones, runs the ClearPad 2000, a dual-touch technology that can't quite match the iPhone's multitouch functionality. That said, Synaptics recently released ClearPad 3000, a full-fledged multitouch solution that allows users to control on-screen action with up to 10 fingers at a time. It's one of the most solid competitors to Apple's iPhone on the market. It will also likely make its way to several Android phones in the coming months.
In terms of financial performance, Synaptics stacks up quite well. The company's revenue has more than doubled over the past four years, from $184 million in its 2006 fiscal year to $473 million in its 2009 fiscal year. Over the same period, its profits have risen from $13 million in 2006 to $54 million in 2009. It's currently on pace to easily best those figures in its 2010 fiscal year.
--Written by Don Reisinger in New York.
See Also:
>>Three Android-Related Stocks to Avoid
>>Google's New Frontier: The Living Room
>>ARM Chips Riding Google's Android Wave
>>Microsoft Is No Longer Too Big to Fail
Don Reisinger has been writing columns and blogs about the technology and video game industries for years. His work appears in some of the tech industry?s biggest publications, as well as in the
Los Angeles Times
, where he blogs about social networking. Follow Reisinger on Twitter @donreisinger.