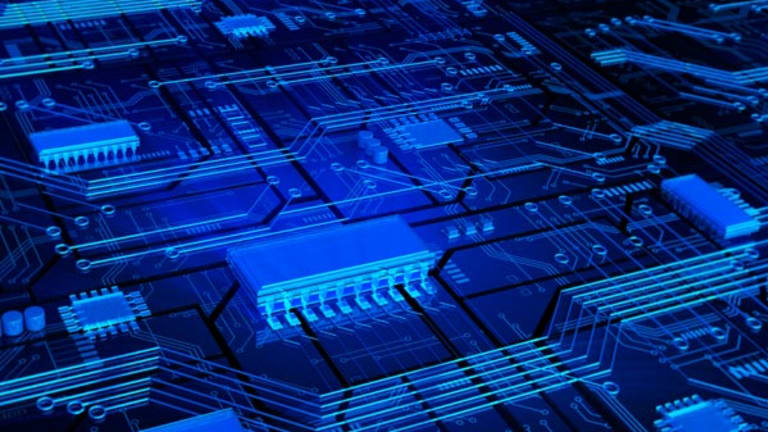 Publish date:
3 Top Stocks Tapping Growth of High-Speed 4G
Verizon, Qualcomm and Ceva are perfectly positioned to tap the growth of high-speed 4G networks.
Verizon, Qualcomm and Ceva are perfectly positioned to tap the growth of high-speed 4G networks.
NEW YORK (
) -- As consumers and business pump more and more traffic through mobile devices,
Verizon
(VZ) - Get Report
,
Qualcomm
(QCOM) - Get Report
and
Ceva
(CEVA) - Get Report
are perfectly positioned to tap the growth of
.
Verizon, which reports its third-quarter results Friday, is ahead of the carrier pack when it comes to its 4G network, analysts said, while component specialists Qualcomm and Ceva are making waves in 4G-enabled mobile devices.
"4G is a big growth area," Ken Hyers, senior analyst at Technology Business Research told
TheStreet
. "Moving forward, it's the only way that the telecom operators are going to be able to manage the ever-increasing flow of data."
It's not just ever-growing numbers of smartphones and tablets, however, that are fueling demand for 4G. Growing use of machine-to-machine technology such as smart electricity meters, also will help drive the push towards 4G.
No surprise, then, that the GSM Association, which represents mobile operators, estimates that the number of Web-connected devices in the world will leap from 9 billion today to 24 billion in 2020. Telecom equipment specialist
Ericsson
(ERIC) - Get Report
is even more bullish, forecasting upwards of 50 billion connected devices by 2020.
Read on for more details on the
top 4G telecom and technology stocks
.
Verizon
Verizon, due to post its third-quarter results early on Friday, is leading the telecom pack with the rollout of its high-speed network, based on the Long-Term Evolution flavor of 4G.
"Verizon generally does quite well," explained TBR's Hyers. "They have a high-value customer base and they were first off the block with a nationwide LTE network -- customers generally like the technology."
The No.1 telco touts itself as "America's most powerful network" and with good reason, according to Hyers. "Their 3G network has extensive coverage and their
4G LTE network has the most coverage right now," he told
TheStreet
. "I expect them to add quite a few more LTE customers -- their network seems to be very well-engineered."
Verizon's Wireless division said its LTE technology will be available in 175 areas across the U.S. by the end of 2011, with the network covering two-thirds of the population by mid-2012. Verizon aims to cover its entire 3G footprint by the end of next year.
Rival
AT&T
(T) - Get Report
, in contrast, plans to have its own LTE technology in just 15 cities by the end of 2011, although the telco is also deploying a technology called HSPA+ to deliver 4G speeds over mobile broadband.
No. 3 telco
Sprint
(S) - Get Report
is also playing catch-up with Verizon, recently announcing
, despite its longstanding commitment to a version of 4G called WiMax.
"Certainly, the leader today is Verizon," noted Charles Golvin, an analyst at tech research firm
Forrester
"They are far ahead of any other carrier when it comes to their LTE deployment -- they clearly see some opportunity to distance themselves."
Analysts also have cited Verizon's
upside potential
for investors, pointing to the firm's solid financials. Last month, for example, Verizon
raised its dividend
, a boon to investors in an uncertain economy.
The U.S.-centric nature of Verizon's business is also seen as a big positive,
from the ongoing economic turmoil in Europe.
Qualcomm
Qualcomm has emerged as one of the rising stars of next-generation telecom networks, thanks to its 4G-enabled chip technology and a slew of licensing deals with device makers such as
Samsung
,
LG
,
HTC
and
Huawei
.
"Qualcomm, I think, has been really benefiting from the phone business recently," explained Allen Nogee, an analyst at In-Stat. "And they are also benefiting from LTE."
The San Diego-based firm supports both LTE and HSPA+ technology in its product portfolio, and cited
during its recent fiscal third-quarter results, raising its full-year revenue and earnings guidance.
"From a chip perspective, it's clearly Qualcomm that has the leadership position," Forrester's Golvin told
TheStreet
. "Most of the LTE handsets that are being produced have Qualcomm chips inside of them -- Verizon is relying on them heavily for devices that are going onto their network."
In addition to processors, the company has won plaudits for its 4G baseband chipset, which converts radio signals into sound and data for mobile devices.
"Qualcomm is clear leader in LTE baseband market share and they have been investing in LTE for several years," explained Michael Walkley, an analyst at Canaccord Genuity, in an email to
TheStreet
. "Qualcomm also has signed multiple 4G licensing deals as they hold strong patents
for OFDM which is
the underlying technology of 4G."
The company's financial story is also sound.
TheStreet's
ratings cites Qualcomm as a buy on account of its performance, return on capital, strong balance sheet and dividend payments.
Aside from its impressive 4G credentials, Qualcomm is also
, further adding to its allure.
Ceva
One of
TheStreet's
Breakout stocks, component supplier Ceva is another company making waves in the 4G LTE market.
The Israeli semiconductor specialist, which has a U.S. headquarters in Mountain View, Calif., licenses specialized processor cores that convert analog information such as voice, video and images into a format that can be used by digital devices. A growing number of these cores feature on baseband chips within 4G handsets.
Korean giant Samsung, for example, uses Ceva processor cores for handset chips running on Verizon's LTE network. Ceva also licenses its 4G technology to
Broadcom
and
Intel
(INTC) - Get Report
. In total, the company has announced 15 4G design wins so far.
"Ceva is like a mini
ARM Holdings
(ARMH)
-- they license out their baseband technology and reap robust royalties," explained Bryan Ashenberg,
TheStreet's
Breakout Stocks portfolio manager. "
They are gaining market share and solid leverage."
Ceva estimate it has just more than 40% market share of the overall handset market, but expects this figure to rise above 50% with increasing use of 4G networks over the next 12 to 18 months.
On the financial side, Ceva has already raised its full-year guidance twice in 2011, citing strength in its royalty business and demand for handsets in China and other emerging markets. Set against this backdrop, the Benchmark Company reiterated its buy rating and $31 price target on Ceva earlier this month, noting that the firm's fiscal 2011 guidance is easily attainable.
Investors, too, are catching onto Ceva, pushing the firm's shares up more than 52% this year.
>>To see these stocks in action, visit the
portfolio on Stockpickr.
--Written by James Rogers in New York.
>To follow the writer on Twitter, go to
http://twitter.com/jamesjrogers
.
>To submit a news tip, send an email to: