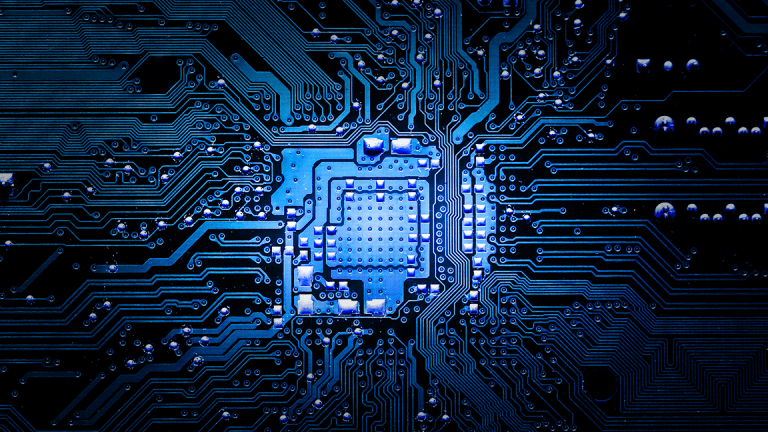 Publish date:
3 Tech Stocks Captivating Wall Street Bulls
Looking for a sure-fire bet in tech? Follow the analyst buzz with these trending stocks.
Looking for a sure-fire bet in tech? Follow the analyst buzz with these trending stocks.
Take on tech.
Famous fictional anti-hero Gordon Gekko from the movie 'Wall Street' once said: "I don't throw darts at a board. I bet on sure things. Read Sun-tzu, The Art of War. Every battle is won before it is ever fought."
How can investors master the "art" of money-making in a volatile market?
Even with doubts, it's always the right time to seize the tech momentum. Using TipRanks' Trending Stocks tool, we set out to find the tech stocks that have analysts buzzing. We found three strong bullish bets that could get you to Wall Street victory, and lucrative gains.
Facebook
Is the sun about to set on social media empire Facebook (FB) - Get Facebook, Inc. Class A Report ? Wall Street was left absolutely floored on July 25. Facebook's second quarter print was lambasted as a train-wreck. Consider that in four consecutive quarters, Facebook beat out Street-wide earnings forecasts three times. In other words, coming up short in the Facebook universe means disaster. CEO Mark Zuckerberg paid dearly for the holes in his company's second quarter showcase -- $15 billion in wealth down the drain overnight.
Yet, the art of playing Wall Street is a long-fought war and looking battle to battle can be short-sighted. What do the experts say?
Notably, Facebook has been continuing to rack up buys across analyst firms, regardless of the earnings tumble. Just a few days ago, five-star analyst Rob Sanderson of MKM reiterated a Buy on the stock while dialing down the price target. Instead of $255, now the analyst looks for Facebook to reach $230 (which still implies 29% upside potential).
Sanderson's nugget of investment wisdom: "take advantage." The stock's valuation multiple today is quite depressed following the Facebook management team's "aggressively conservative" guide, especially against the Street's expectations. "Investors feeling they missed the opportunity on capitulation in March should revisit [shares] now," recommends Sanderson.
The analyst explains, "Dislocations around expectation resets are rocky, but create opportunity. The deceleration in revenue growth is coming sooner than we had thought, but [we] knew it would eventually come and think it's been reflected in the stock for a long time."
Keep in mind, Sanderson has a solid track record when it comes to making successful Facebook bets. The analyst makes 20.9% in average profits on the stock. 
For those investors who would rather "wait for the appearance of margin stability," Sanderson counters with this: "We understand this, but stocks tend to bottom and recover well ahead of margins and trade at much higher multiples when they do."
Bottom line, the stock remains a 'Strong Buy' on Wall Street. Facebook has received 29 buys in three months. The 12-month average price target round out consensus expectations to $208.31. Consensus spotlights 17% upside potential still in store for the challenged social media empire. 
Is the tech stock selloff overdone? Watch this bank CEO suggest no.
Global Payments
Fin-tech giant Global Payments (GPN) - Get Global Payments Inc. (GPN) Report  dished out a second quarter earnings report last Thursday that led shares to rise over 6%.
Top analyst Joseph Foresi at Cantor Fitzgerald - ranked #11 out of over 4,800 analysts covered on TipRanks - came out boosting his price target on Global Payments from $126 to $136 (15% upside potential).
The analyst is not only encouraged by the quarterly print. Foresi sees robust future prospects for Global Payments following its key announcement: an acquisition of medical software firm AdvancedMD.
CEO Jeff Sloan highlights this $700 million takeover was a strategic business move for Global Payments: "This transaction will further shift our business mix toward technology enablement, enhancing future growth opportunities and highlighting our competitive differentiation through to the next decade."
Foresi notes that the Global Payments management team anticipates it can maintain a lift in adjusted earnings growth levels moving ahead. 
"We are attracted to GPN's strong position in purchase transaction processing in the U.S. and its solid footprint globally as a merchant acquirer [...] We continue to believe there is an opportunity for Global Payments to accelerate revenue growth and improve margins through acquisitions, which should have a positive impact on results and multiples," concludes the analyst.
Overall, consensus goes to the bulls on Global Payments. The 'Strong Buy' stock has drawn 13 buys in three months. With a solid 12% upside potential, the 12-month average price target stands tall at $133.47. Wall Street is optimistic on this fin-tech player's market opportunity. 
GoDaddy
GoDaddy (GDDY) - Get GoDaddy, Inc. Class A Report  is the leading domain name registrar in the globe. Both an internet domain provider as well as a web hosting firm, the company's web hosting sales underwhelmed in the second quarter. While revenue from web hosting surged 14% to $244.6 million, FactSet consensus had called for $247.3 million and GoDaddy stock took a 4% dip in reaction.
To GoDaddy's credit, Wall Street is overlooking better-than-anticipated revenue and profit along with a stronger full-year revenue guide. The company just achieved two key wins: (1) signing up more customers; and (2) monetizing a bigger number from each user. GoDaddy still closed the quarter with around 18 million customers, which marks a 6.5% jump from the same quarter in 2017.
Piper Jaffray's Michael Olson, who has earned an impressive ranking of top 46 analyst on Wall Street says with bookings and revenues "solid," it's simple: "we remain believers in opportunity" for GoDaddy.
On the heels of the print, the analyst reiterates an Overweight rating on GoDaddy while lifting the price target $1 to $91 (20% upside potential). GoDaddy stock continues to boast an encouraging outlook.
The 'Strong Buy' stock continues to capture bullish attention on Wall Street, with 10 buys in three months. Only one analyst is sidelined on GoDaddy's market prospects. The consensus price target stands at $84.18, marking nearly 11% in upside potential.
TipRanks.com offers exclusive insights for investors by focusing on the moves of experts: Analysts, Insiders, Bloggers, Hedge Fund Managers and more. See what the experts are saying about your stocks now at TipRanks.com. Author: Julie Lamb.