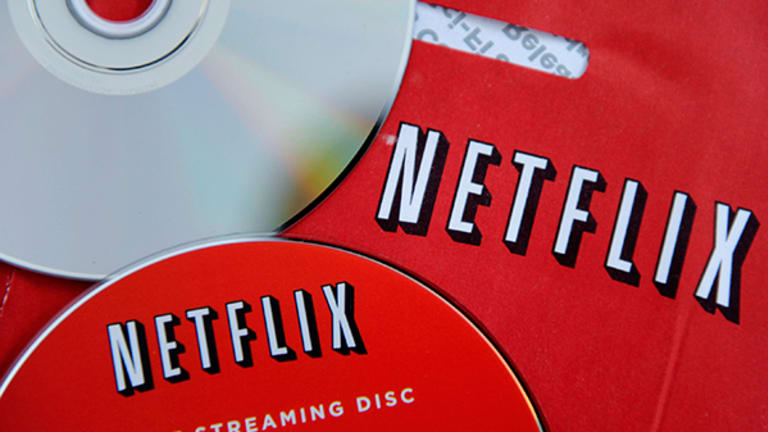 3 Takeaways From Netflix's Second Quarter
Netflix just reported its second quarter and judging by trading volatility, all within a tight range, investors aren't quite sure what to make of it.
Netflix just reported its second quarter and judging by trading volatility, all within a tight range, investors aren't quite sure what to make of it.
NEW YORK (TheStreet) -- Netflix (NFLX) - Get Report reported its second quarter and judging by trading volatility, with moves within a tight range, investors aren't quite sure what to make of it.
On the one hand, the online streaming giants boasted a total membership base 33% larger than a year earlier, far exceeding its own estimates.
On the other, earnings missed estimates. Earnings of $1.15 a share fell shy of forecasts by a penny, according to Thomson Reuters estimates, while revenue of $1.34 billion was in-line with expectations.
To be fair, analysts had high hopes for a quarter which saw more than 30 Emmy nominations, the launch of season two of critically-acclaimed Orange is the New Black, and expansion into all corners of Europe. Netflix's progress is none so clear than when comparing to a year earlier -- earnings came in more than double and revenue climbed 25.2%, while total subscriptions surpassed the 50-million-mark for the first time, including more than 36 million domestic streaming subscribers.
TheStreet's Keris Lahiff has details on Neflix's quarterly results:

WATCH: More tech videos on TheStreet TV | More videos from Keris Alison Lahiff
"The business part is really simply; it's to continue to drive subscriber growth and pull the levers of content and marketing. As long as they keep growing subscribers, the margins keep expanding, investors are mostly comfortable," S&P Capital IQ senior analyst Tuna Amobi told TheStreet.
Threats on Content and Distribution
Though Time Warner (TWX) has knocked back an offer from 21st Century Fox (FOXA) - Get Report, the consolidation of the two content production powerhouses may have an effect on Netflix's bargaining power. Netflix management, however, remain unfazed.
"It's very hard to corner the market on creativity and ideas," Netflix chief content officer Ted Sarandos said on a post-earnings conference call. "I don't see how it would affect things too dramatically in the early days."
"We'll take it as it comes," added CEO Reed Hastings. "The more we're working directly with producers, the less vulnerable we are to aggregation in the big content suppliers."
"For them more risk would be on the consolidation of distributors as opposed to content players," Amobi said of the Time Warner/Fox threat. "Netflix is moving towards original programming in their own right. That's going to mitigate that risk as long as they stay successful."
The company remains more concerned with the net neutrality debate, a topic on which Netflix has already gone on record with the Federal Communications Commission.
"Our focus on strong net neutrality, including interconnection, is about preventing large ISPs (Internet service providers) from holding our joint customers hostage with poor performance to extract payments from us," the company said in a statement, urging the FCC to block the Comcast  (CMCSA) - Get Report/Time Warner Cable (TWX) merger or to at least prevent them from charging for interconnection.
Taking Over the World
Second-quarter subscriber net additions demonstrated Netflix's growing power with domestic and international membership growth of 10% and an incredible 84%, respectively. Domestic net additions of 570,000 exceeded company guidance of 520,000, while international signups soared 1.12 million, compared to estimates of 940,000.
"What we've seen really is just tremendous adoption of on-demand viewing," Hastings said on the call, noting there was no better representation of its strength than the steady increase in new subscribers achieved even during the World Cup.
High adoption and retention rates in South America, in particular, was due in large part to increased popularity of smart TVs, units which have the streaming service integrated into its functionality. The percentage of viewing from smart TVs in Latin America is higher than any other region, Netflix said, which internal data shows leads to users watching more and having a higher likelihood of staying with the service.
In terms of the $1-a-subscription price hike introduced to new members in May, and expected to be grandfathered in for existing subs over the next two years, Hastings said the impact has been "pretty nominal," arguing it has been accepted as necessary so the company can continue to improve the service.
Total domestic paid memberships jumped 22.6% year over year to 35.09 million, while international paid subscriptions soared 84% to 12.91 million, a figure expected to escalate quickly on entry into new global markets.
In September, the company expects to launch in several key European markets, particularly Germany and France. Meanwhile, its international contribution loss of $15.3 million is moving towards a profit, with the company expecting to break even in its third quarter.
"This is a playbook Netflix has already executed in other Western European as well as Latin American markets, and this should ultimately lead to margin expansion and higher FCF dollars starting in FY16 as the subscriber base in the newly launched markets scale beyond this period of investment," Credit Suisse's Stephen Ju commented in a note. Ju reiterated his "neutral" rating, but raised his price target to $430 from $369.
However, even as the company expects third-quarter international subs to increase by 2.36 million, expansion will cost the quarter's earnings. The company expects 89 cents a share over the three months to September, materially lower than estimates of $1.02 a share.
"Q3 guidance, while somewhat tepid on the EBIT and EPS side, was very strong on International sub adds, implying much higher marketing expenses utilized in the current quarter than we had predicted," Topeka Capital analyst David W. Miller said in a note. "That said, for a company still operating on the front edge of the S-curve, higher marketing expenses is a necessity." A "buy" rating and $517 price target were given.
Greater Investment in Global Original Programming
Orange is the New Black, the second season of which premiered to positive critical and fan response, has been just one of the company's successful original productions, which include House of Cards and Derek. In the month after launch, the show became the most watched property in every territory.
In lockstep with international expansion, Netflix has increased the number of productions filmed overseas. This will prove critical in its move into France -- the country enforces protectionist cultural exception laws which require foreign entertainment and arts companies to fund local productions and pay taxes to a governing authority.
"We've definitely got to work with French society and with the assumptions and beliefs that they have. We want to be loved in France by French consumers because we understand French content, because we give it a bigger home, and because we bring them variety, things like U.S. television shows that historically have been under-distributed," Hastings said on the call.
For the most part, despite weaker earnings seen in the reported quarter and guided for in the current quarter, analysts remain bullish on the stock, seeing the marketing and expansion costs as necessary to sharpen its edge.
"We believe Netflix's purchasing power, technology platform and operational expertise are creating ever larger competitive advantages in its effort to become the dominant global leader in on-demand video," Pacific Crest Securities' Andy Hargreaves summarized in a note, reiterating an "outperform" rating and $530 price target.
--Written by Keris Alison Lahiff in New York.