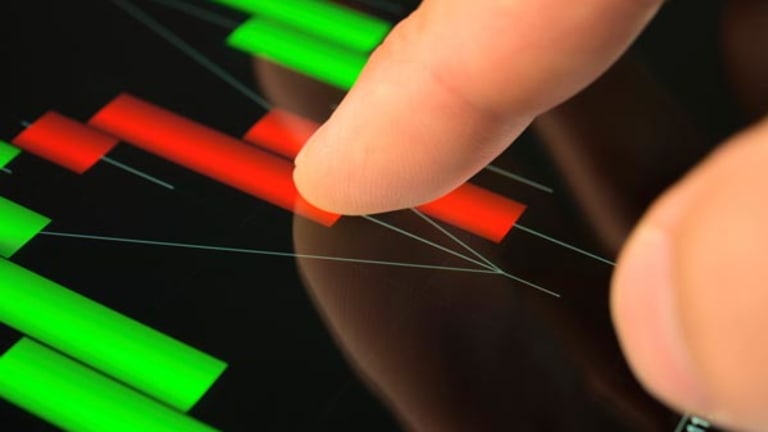 5 Reasons Why Apple's Drop Won't Last
Apple's rare consensus miss may have spooked investors, but ultimately is a mere bump in the road for the tech giant.
Updated from 9:44 a.m. EDT
CUPERTINO, Calif. (
) --
Apple
(AAPL)
sent shock waves through Silicon Valley when the company reported a rare
after markets closed on Tuesday, falling short of the consensus profit view for just the third time since 2002.
Investors were shaken by the fourth-quarter numbers, particularly the gadget maker's weaker-than-anticipated iPhone sales, pushing Apple's stock down almost 4% in trading on Wednesday.
The fourth-quarter results, however, should be little more than a bump in the road for Apple and its new
CEO Tim Cook
who stepped up to replace
his iconic predecessor, Steve Jobs
in August.
"Not every quarter is a blowout," explained Charles Wolfe, an analyst at Needham & Co., noting that, outside of the iPhone slowdown, Apple's other fourth-quarter metrics were strong.
Read on for five reasons why Apple's stock dip won't last:
Strong Outlook
Sure, Apple's iPhone numbers came in below Wall Street's projections, but the fourth quarter is history now. Instead, investors should focus their attention on the company's better-than-usual first-quarter outlook.
Apple projected earnings of about $9.30 a share and revenue of roughly $37 billion. The current consensus view is for earnings of $9.01 a share and sales of $36.72 billion.
During Apple's last fiscal first quarter, the company brought in $26.74 billion and earned $6.43 a share, so the tech giant is clearly heading in the right direction.
"As consensus estimates are now likely to hug guidance more closely, we expect next quarter's expectations to remain realistic, and perhaps even conservative, explained Bill Shope, an analyst at
Goldman Sachs
in a note.
iPhone Rebound
Apple looks set to reap the benefits of consumers delaying their iPhone purchases ahead of the launch of the company's latest phone. With demand for the new iPhone 4S
, the stage is set for some big first-quarter numbers.
"We believe demand remains very strong for the iPhone, as evidenced by the record iPhone 4S launch of 4 million units sold in the first three days of availability," explained Michael Walkley, an analyst at Canaccord Genuity, in a note. "Despite this transitional quarter, we continue to anticipate strong earnings growth for Apple with record sales during the December quarter."
"While iPhone 4 sales clearly paused ahead of the new iPhone rollout, the blowout iPhone 4S demand leaves little doubt in our mind that Apple is poised for another blockbuster iPhone product," added Brian White, an analyst at Ticonderoga Securities.
New Cash Strategy?
Cook, as expected, faced questions on the company's ever-expanding cash haul, now at a mind-boggling $81.6 billion. As expected, the new CEO was quizzed by analysts on whether he would consider carving up some of that cash, possibly in the form of a
. Apple stopped paying a dividend in 1995, preferring to instead to focus on "strategic opportunities".
Speaking during the fourth-quarter conference call, Cook hinted that while the money "isn't burning a hole" in Apple's pocket, he could be open to revisiting the company's cash strategy.
"I'm not religious about holding cash or not holding it," he said, in response to an analyst's question. "We will continue to ask ourselves what's in Apple's best interest -- it's a topic for the board on an ongoing basis."
"We felt Tim Cook's commentary regarding the potential to return some of Apple's cash to shareholders was more open than in recent memory, potentially setting up a stock buyback or cash dividend over the next 12-18 months," noted Ticonderoga's White.
Fourth-Quarter Positives
Lost in all the wailing and gnashing of teeth that followed Apple's fourth-quarter results were some key numbers that bode well for the tech giant.
Apple, for example, set new all-time quarterly records for iPad and Mac sales. The company shipped a massive 11.1 million iPads, thanks largely to the iPad 2, up from just 4.2 million iPads in the prior year's quarter.
Mac sales were also robust, with Apple shipping 4.89 million Macs, compared to 3.89 million in the same period last year. Apple's Mac numbers were boosted by the launch of the new MacBook Air, as well continued demand for the MacBook Pro. Macs enjoyed particularly robust growth in Asia-Pacific, according to Apple, where sales were up 61% year over year.
"Apple continued to break records," explained Beau Skonieczny, an analyst at Technology Business Research, in a note. "Triple-digit iPad unit sales and a 37% year-to-year increase in Mac portable shipments drove an overall 39% year-to-year
revenue growth to $28 billion."
Even Apple's iPhone numbers should be viewed within context. The 17.1 million iPhones sold still represented a September quarter record.
Supply Chain Looks Strong
With Apple aiming to get millions of products into the hands of consumers during the busy holiday quarter, the company's
is always critically important, although Cook gave no hints of anticipated problems during the fourth-quarter conference call.
"It's a very positive market from a supply point of view," he said, in response to an analyst's question on component pricing.
Cook, famed as a logistics guru, also explained that Apple will continue to use a select group of suppliers, and is not afraid to spend money on its supply chain. The company, he said, has used its balance sheet "in a favorable way" to do some strategic deals on crucial parts across a series of products.
"Apple will leverage its deep supplier relationships to meet strong holiday demand for the iPhone 4S and drive significant sales in the fourth quarter of 2011," added TBR's Skonieczny. "Apple's strategic relationships with fewer suppliers rather than many allows for more predictability and control over the production process -- Apple will continue to leverage its supplier advantage to meet demand for iPhone 4S through the 2011 holiday season."
--Written by James Rogers in New York.
Readers Also Like:
10 Worst-Performing S&P 500 Stocks of 2011