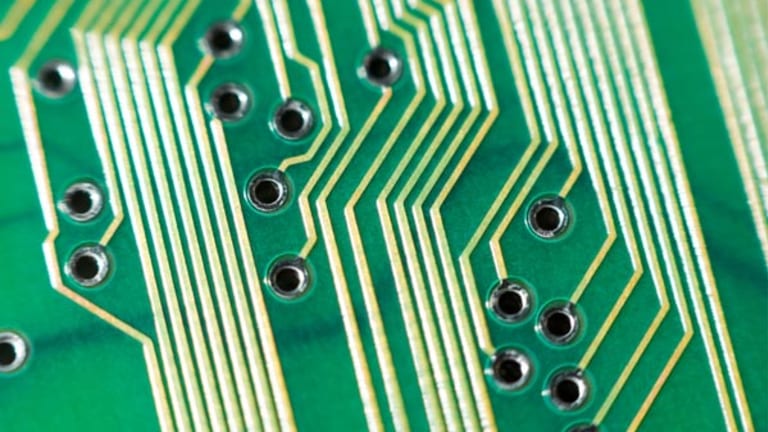 3 Most-Loved Tech Stocks to Sell
You loved them, now leave them. Apple, Netflix and Marvell have nothing left to give you but heartache.
NEW YORK (
) -- Investors really fell for a few tech stocks this year. And while some deserved your whole-hearted admiration, some others could be trouble and may well break your heart next year.
Earlier this month we put a spotlight on
the top five biggest gainers in tech
. Those were the stocks that shot up the highest in the sector. This time around, taking a far more cautious view of the winners, we've found three beloved stocks that face major challenges in the year ahead.
Shares of
Marvell
(MRVL) - Get Report
,
Apple
(AAPL) - Get Report
and
Netflix
(NFLX) - Get Report
were all deep in the green as investors kept the momentum alive. Great run, but instead of applause, maybe you should hustle some of those winnings into the bank.
Netflix's wonderfully ridiculous run-up was fueled by the assumption that it was the best way to play Net TV. And Apple's introduction of the iPad and new iPhone was a phenomenal product performance that won't be easy to beat. And by looking at the stock, you'd never know Marvell blew an opportunity that could set it back for a while.
Here are the three of the hottest tech stocks and how they may burn you next year.
No.3 -- Marvell
Marvell makes
ARM
(ARMH)
-based processors for mobile devices. There's hardly a sweeter spot in the chip sector than that. Just ask
Intel
(INTC) - Get Report
, which has been
of the market.
Here's the rub
: In September, with its annual developers' conference approaching, Marvell delivered a costly setback to long-time partner
Research In Motion
( RIMM). RIM was preparing to launch its own groundbreaking tablet -- dubbed the BlackPad -- that would run on the new BlackBerry 6 operating system powered by Marvell's Armada processor. But according to people close to the project, some glitches forced
and pull out a half-baked prototype of the PlayBook, its next generation tablet that wasn't scheduled for launch until late in 2011.
The stock
: The blunder cost Marvell a key supplier gig with RIM and earned
Texas Instruments
(TXN) - Get Report
the job as chipmaker for the PlayBook. But Marvell shares were up 25% this past year as investors seemed willing to ignore and even reward the company for the checkered performance. Now, going into 2011, Marvell certainly isn't doomed, but the early missteps in the emerging tablet category will be hard to overcome.
No.2 -- Apple
It was a banner year for Apple, perhaps none better, ever. The introduction of the iPad tablet was not a flop and, by the looks of it, a pretty hot fad. And the launch of the totally redesigned iPhone 4, while deeply
flawed by obvious antenna problems
, was a runaway success. To cap it off, investors are now very clued in to the fact that
Verizon
(VZ) - Get Report
will get the iPhone as early as next month.
Here's the rub
: Apple can't top that performance. The explosion of iPhone sales has pretty much been
ever since we started to put pieces of the
Verizon iPhone
mosaic together in January. What's left? The iPad 2 with cameras? That's already known and factored in as well.
The stock
: In March, we took the ridiculously bold stand that
. The stock was at $220 then; it's at $320 now. So we were 100 points wrong, and for Apple shareholders' sake maybe we are wrong again. But unless Apple can fill its magical pipeline with revolutionary new products, not only will year-over-year comparisons get difficult, the roaring investor momentum will fade.
No.1 -- Netflix
Netflix is up an astonishing 240% this year as investors glom on to the idea that the movie shop is a key part of some bridge between the Internet and TV. It seems like almost overnight Netflix went from the DVD mailer to the Net video king.
Here's the rub
: Netflix's valuation has soared beyond what you might call reasonable levels. The bulls say Netflix has become the leading middleman between media companies sitting on stale videos, and consumers looking for streaming entertainment. It's a business model that expands with new content deals, new countries and new subscribers. Bears argue that the size of the opportunity -- reselling TV reruns and late release movies -- has been vastly overestimated.
The stock
: Netflix trades at a 51 multiple. In other words, the stock is priced at 51 times Netflix's projected earnings for 2011. To put that in perspective, Apple looks cheap trading at a mere 14 times next year's earnings estimate. Movie studios don't want to kill their DVD sales, but if they decide to stream fresh first-run movies to consumers, Netflix will start to look a little perishable.
--Written by Scott Moritz in New York.>To contact this writer, click here: Scott Moritz, or email: scott.moritz@thestreet.com.To follow Scott on Twitter, go to http://twitter.com/MoritzDispatch.>To send a tip, email: tips@thestreet.com.
Readers Also Like: