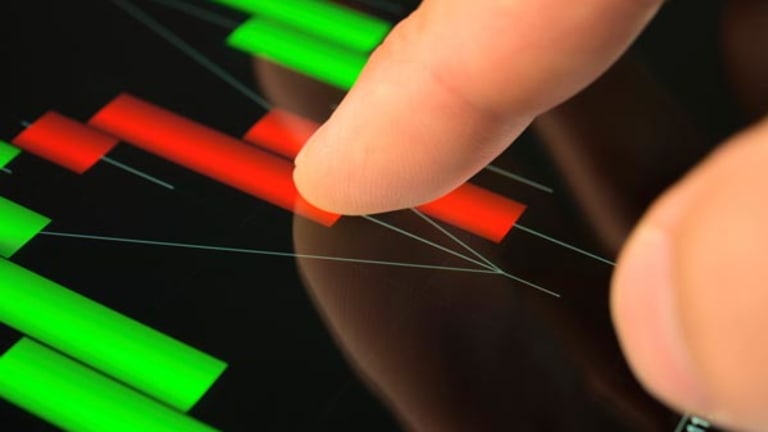 3 Hot Tech Security Stocks
The recent spate of security breaches has focused attention on tech stocks such as Symantec, Fortinet and Websense.
The recent spate of security breaches has focused attention on tech stocks such as Symantec, Fortinet and Websense.
Editor's note: As part of our partnership with PBS's Nightly Business Report, TheStreet's James Rogers joined NBR (watch video and read transcript here) to discuss tech security stocks getting attention after a spate of high-profile data breaches.
NEW YORK (TheStreet) -- The recent data breaches at Sony (SNE) - Get Report, Epsilon and EMC's (EMC) RSA security division provide ample evidence -- if any was needed -- that hackers are on a tear.
"For hackers, the RSA breach was akin to attacking Fort Knox," Laura DiDio, principal analyst at ITIC, told
TheStreet
. "The hackers are now more organized and the attacks themselves are becoming more sophisticated and more pernicious."
Corporate America's pain, however, could be a gain for investors, as recent events focus attention squarely on security firms capable of locking down data and networks. Cue
Symantec
(SYMC) - Get Report
,
Fortinet
(FTNT) - Get Report
and
Websense
(WBSN)
, which tout their wares as a way for businesses to avoid embarassing data breaches.
"Security is a hot topic, all that you have to do is look at the headlines and the threat environment," Brad Zelnick, an analyst at Macquarie Research, told
TheStreet
. "Whether it's Sony or the Epsilon breach, there's clearly a lot to cover."
"The truth is that the fear factor is very real," added ITIC's DiDio. "May was a banner month for corporate security breaches --
the month is off to a roaring start, from a hacker's perspective."
Whether its securing data in the cloud, Web security or building multi-purpose hardware, Symantec, Fortinet and Websense are all well positioned to ride the current security wave. Read on for more on why these companies are top tech security stocks.
SYMANTEC
Security stalwart Symantec, whose turnaround has gone largely noticed by investors, exciting? Might be hard to believe, but with a stock price that's currently trading below $20, analysts say it presents a good buying opportunity.
"It's still fantastically inexpensive," says Brad Zelnick of Macquarie Securities, who has a $23 price target on the shares. "Quite frankly, it's unloved, and that's what makes it exciting."
After a tough few years, Symantec is now emerging from a period marred by
, exemplified by its struggles to ingest acquisitions such as
Veritas
.
Strong
last week, however, point to better times ahead for the Mountain View, Calif.-based outfit.
The company's security and compliance business was particularly robust during the quarter, with revenue growing 24% year over year. Revenue from storage and server management, previously an area of weakness, was also up, rising 8% compared to the same period last year.
"Symantec delivered good fiscal fourth-quarter results overall, marking its third consecutive quarter of improved execution and growth," said Todd Weller, an analyst at Stifel Nicolaus, in a recent note. "We view the quarter as another positive step by Symantec in increasing the market's confidence in its ability to more consistently execute and drive improved growth."
"At the end of the day, it comes down to tech leadership, brand and market share," added Macquarie Securities' Zelnick. "
Symantec has got a lot of the ingredients, they just had a tough time of pulling it together -- now it's finally happening for them."
More specifically Symantec has cited top line growth around enterprise backup, hosted services and its DLP (Data Loss Prevention) products.
Symantec is also aggressively targeting cloud security, something which will prove key as more companies send their critical data off into the cloud. On that front, the software maker is already working with
Salesforce.com
(CRM) - Get Report
to provide its customers with additional cloud security.
FORTINET
The security hardware specialist is one of the
of
Cisco's
(CSCO) - Get Report
recent struggles. Whereas Cisco's security business grew just 2% year-over-year in its recent
, Fortinet enjoyed a 48% hike in sales of its security products.
"As security becomes more and more important over time, the wind is at their back," Roger Kay, an analyst at
Endpoint Technologies
told
TheStreet
. "Fortinet's stock performance is very steady, they have barely had a glitch."
owes its success to its FortiGate appliance, an all-in-one security product that combines firewall, anti-virus, VPN and intrusion prevention systems.
Publicly traded for less than two years, the firm is
acknowledged as a leader
in an area known as Unified Threat Management (UTM), whereby businesses tackle multiple security threats via a single device.
Fortinet's stock has risen almost 180% since its IPO, an upward trajectory expected continue. During the firm's
, Fortinet reported that it grew its revenue 34% compared to the prior year's quarter, boosted its cash position, and raised its guidance for fiscal 2011.
Crucially for investors, Fortinet also has an impressive forward price-to-earnings ratio of 57.52, hinting at future earnings growth. The average forward multiple for the S&P 500 is 12.9.
WEBSENSE
With tech security companies
for the likes of
Intel
(INTC) - Get Report
and
HP
(HPQ) - Get Report
, there has been
that Websense could
.
"At some point
Websense might be attractive," said Roger Kay of Endpoint Technologies. "I think that there are various deep-pocketed acquirers out there that could be looking at properties like this."
There has already been speculation that HP would be the most logical suitor for Websense. The tech bellwether is expected to make
in both software and security, particularly after HP CEO Leo Apotheker recently highlighted the security challenges of cloud computing.
With a market cap of $1 billion, Websense would certainly be within the reach of cash-rich HP, which spent on $1.5 billion on security software specialist
ArcSight
last year.
"Given the potential for some improvement in the fundamental story along with the potential for Websense to be a consolidation candidate, we remain constructive on the shares," explained analyst Todd Weller of Stifel Nicolaus, in a recent note.
The Symantec rival continues to attract attention thanks to its software for securing Web, email, mobile and social networking data.
The San Diego-based firm was recently
from hold to buy by
TheStreet
Ratings, thanks to strong recent revenue and profit growth, as well its return on equity.
--Written by James Rogers in New York.
>To follow the writer on Twitter, go to
http://twitter.com/jamesjrogers
.
>To submit a news tip, send an email to: