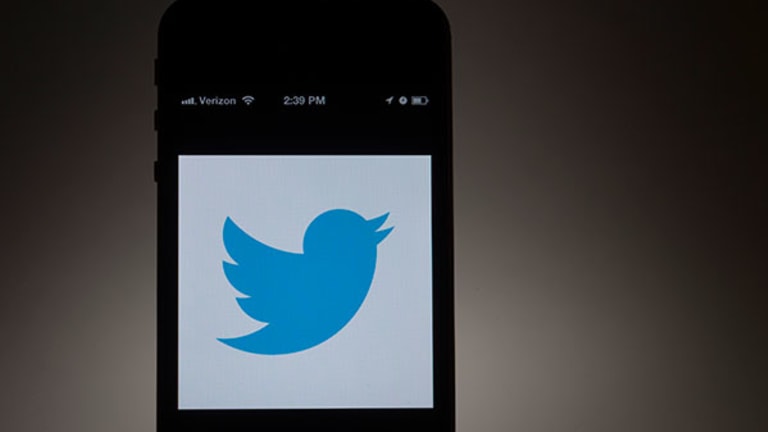 3 Biggest Takeaways From Twitter's Totally Forgivable Quarter
If earnings day were any indication, investors have a new attitude around Twitter. They're now rewarding the company for its fourth-quarter successes instead of punishing it for its one weakness.
Updated from 8:41 a.m. to include additional information in the fourth paragraph.
SAN DIEGO, Calif. (TheStreet) -- Twitter (TWTR) - Get Twitter, Inc. Report proved on Thursday that miracles can happen.
The San Francisco-based social-network company reported adjusted fourth-quarter earnings of 12 cents per share on revenue of $479 million, handily beating the analysts' average estimates of 6 cents per share and $453 million. But the company came up short on the all-important audience front. Twitter closed 2014 with just 288 million monthly active users (MAUs), adding a total of 4 million new people from the third quarter.
The company, however, was forgiven for its MAU shortcoming as investors instead paid more heed to the company's notable earnings beat. They also appear to be content to look ahead to 2015 results, and are expecting good things from Twitter's arsenal of products and deals, including native video and a search deal with Google (GOOGL) - Get Alphabet Inc. Class A Report   that were recently announced.
"Twitter has several key product initiatives that are either relatively new or in beta and has begun to sign deals for content and ad syndication -- momentum is building," SunTrust Robinson & Humphrey analyst Robert Peck wrote in a note.
On the earnings conference call, executives said that they are working hard to develop a "delightful" experience for the company's logged-out audience-- or the more than 525 million people who visit the network each month but don't log in. Twitter is trying to entice onlookers to join the network. The experience will one day also include advertisements, which could take pressure off Twitter in the MAU department.
For his part, CEO Dick Costolo said all the right things, at least as evidenced by the stock's upward trajectory during the call. His job, then, appears safe for the time being.
Here are the three most notable takeaways from the report:
1. MAUs will improve -- eventually. The company got a pass from Wall Street despite adding only 4 million new monthly active users during the fourth quarter, which missed the very conservative analyst estimate of 6 million net additions. The company closed the quarter with just 288 million active users. A blip of growth, really. The stock, however, sidestepped catastrophe. Instead, shares skyrocketed by more than 10% in after-hours trading following the report.
The miracle turn of events can, in part, be attributed to two things. First, expectations were so low going into the report, that the unimpressive 288-million-MAU number did not shock anyone. Also Twitter executives proved to be more forthcoming and shared their expectations for MAU growth in the current first quarter. Monthly active user growth will return to normal levels in the quarter, the company said, which means Twitter will add between 13 million and 16 million net new users.
The outlook proved good enough to return Wall Street's faith in Twitter's ability to increase its audience. Of course, Twitter gave investors plenty of other tasty nuggets to chew on, which also overshadowed its fourth-quarter blemish. Oh, and by the way, there was a totally legitimate reason for the MAU whiff, as the company said it lost 4 million MAUs to an "unforeseen bug" in the release of Apple's (AAPL) - Get Apple Inc. (AAPL) Report iOS 8 mobile operating system for iPhones and iPads.
The MAU trend has turned around, Costolo said during the call. And, not by coincidence, so too has the stock.
2. Strength in all -- well most -- of the right places. If you put aside Twitter's lack of user growth, then what you have is a phenomenal quarter of better-than-expected results. Revenue of $479 million was 97% higher than in the year-earlier quarter and more than 5% above analysts' projections and earnings were double Wall Street estimates.
Twitter posted ad revenue of $2.37 per 1,000 timeline views, or how many people look at Twitter's website, a key advertising metric. The figure, which represents how Twitter calculates the value of its audience, was 60% greater than in the same quarter a year earlier, and 8 cents above expectations.
The company topped its own estimate around engagement. Twitter had previously told Wall Street to expect flat growth in timeline views per active user, which would imply 613 timeline views for each MAU, but instead timeline views rose to 631 per MAU from a year earlier. Twitter accumulated 182 billion total timeline views in the fourth quarter, which was 23% higher than a year earlier. The company, however, is killing off this particular metric as it searches for a better way to calculate engagement. Apparently the standard daily active user to monthly active user ratio employed by Facebook and others isn't sufficient either.
But, just for fun, Costolo noted that Twitter saw more than 6,000 tweets per minute every day of the quarter.
In addition, the company's financial outlook was solid. Management said first-quarter revenue would come in between $440 million and $450 million, while full year revenue would fall in the range of $2.3 and million to $2.35 billion.
3. The Google search deal is a go. Costolo used the question-and-answer portion of the earnings conference call to confirm that company has, in fact, agreed to return its massive number of tweets to Google's (GOOG) - Get Alphabet Inc. Class C Report search engine after a four-year hiatus. The topic, then, proved a very popular one with analysts who were naturally curious about why the company ever removed its tweets from Google, how the deal will affect revenue, and whether it will produce new users.
Costolo and crew were mum on the most important specifics, (including financials), but he and Chief Financial Officer Anthony Noto did stress that tweets won't be appearing in search for several months, which means the deal won't affect first-quarter results. They also cautioned not to expect the additional Google exposure to grow its logged-in audience. But hey, it's progress.
--Written by Jennifer Van Grove in San Diego, Calif.
>Contact by Email.