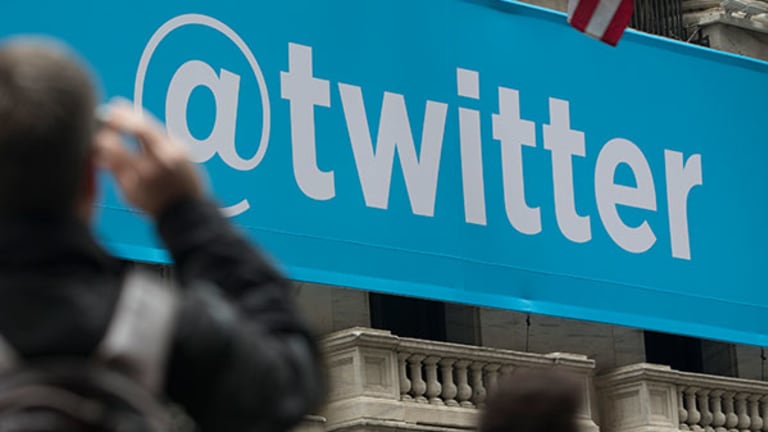 3 Biggest Takeaways From Twitter's Third-Quarter Earnings
Twitter's third quarter shows it's more of the same for the company -- its biggest problem is not the viability of its business, it's growing the user base.
Updated from 9:14 a.m. to include updated share price and additional analyst thoughts in the twelfth paragraph.
NEW YORK (TheStreet) –– Twitter's (TWTR) - Get Twitter, Inc. Report third quarter showed it's more of the same for the company -- its biggest problem is not the viability of the business, it's growing the user base.
For the third quarter, Twitter earned an adjusted 1 cent a share on revenue of $361 million, up 114% year over year. But Twitter added just 13 million monthly active users (MAUs), leaving it with 284 million at the end of the quarter. Analysts surveyed by Thomson Reuters expected the social network to earn an adjusted 1 cent a share on revenue of $351.35 million.
Some on Wall Street were expecting around 16 to 18 million MAU additions, so 13 million (3 million in the U.S.) is a letdown for a company that had shown promise of reaccelerating growth in the second quarter. Nomura Securities analyst Anthony DiClemente, who downgraded shares to "neutral" with a $45 price target, noted the MAU miss was "driven partially" by an authentication bug in the Asia Pacific region, as well as a lack of news events such as the elections in India and South Korea, which both happened in the second quarter.
Shares of Twitter were plunging in early trading on Tuesday, falling 10.3% to $43.50, following a 2.8% decline on Monday. For the year, Twitter shares have fallen 24.7%, badly lagging both the S&P 500's 6.1% gain and competitor Facebook's (FB) - Get Meta Platforms Inc. Class A Report  impressive 46.9% gain.
For the fourth quarter, Twitter said it expects revenue to be between $440 million and $450 million, with adjusted Ebitda between a range of $100 million to $105 million. The company also revised its outlook for 2014, saying it expects revenue to be between $1.365 billion and $1.375 billion, with adjusted Ebitda in the range of $260 million to $265 million.
The three biggest takeaways from Twitter's third-quarter earnings and conference call were:
User Growth. At 284 million MAUs (the company doesn't provide a daily active user figure), San Francisco-based Twitter isn't likely to be as big as Facebook anytime soon, if ever. On the earnings call Monday, CEO Dick Costolo and Chief Financial Officer Anthony Noto both talked about getting the company to do more with not only its logged-in users but its logged-off users, and the people who are reached in syndication (through partners such as ESPN). "We think about everything we do in the context of this set of geometrically eccentric circles and think it's useful for you too as well," Costolo said on the call.
He then outlined the three objectives the company has for building its user base, while continuing to note that the logged-out user base is 1x-2x larger than its logged-in user base.
"We have to continue to grow our monthly active users and make Twitter an increasingly daily used case for them," Costolo said on the call. Following that, the company needs to provide "much better rich media creation and consumption tools and experiences to drive more breadth and depth of content" in addition to adding capabilities to its direct messaging service. Costolo also said Twitter must build new applications and services, aided by the launch of its Fabric SDK (software development kit).
Monetization Is Still Strong. Monetization for the company has never been an issue, as it has surpassed Wall Street's revenue estimates every quarter and revenue is rising. The company's ad revenue per 1,000 timeline views (which it believes it should be measured on) was $1.77 in the third quarter, up from 97 cents in the year-earlier quarter.
Monetization is exceptionally strong in the U.S. with $4.28 per 1,000 timeline views, and there's more room to run, noted SunTrust analyst Bob Peck. "ARPU grew 69%, down from 84% in 2Q, but still only monetizing at ~50% of FB levels on an MAU basis," Peck wrote in an analyst report following the quarter.
Additionally, Twitter's advertiser selection is nowhere near what Facebook and Google (GOOGL) - Get Alphabet Inc. Class A Report have, according to Deutsche Bank analyst Ross Sandler, so any increase in selection "represents future upside."
Buy Now Button. Twitter has been adamant about public experimentation to grow its user base as well as revenue, including using the World Cup as a positive of what it can do. Both Costolo and Noto said the company will continue to experiment in other areas, with commerce being one area of particular interest.
Costolo noted that the CardSpring acquisition is "definitely related" to Twitter's efforts in commerce, but that the "Buy Now" button that launched recently is just about experimenting and it's not going to end there.
"We're continuing to explore the way we think about in the moment commerce and now commerce and the different kinds of opportunities we see in that area and also to continue to play around with explorations there and look at opportunities in that area, as opposed to thinking about what you're seeing today as what we're launching permanently," Costolo said on the call.
--Written by Chris Ciaccia in New York
>Contact by Email.