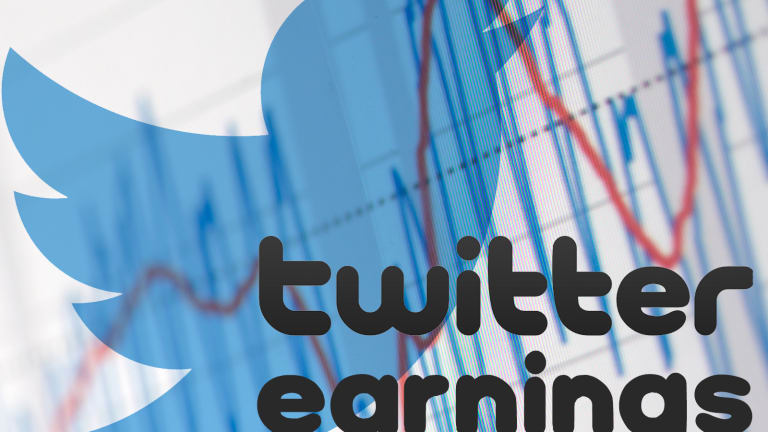 3 Biggest Takeaways From Twitter's First-Quarter Earnings Report
Twitter has a rough day Tuesday, missing revenue expectations and failing to significantly grow its user base.
NEW YORK (TheStreet) -- Twitter (TWTR) - Get Twitter, Inc. Report had a rough day Tuesday, starting with an early leak of its earnings and ending with a somewhat grim earnings conference call, and analysts are concerned.
Revenue for the first quarter was $436 million, up 74% year over year, but lower than the average estimate from analysts of $457 million, according to Thomson Reuters. Twitter reported earnings per share of 7 cents, topping the average estimate from analysts of 4 cents.
The San Francisco-based social media company blamed the revenue miss on "lower-than-expected contribution from its newer direct-response products" and the impact of foreign exchange.
Twitter failed to report any significant gains in average Monthly Active Users, claiming a total of 302 million MAUs for the first quarter, up 18% year over year, but only 14 million higher than the previous quarter. In February, Twitter said MAU growth would return to normal levels in the first quarter.
Things aren't expected to turn around anytime soon, and Twitter admitted it isn't likely to show faster growth in the second quarter for revenue and MAUs. Twitter expects second-quarter revenue to fall between $470 million and $485 million. Analysts surveyed by Thomson Reuters expect the company to generate $503.4 million in revenue.
"After five consecutive quarters of more than 97% year-over-year revenue growth, we underperformed against our expectations," Twitter CEO Dick Costolo said during the conference call. "We anticipate the factors that affected our first-quarter results will also affect our 2015 guidance. While I am disappointed we didn't continue to exceed expectations on revenue, I am proud of the team's focus, innovation and energy around the way we managed the business in light of the shortfall."
Adding salt to the wound, Twitter's earnings results were accidentally posted to its Investor Relations Web page earlier than expected, and financial intelligence platform Selerity picked them up and tweeted them, causing a frenzy in the stock market. Twitter shares were halted on the leak, but when trading was reopened, the stock dropped as much as 26%. Shares closed Tuesday's session down more than 18%.
In premarket trading Wednesday, shares were still falling and were down 2.1% to $41.40.
Here are the three key takeaways from Twitter's first-quarter earnings report:
Troubles Remain in Ad Land
Twitter blamed its revenue miss largely on advertising failures, citing troubles with direct-response advertisements.
Specifically, Twitter had issues with pricing and advertiser demand as it transitions to a new model of click per action, or CPX, as opposed to the standard ad metric of CPM, or cost per thousand, which is based on ad views instead of actions. In essence, Twitter raised the bar for what qualifies as an ad engagement.
"Some advertisers limited spending at higher levels of scale because the bids required to win incremental auctions were higher than they were willing to pay, which limited additional spending," Twitter CFO Anthony Noto explained during the conference call. "Second, we have improved the quality of leads for direct response advertisers using our Web site Cards by raising the bar on what constitutes an engagement or click. The higher bar provides significantly increased value to advertisers because we are delivering users further down the marketing funnel."
Twitter is also having issues with ad engagements, which fell 5% quarter over quarter despite the 14 million new users.
"Twitter reported a difficult quarter missing on core Ad revenues and lowering guidance for the full year, which we believe will likely make investors put Twitter back in the 'prove it' category," SunTrust analyst Robert Peck wrote in a note Wednesday morning. "We are still long-term believers in the opportunity in front of Twitter, but believe the short-term headwinds will weigh on results and investor sentiment and increase the focus on execution."
Nonetheless Twitter is certainly not giving up and is looking to make changes to revive its ad business.
Twitter announced a partnership with Google's (GOOGL) - Get Alphabet Inc. Class A Report (GOOG) - Get Alphabet Inc. Class C Report DoubleClick, which it hopes will be of help. Twitter also acquired ad-tech company TellApart, which Twitter says it hopes will help to improve ad measurement and engagement. Terms were not disclosed.
Still Struggling to Attract New Users
Analysts have long been asking Twitter to show growth in MAUs, but Twitter has been struggling to do so, despite throwing out a number of new products such as the logged-out homepage and Highlights, a summary of tweets in users' timelines. The company added only 14 million new users in the first quarter, despite large events such as the Super Bowl that tend to draw more users, and it isn't expecting that number to grow too much in the next quarter. Noto admitted that MAUs are off to a slow start in April.
"While we think most of the advertiser-related issues are temporary, the most negative aspect of the quarter in our view was the 'low visibility' regarding Q2 (& beyond?) MAU growth," Canaccord Genuity analyst Michael Graham wrote in a note. "This could temper enthusiasm for the stock until corrected, or investors get comfortable with long-term growth driven solely by monetization improvements."
Twitter is still hopeful that it can improve the experience for new users, and once it is content with this experience, it will start to think about advertising campaigns to draw in new users, Costolo said in the call.
"To grow our user base, we need to improve new user retention and our strategy here is to provide immediate value and a compelling timeline the moment a user signs up," Costolo said. "Through instant timelines and now highlights, we offer people compelling content as soon as they sign up while also creating mechanisms that drive people back to Twitter and show them engaging content right away."
Big Focus on Video
Despite missing on many of the main metrics, Twitter is still innovating and is still expanding, and one of the main areas it's moving into is video. A month ago, Twitter launched Periscope, which lets users stream and watch live video. Within the first 10 days of launch, more than 1 million people signed up for Periscope, according to Costolo.
Twitter acquired the company in January for a reported $100 million.
Periscope, along with other video initiatives, falls under Twitter's objective to "build new applications and services in order to increase Twitter's utility around the world," Costolo said.
"We know that rich media like photos and videos are some of the most engaging content on the platform, and that's why we have also brought native mobile video to both iOS and Android in Q1 and now along with Periscope and Vine, there are even more ways for Twitter users to watch mobile videos within the Twitter ecosystem," Costolo said in the conference call.
Although Costolo didn't provide specific metrics on video, he did say that since launching native mobile video, Twitter has seen "orders-of-magnitude increases in the volume of native mobile video shared to Twitter across all kinds of the video shared to Twitter."