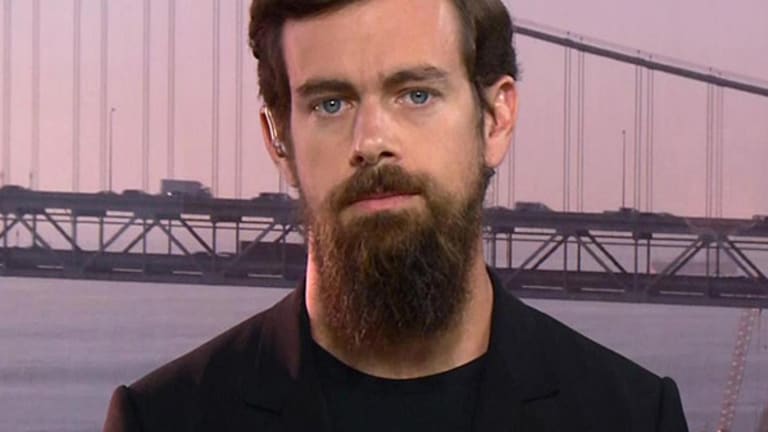 3 Biggest Takeaways From Twitter's Disappointing Third-Quarter Earnings Report
Revenue was fine, but user growth was another story.
Twitter (TWTR) - Get Twitter Inc. Report may have beat analysts' expectations for revenue and earnings in its third-quarter report on Wednesday, but its failure to show significant user growth paired with tepid guidance sent shares plunging.
The San Francisco-based company reported third-quarter revenue of $569 million, up 58% year over year, and earnings of 10 cents per share. Analysts surveyed by Thomson Reuters were expecting Twitter to earn 5 cents a share on $559.6 million in revenue.
The social media company provided guidance of $695 million to $710 million in revenue for the fourth quarter, and EBITDA between $155 million and $175 million.
Twitter CEO Jack Dorsey emphasized the progress that Twitter has been making in a few key areas. 
"We continued to see strong financial performance this quarter, as well as meaningful progress across our three areas of focus: ensuring more disciplined execution, simplifying our services, and better communicating the value of our platform," Dorsey said in a statement. "We've simplified our roadmap and organization around a few big bets across Twitter, Periscope, and Vine that we believe represent our largest opportunities for growth."
Shares of Twitter are down 10.4% to $28.08 in premarket trading Wednesday.
Here are the three key takeaways from Twitter's third-quarter report:
Where Are The New Users?
Since Twitter had pre-announced its revenue and earnings for the quarter, analysts were really just waiting on an update on user growth, and unfortunately for Twitter, the results did not impress.
Twitter added only 4 million monthly active users in the quarter (including SMS Fast Followers, meaning people who get tweets as text messages), bringing its total to 320 million, up 11% year-over-year. Excluding SMS Fast Followers, Twitter only added 3 million monthly active users in the quarter, for a total of 307 million, an 8% year-over-year increase.
Management didn't give any specific user growth guidance for the fourth quarter, but said that the product needed to change to reach mass adoption. It also said that it would begin marketing Twitter in TV ads to attract new users and promote its new Moments feature.
"While we believe many of the growth initiatives highlighted by 'new' CEO Jack Dorsey are promising, it remains less clear whether these will translate into more active user growth and engagement," Baird analyst Colin Sebastian wrote in a note Wednesday. "From an advertiser perspective, Twitter must gain scale (users and ad inventory) in order to justify further allocations of ad budgets."
All About the Ads
Ad engagement accelerated during the quarter, driven by new forms of ads like autoplay video ads. Ad engagements grew 165% year over year.
While user growth may be stalling, Twitter is getting better at monetizing each individual user -- this quarter's ad revenue per monthly active user was up 44% year-over-year versus an increase of 41% in the second quarter. Management also shared that it is getting better at monetizing its more than 500 million logged-out users.
And Twitter passed 100,000 active advertisers during the quarter, driven in part by the platform's small business initiative, which was introduced in February to help small-to-medium sized businesses get their content in front of more people.
Total advertising revenue reached $513 million for the quarter, up 60% year-over-year.
"We're really benefiting from autoplay video, which uses less inventory on monetization basis," Twitter CFO Anthony Noto said during the earnings call.
Disappointing Guidance
Despite beating revenue and earnings for the third quarter, Twitter lowered guidance for the fourth quarter, which overshadowed the rest of the report.
Prior to Tuesday's report, Twitter had given guidance implying fourth quarter revenue of around $744 million and EBITDA around $190 million, according to SunTrust analyst Bob Peck. But its updated guidance was much lower at $695 million to $710 million in revenue and $155 million to $175 million in EBIDTA.
The guidance was especially confusing given that the fourth quarter tends to be stronger thanks to the holidays, and the fact that Twitter has been rolling out some new innovative ad formats.
"Twitter lowered 4Q implicit guidance at the midpoint by ~6% which outweighed a strong 3Q report," Peck wrote in a note on Wednesday. "Investors are still unclear what is driving the 4Q deceleration. The updates gives caution on 4Q and 2016 outlook and we reduce our estimates. We maintain our Buy rating and lower our 2016 target to $34 from $38."