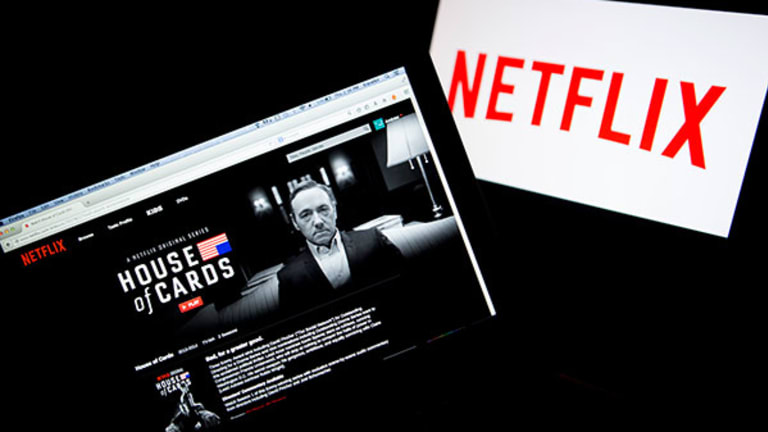 3 Biggest Takeaways from Netflix's Fourth-Quarter Earnings Report
Netflix reported its fourth-quarter earnings yesterday. Here's what you should know.
Netflix reported its fourth-quarter earnings yesterday. Here's what you should know.
Updated from 9:01 to include comments from Pacific Crest analyst Andy Hargreaves.
NEW YORK (TheStreet) -- Netflix (NFLX) - Get Report shares soared after it reported fourth-quarter earnings yesterday, beating analyst expectations for new subscribers and earnings per share, as the company nears completion of its global expansion.
The company reported revenue of $1.48 billion and a 72-cent earnings per share, compared to analyst expectations of $1.485 billion revenue and 45-cent earnings per share. At the same time, Netflix boasted 2.43 million new international subscribers compared to expectations of 2.1 million. The company also shared that it now has a total of 57.4 million members, 54.5 million of which are paid.
Shares were soaring 17.7% in early Wednesday trading, trading at $410.64 following the results and conference call.
Besides for the raw numbers, Netflix also shared some exciting news during its earnings call. Here the three key takeaways from the report:
Netflix will complete its global expansion by the end of 2016.
The company said it will launch in Australia and New Zealand this quarter and complete its global expansion by the end of next year. Netflix is currently available in 50 countries, and by the end of 2016 they plan to be available in 200.
Netflix hopes to be generating global profits in 2017. This is increasingly important as the company's domestic growth is slowing down.
"For us it was very encouraging that what the world really wants is high quality, great production values, great story telling and that can be truly universal," Netflix Chief Content Officer Ted Sarandos said during the earnings call. "It might be that there are some cultural barriers to U.S. content as we get into more exotic markets, but my guess is that we're going to continue to see our original programming travel and carry the Netflix brand around the world."
Pacific Crest analyst Andy Hargreaves is optimistic about Netflix's international future.
"We believe Netflix's on-demand service, scale, purchasing and programming advantages will allow it to drive profitable growth on a global basis," Hargreaves wrote in a research note. "Although the investment over the next two years will be significant, we expect it to establish the foundation for extremely rapid corporate profit growth in 2017 and beyond.
"We also believe the company's absolute scale, ability to sign global licenses and ability to source content from international markets are increasing its purchasing advantages. Over time, we believe these business model advantages can fuel global subscriber growth and drive significant global margin expansion."
Netflix will stream The Interview for free.
While Sony Pictures (SNE) - Get Report was streaming its controversial movie The Interview on Google Play, YouTube, Xbox video, and iTunes, it came at a cost of $14.99 to own or $5.99 to rent. Starting Jan. 24, Netflix U.S. and Canadian subscribers will be able to view the movie for free.
Exclusive deals like these solidify Netflix as a top contender in streaming, which is becoming increasingly difficult to secure as new players emerge such as Amazon (AMZN) - Get Report , Alibaba (BABA) - Get Report , and Overstock.com (OSTK) - Get Report starts to enter the space.
The company sees new subscribers directly following House of Cards.
For perhaps the first time, CFO David Wells quantified the impact from House of Cards. On the earnings call, Wells shared that from the airing of House of Cards season three alone, Netflix is likely to see around 100,000 to 150,000 new subscribers.
Sarandos echoed that and expanded it further regarding some of the company's other original content. "House of Cards season two, Orange Is the New Black season two and Arrested Development have been the ones that the shows we've been able to track real measurable subscriber growth with their launches," he said.
He admitted that it wasn't as much of an impact with newer shows, but with recurring seasons of shows that have gotten a lot of press, the response is clear.
Sarandos expects a similar response to the feature film Crouching Tiger, Hidden Dragon 2, which also comes with a loyal fan base from the original movie.
--Written by Rebecca Borison in New York
>Contact by Email.