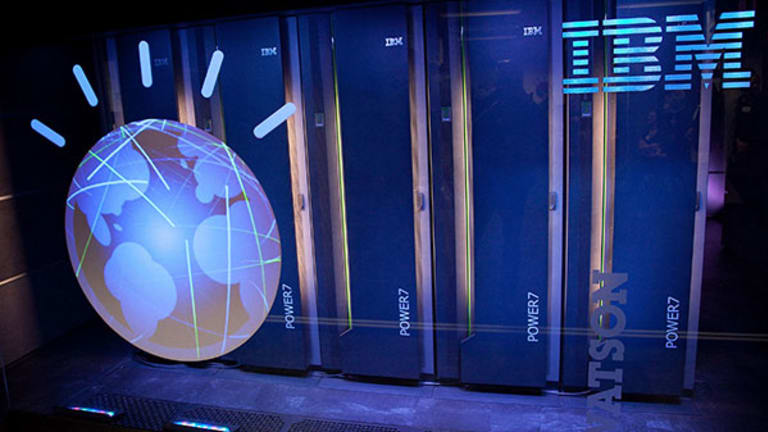 3 Biggest Takeaways From IBM's Most Recent Earnings Report
IBM CEO Ginni Rometty's turnaround plan is working slowly, although the company's cash-flow problems may threaten its once-sacrosanct dividend later this year.
IBM CEO Ginni Rometty's turnaround plan is working slowly, although the company's cash-flow problems may threaten its once-sacrosanct dividend later this year.
Updated from 9:23 A.M. to include comments from Credit Suisse analyst.
NEW YORK (TheStreet) -- IBM (IBM) - Get Report CEO Ginni Rometty's turnaround plan appears to be working slowly, although the company's weak cash-flow outlook for this year may threaten its once-sacrosanct dividend.
The Armonk, N.Y.-based company earned $5.81 a share on $24.1 billion in revenue in the quarter ended Dec. 31. Analysts surveyed by Thomson Reuters expected IBM to earn an adjusted $5.41 a share on $24.76 billion in revenue. Revenue from IBM's major initiatives was up 16% year over year, as cloud revenue for all of 2014 rose 60% year over year to $7 billion.
On Tuesday's earnings call, IBM said earnings for the coming year would be between $15.75 and $16.50 a share, well below what analysts were forecasting. Analysts surveyed by Thomson Reuters expect the company to earn $16.59 a share. CFO Martin Schroeter also said that revenue would be flat on the year, due in large part to the U.S. dollar, which has strengthened appreciably in recent months, compared to foreign currencies.
Shares were noticeably lower in trading Wednesday, falling 3.6% to $151.35 and nearing a 52-week low. Shares have fallen 17.4% over the past year, compared with a 10% gain in the S&P 500.
The three biggest takeaways from IBM's fourth-quarter earnings are:
Currency Concerns
As the dollar has appreciated considerably over the past several months, it has affected revenue growth at large multinational companies, and IBM is no different.
"The impact to our revenue growth is obvious as we translate results back to U.S. dollars," Schroeter said on the earnings call. "But as with all companies with a similar business profile, with the dollar strengthened, the currency will have a significant translation impact on our profit growth."
For a company such as IBM that has been demonized on Wall Street for managing its bottom line but not its top line, anything that impacts top-line growth is going to be scrutinized that much more, even if it's out of the company's hands.
This will be an issue for investors of most large companies during earnings season, particularly ones that do not have currency-hedging programs in place.
Free Cash Flow Follies
With IBM shares having fallen nearly 17% over the past year, investors at least have had the dividend to look forward to, mitigating some downside losses. On the earnings call, Schroeter said free cash flow would be flat compared with 2014 (free cash flow fell 30% year over year in 2014), which at roughly $13 per share, may begin to have an impact on the company's $4.40 yearly dividend.
"2015 EPS and cash flow guidance was below consensus," Jefferies analyst James Kisner wrote in a research note following the report. "We believe that the risk/reward of IBM shares continues to tilt negative." Kisner wrote that this is not the bottom and with the company's weak 2015 free cash flow guidance, he kept his underperform rating and $130 price target on the stock.
Schroeter tried to assuage any fears about a potential dividend cop, going so far as to say shareholders might see a raise later this year.
"In terms of dividends, we have assumed that we would obviously, continue to pay the dividend and we'd like to and will talk about the dividend with the Board," the CFO said on the call. "We'd like to talk about how we might grow the dividend as well. We typically do that, as you know, in April. So those discussions will start soon.

Deutsche Bank analyst Sherry Scribner echoed these sentiments, cutting her 2015 estimates and price target to $160 from $165, although she kept her hold rating on the stock.
Cloud Strength
IBM is transitioning its business into higher-margin, higher-growth areas such as cloud, mobility, analytics and security, and the company's cloud initiative is working, as 2014 cloud revenue rose 60% year over year, one of the brighter spots in the company's financial results.
But the transition to cloud may impact overall revenue growth, Scribner said: "We continue to expect secular changes related to the shift to the cloud to be a negative headwind for IBM over the next few years and we see revenue growth as challenged."
Even though many software companies have praised software-as-a-service as the future, it may take longer than expected to finally make a meaningful impact on getting IBM's top line moving in the right direction again.
Credit Suisse analyst Kulbinder Garcha went so far as to say that even though revenue from cloud may be strong, it may actually hurt in other areas. "We believe the shift to the Cloud maybe ultimately be margin dilutive for IBM even if it drives revenue for the company," Garcha wrote in the note.
-- Written by Chris Ciaccia in New York
>Contact by Email.