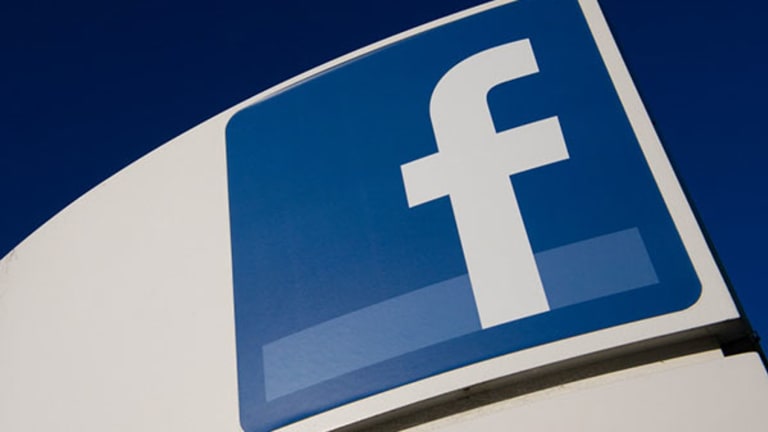 3 Biggest Takeaways From Facebook's Solid First Quarter
Mobile sales kept Facebook afloat during a quarter that was hampered by the strength of the U.S. dollar. The prospect of revenue from video ads, meanwhile, remains murky.
SAN DIEGO, CALIF. (TheStreet) -- With its first-quarter earnings report, Facebook (FB) - Get Facebook, Inc. Class A Report proved yet again that its mobile advertising business is more robust than ever.
The social network posted Wednesday earnings of 42 cents per share, which was higher than Wall Street's prediction of 40 cents. Facebook, however, came in a tad light on the revenue front with $3.54 billion versus the consensus estimate of $3.56 billion, as revenue was adversely impacted by fluctuations in foreign currency. 
As expected, mobile sales carried the day. Mobile ads made up for 73% of the $3.32 billion in advertising revenue that Facebook generated in the first quarter, up from around 59% during the same time last year. The company also posted a number of impressive audience metrics, not least of which is the fact that 65% of monthly users now visit the social network on a daily basis. Facebook's total monthly audience also grew to 1.44 billion people in the first quarter.
"We are impressed that daily active users (DAUs) grew 17% year over year to 936 million (average), mobile DAUs increased 31% to 798 million, monthly active users (MAUs) increased 13% to 1.44 billion and mobile MAUs increased 24% to 1.25 billion -- all four metrics being above consensus," TheStreet's Jim Cramer, who owns Facebook shares in his charitable trust Action Alerts PLUS, wrote in an Action Alert. "The results are encouraging ... and we see no reason for the shares to fall on these strong results."
Shares closed Wednesday at $84.63, but fell around 2% in after-hours trading. Facebook reported its results after the markets closed.
Facebook's solid performance can mostly be attributed to its "big, blue app," despite the company's preference to now talk about itself as a "family of apps," which includes Instagram, WhatsApp, and Messenger. Wall Street would have loved to hear about the revenue prospects from its fastest-growing apps, but executives spoke more about the apps' consumer appeal. Instagram, for instance, now has a daily audience of 200 million people, the company said. And its messaging apps collectively processes 45 billion messages per day. 
Apart from sales and profit, here are the three biggest takeaways from Facebook's first-quarter report:
1. Foreign exchange rates are a growing problem
The continued strength of the U.S. dollar negatively impacted Facebook's results to the tune of $190 million, Facebook's CFO Dave Wehner said Wednesday, during a conference call with analysts. In the first quarter, Facebook's total revenue would have increased by 49% and beat the consensus estimates, versus its actual 42%, if not for the challenging year-over-year foreign exchange rates. For advertising revenue, specifically, growth would have been 55% over the year-ago quarter when excluding foreign currency rates, compared to the posted growth of 46%.
What's more troubling, though, is that the hit from the foreign exchange rate will likely be even greater next quarter, Wehner warned. In the month of March, revenue was 10% lower than it would have been without the impact of the currency rates.
"Based on this, we estimate that foreign exchange headwinds in the second quarter will likely be greater than those we experienced in the first quarter," he said. 
2. Spending is out of control, but guidance was reined in
Facebook is on a spending spree. Costs and expenses totaled $2.6 billion in the quarter, compared to $1.43 billion a year ago. And while that shouldn't come as a surprise to company watchers, given Facebook's ample warnings, some of its costs may still be hard to stomach. The company's research and development costs, for instance, totaled more than $1 billion in the first quarter, spiking 133% over last year.
Facebook did, however, provide additional clarity on expense growth for 2015. The company told investors that total 2015 GAAP expenses will be between 55% and 65% higher than 2014 expenses. And while expenses will be higher, it will be a tighter range than its previous forecast of 55% to 70%. Non-GAAP expenses will grow between 50% and 60% over 2014, Wehner said, as opposed to between 50% and 65%, which was the guidance provided last quarter.
Whatever the numbers turn out to be, Facebook isn't being secretive about the fact that it plans to spend like crazy this year. "2015 is a big investment year for us across the board," Wehner said.
As noted previously, the company plans to rack up big bills for data center and infrastructure needs to support the growth of video.
3. Video is no mobile -- yet
Mobile is absolutely the driver of revenue growth, Facebook executives said. And that's not a bad thing. Mobile ads brought in $2.4 billion in revenue, which is 82% greater than mobile revenue in the same quarter last year. 
Meanwhile, Facebook gave no color on the financial performance of video ads, which likely came to the dismay of analysts who expect video to be the next big boon to sales. Wednesday's conference call was essentially a repeat of last quarter's call on the video front as analysts and executives spoke on the subject in two different languages: business versus consumer. Facebook ducked questions like, what percent of videos are ads? Instead, the company opted to focus on how video is making inroads with its most important audience: the 1.44 billion people who use Facebook each month.
Facebook, CEO Mark Zuckerberg said, the company now nets 4 billion video views a day, up from 3 billion per day in the prior quarter. 
"We're really pleased with the consumer adoption we're seeing. That's kind of the fundamental table-stakes that need to be there. And that's the most important thing," Wehner said. "It's worth pointing out that ... video does displace other ads in News Feed," he added, hoping to temper obvious enthusiasm for the ad format. 
But video is clearly an area of focus for Facebook, and executives did try to meet analysts in the middle with statements of its intent. Video is exploding on Facebook, COO Sheryl Sandberg said, and that leaves the door wide open for Facebook to convince marketers to run video ads.