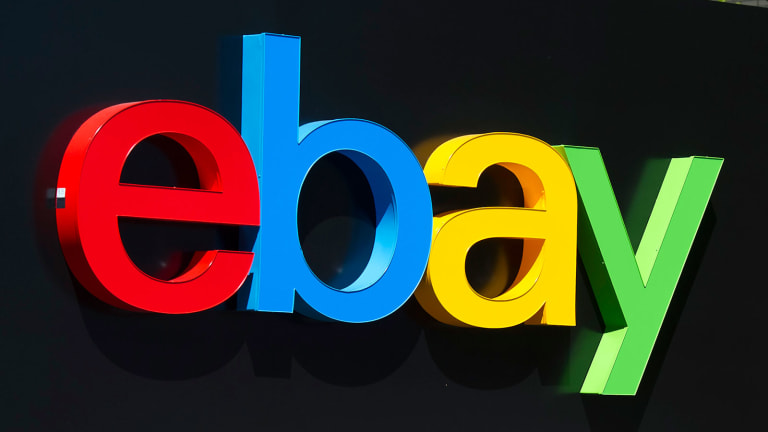 3 Biggest Takeaways From eBay's Third-Quarter Earnings Report
eBay's CEO calls its Q3 results "a step in the right direction" as the e-commerce company gets started on its turnaround narrative.
eBay's CEO calls its Q3 results "a step in the right direction" as the e-commerce company gets started on its turnaround narrative.
eBay's first quarter without PayPal showed some positive signs of a turnaround while also revealing how much left needs to be done.
San Jose-based eBay (EBAY) - Get Report reported earnings of 43 cents per share on revenue of $2.1 billion, meeting analysts' expectations for revenue and beating their expectations of 40 cents per share in earnings, according to Thomson Reuters estimates. Revenue was up 5% over the last quarter on a currency neutral basis.
"Our performance one quarter following our spinoff of PayPal is steady and it's in line with our expectations," eBay CEO Devin N. Wenig said on the company's earnings call. "I'm proud that the team was able to remain focused on executing our strategy while managing a complex separation. We still have a lot of work ahead of us in order to reposition our business and to deliver the level of performance that we aspire to achieve, but our Q3 results are a step in the right direction."
The company also mentioned that it bought back $600 million worth of shares during the third quarter.
For the fourth quarter of 2015, eBay gave guidance of revenue between $2.28 billion and $2.33 billion with earnings of 47-49 cents per share.
Shares of eBay jumped more than 8% after hours on Wednesday after reporting earnings, and they are up 4.7% in premarket trading Thursday morning.
Here are the three biggest takeaways from eBay's third-quarter report:
StubHub Leads The Turnaround
While eBay had a solid quarter of growth, a lot of that can be attributed to its ticket marketplace StubHub. StubHub accounted for much of the U.S. gross merchandise volume (GMV) acceleration. Overall U.S. GMV grew 3% over 2014, with 1 percentage point of that growth attributable to StubHub's performance.
"The acceleration coincided with a pricing change, and as such, we believe StubHub's momentum should continue," ITG analyst Steven Weinstein wrote in a note Thursday morning. At the end of August, StubHub added new fees, which helped boost its business.
"StubHub, our tickets vertical, had a particularly strong quarter getting back to strong growth as the industry-leading secondary ticket marketplace," Wenig said during the call. "This strong performance was driven by improvements to our product experience."
Weinstein noted, however, that he would like to see more of eBay's revenue growth coming from its core marketplaces business as opposed to relying on StubHub.
All About The Buyers
eBay added 2 million active buyers in the third quarter, up 2% from the last quarter and 5% over the third quarter of 2014, for a total of 159 million. The growth was driven by strong user acquisition in India, according to eBay CFO Scott Schenkel.
"eBay continues to feel headwinds related to previous SEO and cyber security issues as evidenced by the weaker than expected new accounts," Needham & Company analyst Kerry Rice wrote in a research note Thursday morning. "Moreover, the new customers are spending less than existing customers."
But other analysts are more optimistic about the quarter's growth in buyers.
"Management noted that actions it has taken to reduce friction in the password reset and sign-in process (more robust security questions, text message retrieval of sign-in codes, etc.) have reduced existing buyer churn, which hopefully puts the majority of the impact from the data breach in the rear view mirror," Wells Fargo analyst Matt Nemer wrote in a research note Thursday morning.
It Takes Time
While eBay gave a strong performance this quarter, it's clear that it will take more time for the company to fully turn things around.
"While encouraged by the progress management has made in stabilizing growth and laying the foundation for future growth, we believe eBay is several quarters away from a growth re-acceleration," Needham & Co's Rice said.
Rice mentioned the opportunity eBay has with its structured data project, which can help eBay improve its search and discoverability, but Rice also noted that the project is not expected to be completed for at least another 18 months.
eBay also recently announced some seller updates to improve its site. But analysts aren't sold just yet; they'd like to see how all of eBay's new initiatives play out before fully buying into the turnaround narrative.
"We would remain on the sidelines until we see traction on the initiatives," Cowen and company analyst John Blackledge wrote in a note Thursday morning.