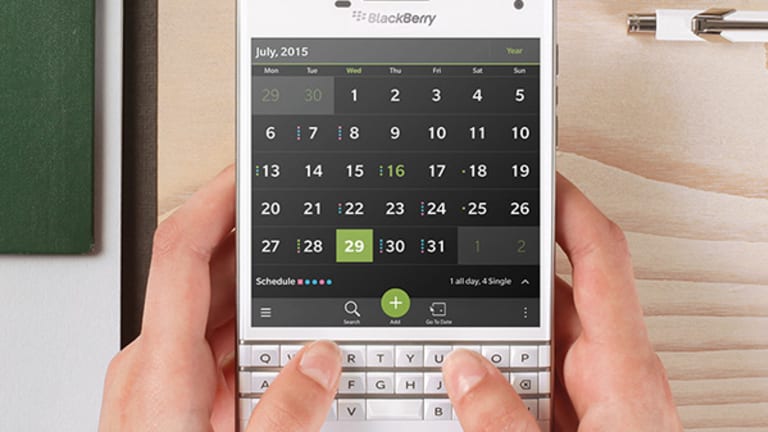 3 Biggest Takeaways From BlackBerry's Latest Earnings Report
Though BlackBerry is hanging by a thread, CEO John Chen continues to show just how strong that thread is, as the company slowly continues to turn itself around.
NEW YORK (TheStreet) -- Though BlackBerryundefined is hanging by a thread, CEO John Chen continues to show just how strong that thread is. The company slowly continues to turn itself around, judging by its latest quarterly results. 
"We delivered a solid quarter against our key operational metrics, and we are confident that we will achieve breakeven cash flow by the end of FY15," Chen said in a statement. "Our workforce restructuring is now complete, and we are focusing on revenue growth with judicious investments to further our leadership position in enterprise mobility and security, driving us towards non-GAAP profitability during FY16."
Waterloo, Ontario-based BlackBerry reported it sold 2.1 million handsets during the fiscal second quarter, as it generated $916 million in revenue, losing an adjusted 2 cents a share. The company continues to turn the corner in its business, having stopped burning through cash, as Chen's turnaround program takes place. Analysts surveyed by Thomson Reuters were expecting the company to lose 16 cents a share on $948.45 million in revenue.
The company said it continues to expect it will produce breakeven cash flow results by the end of the fiscal year, something few thought would happen CEO Thorsten Heins was at the helm.
Shares are up 5.2% to $10.30 in early morning trading, as optimism surrounding the company's operational performance abounds on Wall Street.
The three biggest takeaways from BlackBerry's earnings are:
The company ended the quarter with $3.1 billion in cash, up $11 million from the prior quarter. That continues to strengthen the company's balance sheet, which was aided earlier this year by the sale of real estate assets. Despite the strengthened balance sheet, BlackBerry still used $36 million in cash during the quarter, down from $255 million in the prior quarter.
Non-GAAP gross margins came in at 47.5%, continuing to remain strong. That's down from 48% in the prior quarter, but the company noted strengthening hardware gross margins helped the results, a good sign for a company that is at or near the bottom when it comes to handset market share. Source: IDC
BBM, the BlackBerry messenging service, continues to be a driving force for the company, especially in the light of valuations thrown around for messaging services. The company said it ended the quarter with 91 million monthly active users (MAUs), up from 85 million in the prior quarter.
--Written by Chris Ciaccia in New York
>Contact by Email.