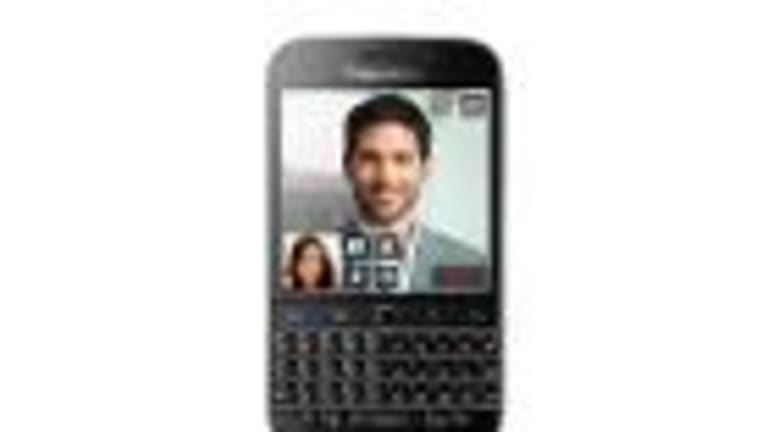 3 Biggest Takeaways From BlackBerry's Befuddling Third Quarter
Wall Street doesn't know what to make of BlackBerry's small adjusted third-quarter profit and disappointing revenue.
SAN DIEGO (TheStreet) -- BlackBerryundefined  reported results from its November quarter on Friday that showed its turnaround initiative is working to cut costs and create profit. Shares of the Waterloo, Ontario-based smartphone maker flew around in turbulent fashion, however, as revenue for the quarter was more than 17% less than market consensus.
"We achieved a key milestone in our eight-quarter plan with positive cash flow. We also attained another important milestone in the release of our new enterprise software products and devices," CEO John Chen said in a statement. "Our focus now turns to expanding our distribution and driving revenue growth."
In BlackBerry's fiscal 2015 third quarter, the company posted a far better-than-expected adjusted profit of $6 million, which equates to earnings of 1 cent a share. Analysts polled by Thomson Reuters were anticipating a loss of 5 cents. Revenue during the three-month period proved to be a surprise of a different kind, coming in at $793 million vs. a market consensus of $931.53 million. The company also sold 1.9 million smartphones, less than most analysts were expecting.
Shares initially rose nearly 3% on the report but quickly reversed course, and were as much as 10% off during the company's Friday morning conference call with analysts. The stock, however, was trying to pick itself back up by mid-morning as shares were down around 6% at $9.45, indicating that Wall Street is having troubling processing the good news with the bad.
Perhaps those helping to push the stock up are believers in BlackBerry's newest phone, the Classic. Launched Wednesday for pre-order, the phone is a return to the company's smartphone roots and could convince BlackBerry loyalists to upgrade from their now four-year-old BlackBerry Bold devices. Chen told analysts Friday that he is excited about the new model and said the company has more to show at next month's Consumer Electronics Show in Las Vegas.
The three biggest takeaways from BlackBerry's earnings are:
The company ended the quarter with $3.1 billion in cash, an increase of $43 million when excluding acquisition costs, and, more importantly a sign that Chen can deliver on at least one of his promises -- positive cash flow. The positive cash flow achievement, though expected by many analysts, is a material improvement over prior quarters. BlackBerry used $36 million in cash during the prior quarter and $255 million in its first quarter of the fiscal year.
Just as Wall Street was hoping, BlackBerry's gross margin improved during the quarter. Gross margin was 52% for the three-month period, levied by the second straight quarter of positive hardware gross margin.
BlackBerry's strengths in the quarter were completely offset by revenue of $793 million, which was down from $1.2 billion in the year-earlier quarter. Part of the problem was that BlackBerry sold just 1.9 million smartphones in the quarter, noticeably less than the 2.1 million sold in the prior quarter and below analysts' expectations of greater than 2 million devices. The disappointing hardware sales were amplified by analysts' hopes that the BlackBerry Passport, which went on sale in late September, would buoy the category and drive up average selling prices for devices. During the conference call, Chen admitted that hardware sales were weaker than expected, and said the company's production capabilities were limited in the quarter.
-- Written by Jennifer Van Grove in San Diego.
>Contact by Email.