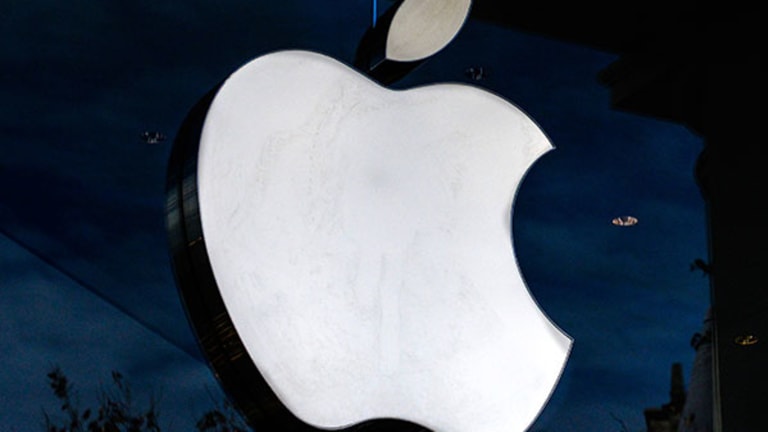 3 Biggest Takeaways From Apple's Supersized iPhone Quarter
Apple's extra-large iPhones resulted in extra-large sales and pushed revenue to a record quarterly high of $74.6 billion.
SAN DIEGO, CALIF. (TheStreet) -- Apple (AAPL) - Get Apple Inc. (AAPL) Report  did more than beat Wall Street's top and bottom-line expectations when it handed in results for its December quarter -- it crushed them.
The Cupertino, Calif.-based company posted net income of $18 billion for adjusted earnings per share of $3.06 versus analysts' estimate of $2.59. Revenue for Apple's first quarter of fiscal 2015 came in sky-high at $74.6 billion, blowing away the consensus estimate of $67.7 billion. As you might have guessed, the supersized results were the product of record-setting iPhone unit sales and revenue, which were driven by "unprecedented" demand for the bigger 6 and 6 Plus models. 
Cantor Fitzgerald analyst Brian White referred to the results as "truly exceptional" in the firm's Tuesday afternoon note. Shares of Apple closed down 3.5% at $109.14 on Tuesday afternoon, but rallied considerably in after-hours trades thanks to the company's stellar results.
Shares of Apple were soaring in early Wednesday trading, up 9.2% to $119.15 on the back of several price target upgrades from Wall Street.
Sadly, Apple provided little additional color around its much-anticipated smartwatch beyond indicating that the Apple Watch would launch in April of this year. In terms of second-quarter guidance, Apple said sales would total between $52 billion and $55 billion for the three-month period, and gross margin would fall between 38.5% and 39.5%.
Here are the three biggest takeaways from the first quarter report:
1. Apple's iPhone stole the show. Analysts were looking for iPhone sales in the mid to high 60 million-unit range, but Apple produced a welcome surprise, selling 74.5 million iPhones in the quarter for 46% year-over-year growth.
The iPhone contributed $51.2 billion in revenue -- up 57% from the year-ago quarter -- and accounted for 69% of total sales in the December quarter. The average selling price for the iPhone came out to $687. It was a "truly amazing iPhone quarter for Apple," White said.
On the company's Tuesday afternoon conference call with analysts, CEO Tim Cook referred to the first quarter as a "historic" one, noting that Apple sold an incomprehensible 34,000 iPhones per hour.
2. 2015 is the year of Apple Pay. Or at least, so said Cook. Apple's chief executive repeated the year-of-Apple-Pay mantra while rattling off a host of really large numbers to demonstrate the early success of the company's mobile-pay option available on iPhone 6 and iPhone 6 Plus devices. Apple Pay, he said, accounts for more than $2 out of every $3 spent using contactless payments across Visa (V) - Get Visa Inc. Class A Report and MasterCard (MC) - Get Moelis & Co. Class A Report .
Here are a few additional Apple Pay highlights noted by the CEO:
Apple has signed on 750 banks and credit unions to support Apple Pay.
Whole Foods (WFM) has seen a 400% increase in mobile payments since the release of Apple Pay.
Apple Pay accounts for 80% of mobile payments at Panera Bread (PNRA) .
 Warwick Business School Professor Loizos Heracleous noted that the strategic implications for Apple Pay are enormous, and not quite fully understood just yet. "Not only is the revenue potential huge, with Apple's offering already benefiting from the existing market penetration of its devices; margins are also very healthy and the service has synergies with the iPhone and the iWatch, helping to solidify Apple's strategy of building and controlling a product and service ecosystem," Heracleous said via email.
The company doesn't break out revenue from Apple Pay, which makes the stats difficult to gauge beyond serving as market proof that consumers and merchants are embracing the payment option more so than competing services such as Google (GOOG) - Get Alphabet Inc. Class C Report (GOOGL) - Get Alphabet Inc. Class A Report Wallet. Apple Pay is lumped in with Apple Care, iTunes, and App Store sales in the "Services" product category, which generated $4.8 billion in revenue in the quarter. 
3. Apple is feeling the impact of foreign exchange (FX). Apple's record-setting revenue for the quarter could have come in even higher if the strength of the U.S. dollar compared to currencies such as the Japanese Yen and the Russian Ruble didn't adversely affect international revenue.
CFO Luca Maestri told Wall Street that Apple's first quarter revenue growth came in four percentage points lower because of "unprecedented movement in currencies," and that FX will be even more challenging in Q2 as the U.S. dollar appreciates and Apple's existing hedges expire. March quarter revenue would be five percentage points higher than provided guidance of 20% growth if not for currency volatility, he said.
Still, Cantor's White considered the overall guidance to be solid. "Since Apple generally provides a conservative outlook, we view this guidance as strong," he said.
Barclays Capital analyst Ben Reitzes went so far as to say that Apple should rewarded given the constraints its competitors are feeling. "With FX and mature categories hurting so much of the large cap tech peer group, we believe Apple should be rewarded with at least a market multiple or higher," Reitzes wrote in a note.
--Written by Jennifer Van Grove in San Diego, Calif.
>Contact by Email.