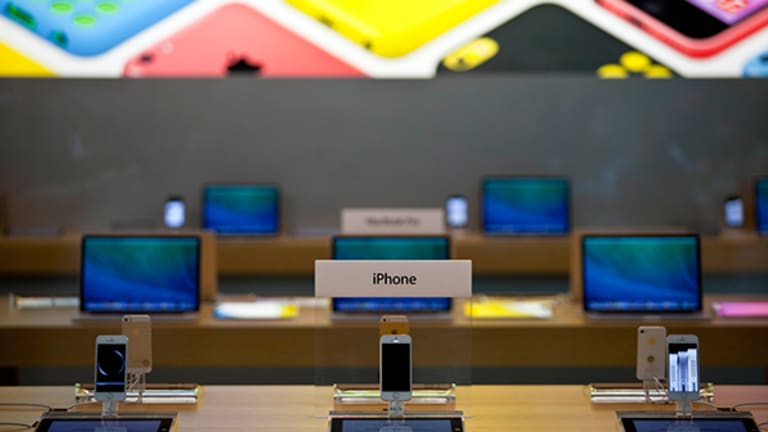 3 Biggest Takeaways From Apple's Strong Earnings Report
Demand for Apple iPhone and Mac is so strong that not only is it surprising Wall Street, it's surprising the most bullish people of all: Apple.
Updated from 9:12 a.m. to include additional information in the eleventh paragraph.
NEW YORK (TheStreet) –– Demand for Apple's (AAPL) - Get Free Report iPhones and Macs is so strong that not only is it surprising Wall Street, it's surprising the most bullish people of all: Apple.
The tech giant shipped 39.3 million iPhones, 12.1 million iPads and 5.5 million Macs in its fiscal fourth quarter, helping the company earn $1.42 a share on revenue of $42.12 billion. On a conference call, CEO Timothy D. Cook noted the exceptional strength in both the iPhone and Mac, saying that he did not know when supply and demand for the iPhone would come into balance as Apple is selling everything it can.
The iPhone is currently in 32 countries including China and will be in 115 countries by the end of the year, making this the fastest iPhone rollout ever. "Apple proves once again that they are the leader in the smartphone market," said Jeff Sica, chief investment officer of Sica Wealth Management, which helps oversee more than $1 billion in assets.
Gross margins for the quarter were 38%, compared to 37% in the year-ago quarter. For the holiday quarter, Apple expects to generate between $63.5 billion and $66.5 billion in revenue, with gross margins between 37.5% and 38.5%.
Analysts surveyed by Thomson Reuters expected the company to earn $1.30 a share on $39.86 billion in revenue for its fiscal fourth quarter. Guidance for the fiscal first quarter, the holiday quarter, is expected to show Apple will generate $63.49 billion in revenue and earnings of $2.39 a share.
Though the end of Apple's fiscal 2014 ended with a bang, the holiday quarter guidance helped demonstrate the demand for Apple products. Guidance was deemed "incredibly strong" by Cook, who noted that he's confident that Apple will have great iPhone supply in the quarter as it seeks to eventually meet demand from the consumer.
Apple shares were higher in premarket trading on Tuesday, up 2.3% to $102.10, following several price target upgrades from Wall Street analysts, as optimism reaches feverish heights going into the all-important December quarter.
The three biggest takeaways from Apple's earnings are:
iPhone strength. Though the iPhone 6 and iPhone 6 Plus went on sale in the middle of September, the strength behind them was enough to help Apple sell more than 39 million iPhones in the quarter, besting Wall Street's expectations of 38 million. Cook continued to harp on the fact that demand is way outstripping supply but it's not just for the iPhone 6.
The iPhone average selling price (ASP) was $602.92, the highest it's been in some time. Obviously much of that comes from a new iPhone costing more than old models, but the higher-priced iPhone 6 Plus (starting at $299 on a two-year contract vs. $199 for the iPhone 6) may help, as gross margin guidance for the holiday quarter is between 37.5% and 38.5%, somewhat higher than what analysts were expecting.
Janney Capital Markets analyst Bill Choi, who rates Apple "buy" with a $117 price target, said he expects the iPhone 6 Plus to be a hit in China, given the customers have traditionally liked larger phones. "We expect demand to skew more heavily towards the 6 Plus in China, where Apple launched both new phones on all three carriers this month," Choi wrote in an analyst note this morning.
Mac strength. The Mac continues to show exceptional strength, almost defying logic in a PC market that is flat to declining. The 5.5 million units sold (up 21% year over year) in the quarter helped Apple gain its highest market share since 1995, with Cook noting he couldn't be happier with the way the Mac is selling.
"Back-to-school season voted and the Mac won and carried the day and we're really proud of that," Cook said on the earnings call. "I'm proud of the Mac team. It's clear that the -- all the work that we've put into our Notebooks, on the hardware and the software side is resonating with our customers and I think if you went out to college campuses about now, you will see a lot of Mac and there are lot of new Mac Notebooks there based on the sales. And so that feels fantastic being up 21% in that market that's shrinking it just -- it doesn't get better than that."
Apple is being secretive more than ever. Apple is going to make some changes in the way it reports revenue and what is grouped in what category. The "other" category will now include everything that's currently reported in the accessories category today including Beats headphones and speakers, Apple TV and peripherals, and accessories for iPhone, iPad, Mac and iPod, as well as sales of the Apple Watch once that starts shipping early next year.
Apple gave a few reasons for the change, with Cook noting that he doesn't want competitors to gain access to that data as well as lumping everything that isn't an iPhone, iPad or Mac into one category. The Apple Watch has been one of if not the most talked about tech product of 2014 and Apple is going to keep the mystery behind it as long as it can.
>Contact by Email.