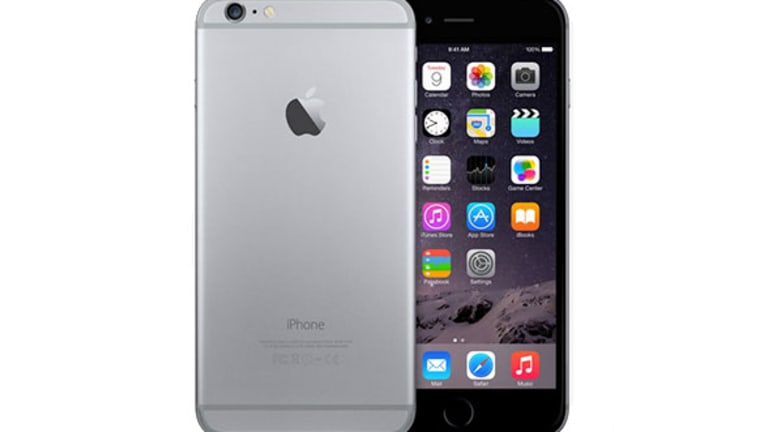 3 Biggest Takeaways From Apple's Latest Quarter
Apple managed to top analysts' estimates for its latest financial results, but investors remain worried about demand in China and sales of the Apple Watch.
NEW YORK (TheStreet) -- Apple (AAPL) - Get Apple Inc. Report managed to top analysts' estimates for its latest financial results, but investors remain worried about demand in China and sales of the Apple Watch.
Revenue from China, which is Apple's second-largest market and eventually will surpass North America as No. 1, skidded 21% from the previous quarter to $13.23 billion. The nearly 40% plunge in Chinese stocks in recent weeks has fueled concerns that demand for U.S. luxury goods, including the iPhone, will be hurt.
The Cupertino, Calif.-based company reported fiscal third-quarter earnings of $1.85 per share as revenue rose 33% from a year earlier, to $49.6 billion. Apple was expected to generate $49.3 billion in revenue with earnings per share of $1.80, according to analysts surveyed by Thomson Reuters.
Gross margins, a closely watched level for Apple, was 39.7% in the quarter, compared to 39.4% in the year ago quarter.
During the quarter, Apple sold 47.5 million iPhones, compared to 35.2 million in the year ago quarter. It also sold 10.9 million iPads, 4.8 million Macs and generated $2.64 billion in revenue in the Other Products category, where the Apple Watch is grouped, along with the iPod, Apple TV, Beats Electronics, and Apple-branded and third-party accessories.
In early Wednesday trading, shares were down sharply, falling 6.7% to $122.04.
For the fiscal fourth-quarter, Apple said it expects revenue between $49 billion and $51 billion, with margins between 38.5% and 39.5%, and operating expenses between $5.85 billion and $5.95 billion, with a 26.3% tax rate.
Here are the three biggest takeaways from Apple's quarter.
China syndrome.
With the recent economic turmoil in China, brought on by the rollercoaster ride in the Chinese equity markets, it's only natural that investors are concerned about Apple's health in its second largest market.
On the earnings call, CEO Timothy D. Cook said the stock market selloff could "create some speed bumps in the near term," but added that the impact will be limited because relatively few Chinese own stocks.
"Nothing that's happened has changed our fundamental view that China will be Apple's largest market at some point in the future," Cook said on the call.
In the fiscal third quarter, Apple, saw revenue in Greater China rise 112% year-over-year, but down 21% from the previous quarter. Given the strength of the iPhone 6 and in particular the iPhone 6 Plus in Asia, because of the larger screen sizes, any blip or "speed bump" as Cook characterized it, is a concern for investors.
Cook also pointed out that LTE penetration in the country is only at 12%, meaning the Chinese consumers still have a enormous opportunity to upgrade to high-speed smartphones, an opportunity for Apple.
Watch the Watch.
Much has been made about sales of the Apple Watch, with various third parties trying to calculate just how many Apple has sold since it went on sale.
In an interview with Bloomberg, CFO Luca Maestri noted the Watch accounted for more than 100% of the sequential rise in Other Products revenue, while Cook said at the end of the call that Watch sales were higher in June than they were in April or May.
If you look at the Other Products revenue increase, factor in declining sales from the iPod and use an average price of $500 per Watch (the prevailing average selling price on Wall Street), it seems as if Apple sold roughly 3 million Apple Watches in the quarter.
Apple is expecting the Watch to pick up even more as we get closer to the holiday season, with Cook commenting he and the company expect it to be "one of the top gifts of the holiday season."
The Mac attack.
Even though there is concern about the broader PC market, something that has weighed onIntel (INTC) - Get Intel Corporation Report, Apple and the Mac continue to chug along, a testament to the company's halo effect.
Apple sold 4.8 million Macs in the quarter, accounting for $6.03 billion in revenue, as units and revenue both rose 9% year-over-year. This comes at a time when the broader PC market saw worldwide PC shipments fall 9.5% to 68.4 million in the second quarter according to Gartner. The research firm expects an overall decline of about 4% for 2015 before recovering in 2016.
Cook attested the strength from the company's new MacBook, which Cook noted Apple is "working hard to catch up with customer demand," as well as Greater China, which saw Mac sales rise 33% year over year. For the seemingly endless talk that the world is going mobile thanks to tablets and smartphones, there is still one area of computers that's growing -- the Mac.