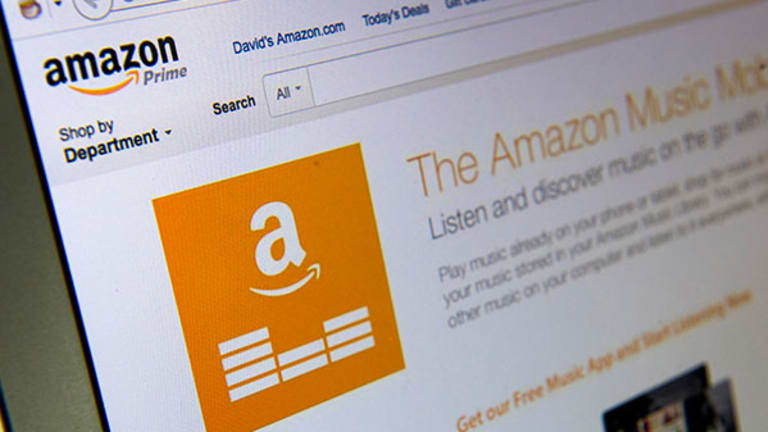 3 Biggest Takeaways From Amazon's Fourth-Quarter Earnings Report
Amazon reported its fourth-quarter earnings yesterday and crushed earnings-per-share expectations.
Amazon reported its fourth-quarter earnings yesterday and crushed earnings-per-share expectations.
NEW YORK (TheStreet) -- Amazon (AMZN) - Get Report stunned analysts yesterday by beating earnings expectations by 28 cents, sending shares soaring. Investors were delighted about a return to profit, even if it's short lived.
Shares are up 11% to $346.19 in early Friday trading following the company's fourth-quarter earnings report.
The Seattle-based company reported revenue of $29.33 billion, up 15% from a year ago, though below analyst expectations of $29.67 billion. Earnings per share were 45 cents, down from 51 cents a share a year ago, though well above analyst expectations of 17 cents a share.
Amazon characteristically shares very little in its earnings reports and earnings calls. But this quarter it provided a smidgen of new information, just enough to keep analysts and investors satisfied -- for now.
Here are the three key takeaways from Amazon's fourth-quarter report.
Profit Time!
Amazon CEO Jeff Bezos is known to ignore the traditional investor cycle of pressure on quarterly profit, opting instead for his long-term vision. However, this quarter finally assuaged investors' worries by producing a sizable profit.
The company's quarterly net income of $214 million, or 45 cents per share, completely beat analyst expectations.
"Amazon's Q4 results were solid, with outperformance from EGM [Electronic and General Merchandise] and domestic margins offsetting Media weakness and low international margins," Canaccord Genuity analyst Michael Graham wrote in a note to investors. "While Q1 top-line guidance is sluggish, management's cautiously positive attitude toward taking a harder look at costs should help stock sentiment in the short term."
Prioritizing Prime
Amazon still declines to give exact numbers on Prime, its premium delivery service with extras like video streaming. But the company boasted strong growth and promised to invest more in the program in the future. The company acknowledged that it has tens of millions of users -- a pretty vague count -- but declined as usual to give an actual figure.
For Prime, "worldwide paid membership grew 53% last year -- 50% in the U.S. and even a bit faster outside the U.S," Amazon CEO Jeff Bezos said in a press release. And Prime customers are turning out to be significantly more valuable for Amazon than regular buyers.
"Prime members are buying more," Amazon CFO Tom Szkutak said in the earnings call. "It's more convenient. They are getting their physical product to them faster versus being not a Prime member. Certainly as you think about customers who are not Prime that become Prime, we see a very sizable step up their purchasing patterns. And so the customers are certainly buying a lot more from us."
Szkutak also mentioned that video is helping Amazon bring in more Prime members. Consumers who opt in for a Prime trial to watch video end up converting at higher rates than those who come through other channels, according to Szkutak. Customers who stream a lot of video also tend to renew membership at higher rates than other customers.
Amazon Web Services Grows Up

As of the fourth quarter, there were more than one million worldwide active Amazon Web Services customers making use of Amazon's cloud computing and data services. Amazon has been expanding AWS rapidly, hiring more talent and growing the service.
Szkutak said that Amazon will break out AWS numbers in the next quarter to shed more light on the service. "In terms of AWS, we just think it's an appropriate way to look at our business for 2015," Szkutak said. "And so our plan is... separating it out as of Q1 of this year."
This news came as a nice surprise for investors and analysts who welcome any additional transparency from Amazon. Colin Sebastian of Baird Equity Research estimates that AWS is a $5 billion run-rate business, with advertising revenue of at least $500 million.
"While we estimate this business is still less than 5% of revenue (less than the 10% which sometimes triggers disclosure), this break-out could be positive for the stock, shedding light on what is very likely Amazon's fastest-growing business," Canaccord Genuity's Graham said.
--Written by Rebecca Borison in New York
>Contact by Email.