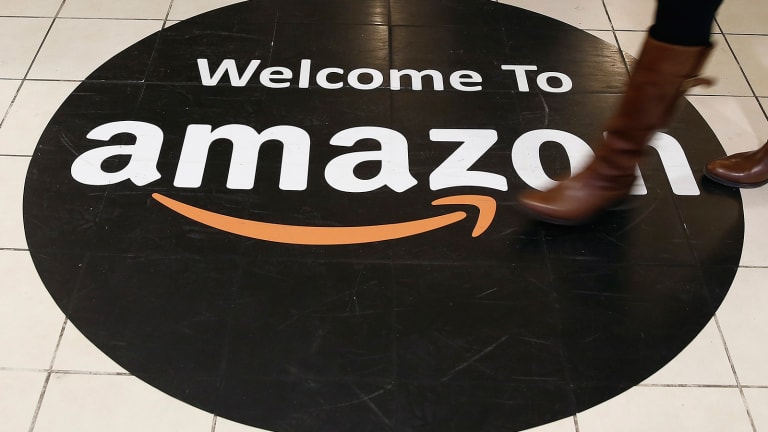 3 Biggest Takeaways From Amazon's First-Quarter Earnings Report
Amazon reported first-quarter earnings late Thursday, surprising analysts with some exciting new numbers.
Amazon reported first-quarter earnings late Thursday, surprising analysts with some exciting new numbers.
NEW YORK (TheStreet) -- Amazon (AMZN) - Get Report beat analysts' expectations for first-quarter revenue, but the most significant news in the company's earnings release was the numbers on its Amazon Web Services business.
To many analysts' surprise, AWS was more profitable than expected, implying that Amazon's core retail business was less profitable than anticipated.
The Seattle-based company reported first-quarter revenue of $22.72 billion, up 15% year over year, and a loss of 12 cents per share. Analysts surveyed by Thomson Reuters were expecting Amazon to lose 12 cents a share on $22.4 billion in revenue.
For the second quarter, Amazon said it expects revenue between $20.6 billion and $22.8 billion, with bottom line of between a loss of $500 million and a profit of $50 million. Analysts surveyed by Thomson Reuters are expecting a loss of 16 cents a share on $22.22 billion in revenue.
Shares were up 12.2% to $437.36 in early Friday trading following the company's first-quarter earnings report.
Here are the three key takeaways from Amazon's first-quarter report:
AWS Wins
For the first time ever Amazon decided to break out numbers for Amazon Web Services, its cloud computing business, and those numbers surprised analysts.
AWS had net sales of $1.57 billion in the first quarter of 2015, up 49% year over year, and up from $1.05 billion in the first quarter of 2014. AWS margins remained steady at 16.9%, even though AWS has made 48 price cuts since it was launched.
TheStreet's Jim Cramer is positive on AWS. "This time, we heard a breakout of how well Amazon Web Services is doing, the vaunted distribution system that's terrific for Amazon and conceivably great for others who want to be partners with the company," Cramer wrote. "Our discovery, it's fabulous for Amazon, a line item that could be lucrative beyond hopes. In one fell swoop, it obliterated the long-term short story of how Amazon would never get profitable."
One of the implications of the strong numbers from AWS is that Amazon's core retail business isn't doing as well as many thought.
"From our perspective it's business that's still really in day one," Brian Olsavsky, chief financial officer of Amazon's Global Consumer Business, said during the conference call. "A lot of potential innovation in front of us we believe. And so you can see we're putting a lot of CapEx obviously there and including capital leases and we think over time we will be able to generate significant free cash flow with stronger [return on invested capital] ROICs."
"The company also broke out AWS which revealed a substantially profitable business (surprise!) but led to a somewhat negative read-through for North America retail margins," Canaccord Genuity analyst Michael Graham wrote in a note Friday morning.
This surprise is leading analysts to question Amazon's core business.
"Despite many positives at Amazon, like North America Electronics and General Merchandise growth, continued General Merchandise expansion given rising third party mix and AWS, Prime growth, among other things, Amazon will need to show improving core biz margins over time off a lower base than consensus anticipated," Cowen analyst John Blackledge wrote in a note Friday morning.
Still Not Profitable at the Core
Despite all the hype about AWS, Amazon still reported an overall loss of $57 million in the first quarter. Amazon said that loss could be as large as $500 million for the next quarter, compared with a $15 million loss in the second quarter of 2014.
Yes, revenue grew 15% year-over-year, but margins were still down slightly from the previous quarter, with operating margins at 1.1%. Analysts aren't expecting margins to turn around too much in the short term.
"We expect North America operating margins to remain suppressed as Amazon continues to invest in the Prime platform," Needham analyst Kerry Rice wrote in a note Friday morning.
Amazon is still betting largely on Prime, which may pay off in the long run by accruing a large group of loyal customers, but in the short term it may continue to impact profitability.
"Amazon continues its global investment in the Prime platform, which has been pressuring margins," Canaccord Genuity's Graham said. "However, management is seeing positive customer responses from several initiatives within the program, including Prime Now and Prime Instant Video. Though video remains a significant investment, it is helping conversion of free trial members. Once these members are in the ecosystem, Amazon is seeing even better retention from the video streaming audience and similar purchasing behavior through their tenure."
International Struggles
International revenue was $7.75 billion, down 2% year over year, with international retail margins continuing to remain weak, at -1%. This is largely due to the strong dollar but is also because of the heavy investments Amazon is making in countries like India and China.
The strong dollar contributed to a loss of $1.3 billion in revenue for Amazon, and these numbers are only expected to get worse in the second quarter. Without the currency fluctuations, international revenue would have been up 14%.
"In terms of international, we are investing a lot right now which impacts the margins there," Amazon's Olsavksy said during the call. "We're investing in all the things that we talked about related to the platform, continue invest in some emerging geographies, most notably certainly India with the step up given the experience we have. We have a lot to do there, we think it's a great opportunity for us."