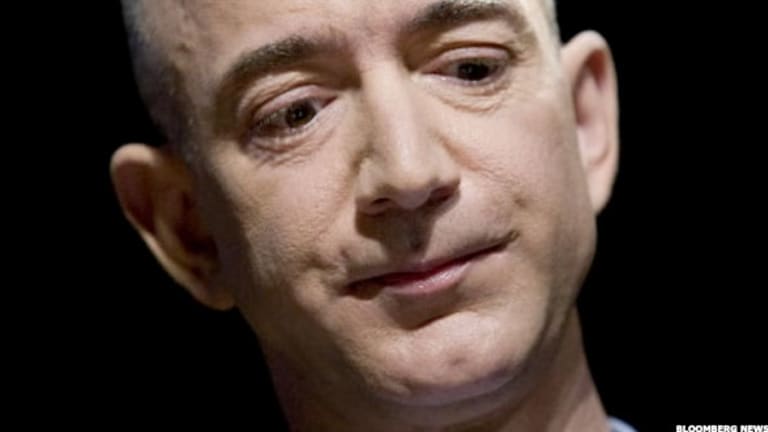 3 Biggest Takeaways From Amazon's Disappointing Fourth-Quarter Earnings Report
The e-commerce giant couldn't live up to analysts' high expectations.
Updated to add comments from Jim Cramer.

Amazon (AMZN) shares tumbled after missing high analyst expectations, despite reaching the company's best-ever earnings and more than doubling profit from 2014.
The Seattle-based company reported fourth-quarter revenue of $35.7 billion, up 22% year over year, and earnings of $1 per share. Analysts surveyed by Thomson Reuters were expecting Amazon to earn $1.58 a share on $36 billion in revenue. Amazon attributed some of the shortfall to the stronger dollar.
The e-commerce giant provided guidance of $26.5 billion to $29 billion for the first quarter of 2016 with operating income between $100 million and $700 million.
Shares were down 11% to $70 in pre-market trading on Friday.
"Everyone is freaking about Amazon and that's because Amazon has decided once again that it wants to reignite spending in order to take over the world," said Jim Cramer, portfolio manager of the Action Alerts Plus Portfolio. "This is one of those periods where after being transparent for a couple of quarters, they are back to being opaque."
Here are the three key takeaways from Amazon's third-quarter report:
1. Rising costs
As any retailer will tell you, shipping is expensive, especially when you have a two-day (and sometimes one-day) delivery guarantee. Amazon itself attributed much of its less-than-expected profit to the rising costs of shipping in the quarter.
According to the company, third-party sellers contributed to a larger part of their overall sales in the quarter, and a larger number of those sellers used Fulfillment by Amazon (FBA), which is expensive for Amazon.
Half of all units sold were processed by FBA, which meant that net shipping costs increased to 5.2% of revenue, the highest level in four years.
"It did put a lot of demands on our warehouses and we were full," Amazon CFO Brian Olsavsky said during the call. "It was a very busy quarter and it did increase some of our variable costs as a result, primarily in the US, but a very strong quarter for FBA. It exceeded even our expectations."
Olsavsky also commented on the growing investments Amazon is making on the logistics front, maintaining that Amazon is simply bolstering the service it gets from traditional carriers. "In order to properly serve our customers at peak, we've needed to add more of our own logistics to supplement our existing partners," he said. "That's not meant to replace them. And those carriers are just no longer able to handle all of our capacity that we need at peak."
Management also shared that worldwide Prime membership grew 51% year-over-year. Though Amazon still declines to share actual subscriber numbers, the growth figure shows that there are definitely an increasing number of customers expecting fast delivery from Amazon, which ultimately adds to shipping costs.
However, Piper Jaffray analyst Gene Munster notes that while all of these investments may be negative in the short-term, the long-term opportunity outweighs that.
"We believe the 'miss' in margins was due to a spike in Prime adoption and usage surpassing management's guidance assumptions in the back half of the quarter (adding to fulfillment & shipping expense), a negative to margins, but a meaningful long term positive," he said."
2. AWS going strong
Amazon's cloud business was a bright spot in its earnings on Thursday. The company shared that AWS has more than 1 million customers worldwide and brought in $2.4 billion in revenue during the quarter, up 69% year-over-year.
Operating income for AWS was $687 million, for the quarter, a 28.5% operating margin, up from $240 million in the fourth quarter of 2014. That included a nice $60 million boost from the strong dollar.
"The company continues to make operating efficiencies while adding more customers and offerings," said Canaccord Genuity analyst Michael Graham. "Amazon plans to add 5 more AWS regions in the near future."
3. High expectations
One of the clear takeaways from this quarter was that all eyes are on Amazon to keep performing better and better. Expectations are incredibly high.
Consider that Amazon had its best quarter of profit ever, doubling year-over-year, and yet analysts still weren't happy.
One of the common themes among analysts' initial responses to the quarter was that Amazon's valuation is still too high. It's likely that the two go hand in hand. Until Amazon's valuation is more appropriate, analysts will continue to have incredibly high expectations for the company.
"We continue to find Amazon's long-term strategy and growth profile compelling, but also still feel that margin expectations are high relative to likely outcomes, and that the valuation is fairly rich," said Graham. "We still believe the valuation reflects most of the potential positives. We continue to look for a more attractive entry point to capitalize on the positive trends at Amazon."
Amazon's Olsavsky addressed investor demands during the call, explaining that the company's results are "inherently unpredictable" and "affected by many factors," meaning that it's hard to predict them and give proper guidance.
"We are grateful to our customers and remain heads down focused on driving a better customer experience," Olsavsky said. "We believe putting customers first, is the only reliable way to create lasting value for shareholders."