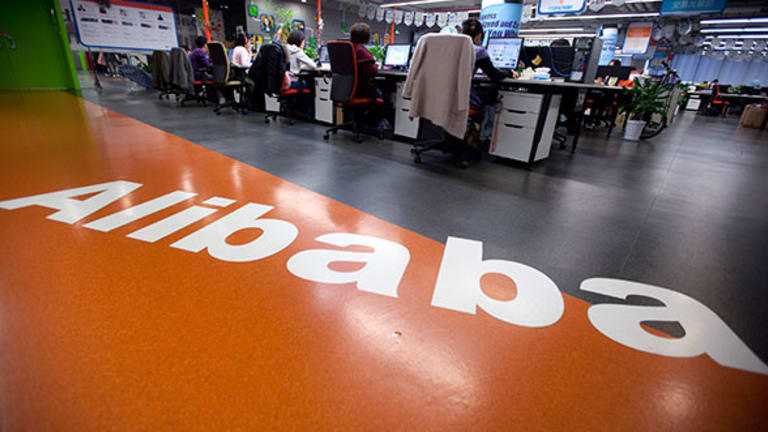 3 Biggest Takeaways From Alibaba's Third-Quarter Earnings Report
Alibaba reported its third-quarter earnings this morning, and its stocks dropped more than 7%. Here are the three biggest takeaways from its earnings report.
Updated from 9:25 a.m. with an infographic and comments from Morgan Stanley analyst Angela Moh.
NEW YORK (TheStreet) -- Alibaba (BABA) - Get Alibaba Group Holding Ltd. Sponsored ADR Report shares are down sharply in premarket trading after the company reported its second earnings results since its blockbuster initial public offering last year. Alibaba missed top-line estimates.
The Hangzhou, China-based company reported revenue of $4.22 billion, up from $2.74 billion in the third quarter, with non-GAAP earnings per share of 81 cents, up from 45 cents in the previous quarter. Revenue missed analyst expectations of $4.45 billion, but earnings beat expectations of 75 cents per share.
The revenue misses were surprising given the high sales associated with the holiday season, and especially the Singles Day holiday. In China, single people celebrate themselves on Singles Day, Nov. 11. In 2014, Singles Day alone brought in $9.3 billion in gross merchandise volume for Alibaba.
Shares are trading down 7.7% to $90.87 in premarket trading.
Here are the three key takeaways from Alibaba's third-quarter report.
Leader in Mobile Commerce
Alibaba continues to show strong growth in mobile, with $130 billion in gross merchandise volume on mobile for the year 2014. The Chinese conglomerate had 265 million mobile monthly active users as of Dec. 31, up from 217 million on Sept. 30. During the third quarter, mobile gross merchandise volume made up 42% of total GMV, up from 36% in the previous quarter.
"Alibaba continues to be the leader in mobile," executive vice chairman Joe Tsai said on the earnings call. "Alibaba leads the mobile commerce market and our mobile Taobao app continues to be one of the most popular apps in all of China. Our mobile strategy is helping us attract new consumers to our retail platform that we might not otherwise reach. We believe the increasing use of our mobile apps fuels significant growth in our business."
Zero-Tolerance Counterfeit Policy
During the earnings call, Tsai also addressed recent allegations from the State Administration for Industry and Commerce that claimed that Alibaba was not properly dealing with illegal commerce on its site. The SAIC published a report that accused Alibaba of selling counterfeit products on its marketplace.
Tsai responded by saying that the report was completely incorrect and used flawed methodology. Alibaba has made a formal complaint to the SAIC claiming that the accusations were unfair and inaccurate.
The Alibaba chairman listed a number of ways that Alibaba seeks to ensure that its site is free of counterfeit goods, including working with Chinese security and using third parties to identify potential suspects. If a seller is found to be selling fake products, Alibaba enforces full refunds to the seller's customers and bans the sellers from the site.
"Alibaba is a company with strong values," Tsai said. "Nothing is more important to us than the trust we earn from our stakeholders, including customers, business partners, regulators and shareholders. Our commitment to ethical and transparent behavior is why we were so troubled by the report. We have a zero-tolerance policy towards counterfeit."
The allegations could potentially harm Alibaba, but the company is vocally affirming its strict policies against counterfeit.
"The negative publicity from this could impair the credibility of Taobao and other e-commerce platforms in China, and may also signal a step-up in regulatory oversight in China's booming e-commerce industry," Morgan Stanley analyst Angela Moh wrote in a research note.
"We think the issues on counterfeits and shady merchants are not new and the company has been stepping up its efforts to tackle these issues by leveraging data analytics and imposing stricter penalties on violators," Moh wrote. "Currently it has over 2,000 employees dedicated to consumer protection and dealing with fakes. The company has also recruited over 5,400 volunteers from various industries to help monitor and spot check online products."
Gross Merchandise Volume on the Rise
Despite the allegations and any other setbacks Alibaba may have encountered, it is still seeing steady growth in gross merchandise volume. The third quarter yielded about $126 billion in GMV, up 49% year over year and up 42% from the previous quarter's GMV of about $89 billion.
"We delivered a strong quarter with significant growth across our key operating metrics," said Jonathan Lu, chief executive officer of Alibaba, in a press release. "Gross merchandise volume across our China retail marketplaces grew 49% year on year, and our annual active buyers increased to 334 million in 2014, an increase of 45% year on year. Our business continues to perform well, and our results reflect the strength of our ecosystem and the strong foundation we have for sustainable growth."
--Written by Rebecca Borison in New York
>Contact by Email.