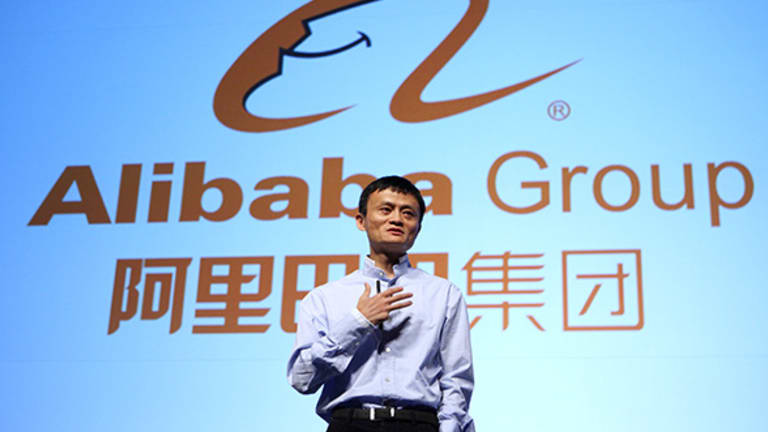 Publish date:
3 Biggest Takeaways From Alibaba's Robust December Quarter
Alibaba shares have fallen despite a nice revenue and earnings beat from the Chinese e-commerce giant.
Alibaba shares have fallen despite a nice revenue and earnings beat from the Chinese e-commerce giant.
Updated from 9:19 a.m. with share price.

Alibaba (BABA) - Get Report shares have fallen despite a nice revenue and earnings beat from the Chinese e-commerce giant.
For the quarter ending in December 2015, the Hangzhou, China-based company reported revenue of $5.3 billion, up 32% year over year, with earnings per share of 99 cents. Analysts were expecting revenue of $5.1 billion and earnings of 88 cents per share.
The company also added 21 million active users for a total of 407 million annual active users. Mobile monthly active users also grew to 393 million, up 47 million from the previous quarter.
"Alibaba Group had an outstanding quarter, reaching a milestone of over 400 million annual active buyers and continuing our unrivaled leadership in mobile," Alibaba CEO Daniel Zhang said in a statement. "We remain focused on our top strategic priorities, including global imports, rural expansion, increasing our footprint in first-tier Chinese cities and building a world-class cloud computing business."
Alibaba shares were up 3.25% in premarket trading on Thursday but fell 3.2% by midday.
Here are the three key takeaways from Alibaba's most recent quarter.
1. Chinese consumers are still buying
With signs that China's economic growth is slowing, a lot of people have been looking to Alibaba to get a better idea for how Chinese consumers are holding up. And as Alibaba's numbers demonstrate, apparently Chinese consumers are still spending money.
"China is still one of the fastest growing economies in the world and we have no reason to think anything different in the foreseeable future," Alibaba Vice Chairman Joe Tsai said during the call. "China is moving from an investment-driven economy to a consumption driven economy. Consumption-driven growth is clearly more sustainable."
While Alibaba maintains that Chinese spending isn't decelerating, not everyone is convinced.
"Management insists that the Chinese consumer remains strong as the Chinese economy shifts away from manufacturing and investment to services and consumption," said Wedbush analyst Gil Luria. "I believe anecdotal evidence, including recent commentary from Apple, may indicate consumer spending in China may have started decelerating since December."
2. Future expansion plans
Looking forward, Alibaba is focused on two main growth areas: rural China and globalization. Alibaba currently reaches 12,000 rural villages in China, but there is still much room for growth and more customers that can be acquired.
"We will try to sign up new customers in the rural areas," Alibaba CEO Daniel Zhang said during the call. "This we believe will have a huge potential in the future."
Alibaba is also working hard to get international sellers on its platform and sell cross-border products to Chinese consumers.
During the quarter, Tmall Global, Alibaba's channel for global imports, grew 179% year over year and currently features more than 200 international brands, including Coca-Cola, Starbucks and Lululemon.
3. Improving monetization (especially on mobile)
Alibaba reported a blended monetization rate (from both desktop and mobile) of 2.98%, up from 2.7% in the December 2014 quarter. The monetization rate is calculated as revenue earned as a percentage of overall transaction volume.
While Alibaba doesn't give separate rates for desktop and mobile, it is clear that mobile is increasingly becoming a central part of the company's business. During the December quarter, mobile gross merchandise value, or GMV, accounted for 68% of total GMV, up from 42% of total GMV in the December 2014 quarter.
"Alibaba reported a strong quarter as they are able to monetize their customers at higher rates, especially on mobile," said Wedbush's Luria. "By adding new features and new acquisitions they are able to capture higher take rates, which more than made up for the fact that their volume growth continues to decelerate."