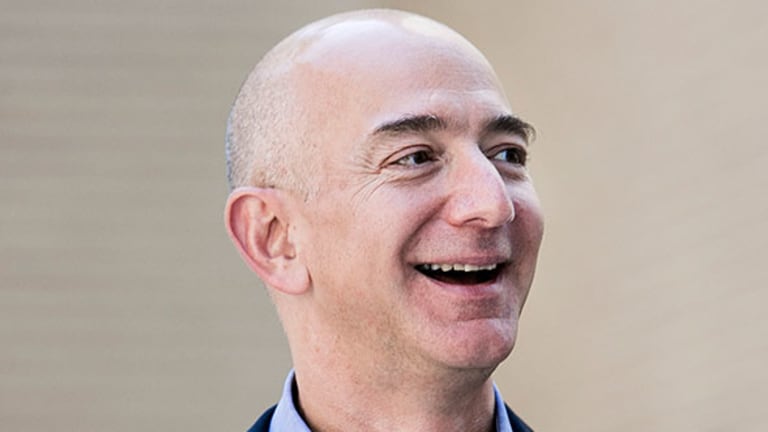 Amazon Signs On Southwest to Accept its PayPal Competitor
Consumers can now use Pay with Amazon to pay for in-flight purchases.
Updated from Jan. 26 to include Southwest partnership.
Over the past few years, Amazon (AMZN) has slowly been building up Pay with Amazon, its PayPal (PYPL)  competitor, and the company today announced that the payment will now be accepted by Southwest Airlines (LUV)  for in-flight purchases.
Signing on a large brand like Southwest is huge for Amazon as it competes in the heated digital payments space. The announcement follows some recent milestones Amazon shared in January for the payment solution.
Since 2013, more than 23 million customers have used Pay with Amazon to check out on a third-party site, according to Amazon. Those customers come from 170 different countries and spent an average of $84 per purchase in 2015. Half of those customers were Prime members, and 60% have a household income of more than $100,000.
Amazon also said the number of customers using Pay with Amazon as well as Pay with Amazon payment volume both grew by more than 150% year over year.
"It's about making life easier for our customers. Pay with Amazon makes it easier for our customers to pay wherever they may be shopping," said Patrick Gauthier, vice president of Amazon Payments.
But while Amazon was happy to report on the customers using Pay with Amazon, it has yet to say how many merchants actually accept its payment method. All Amazon said was that the number of merchants using Pay with Amazon grew more than 200% year over year.
Until Amazon is more transparent about that aspect, we won't really know whether or not Pay with Amazon could be a serious contender against PayPal.
"While these statistics show that Amazon is a viable competitor in the online payments market, they are still a little too vague to conclude Amazon is more of a threat to PayPal than they have been," said Wedbush analyst Gil Luria. "Amazon Payments on third-party sites have been around for at least a decade and has had several ups and downs. This most recent push appears to be successful, but until they provide actual volume numbers I conclude that their market share is still quite small."
Sure, Amazon is celebrating 23 million customers that have used Pay with Amazon at least once, but PayPal has 173 million active accounts. Plus millions of sellers accept PayPal, including most of the retailers that accept Pay with Amazon.
PayPal is a holding in Jim Cramer's Action Alerts PLUScharitable trust portfolio.
Consider that of the 200 top retailers in the U.S. and U.K., 67% said that after credit and debit cards, PayPal was the most popular payment method used by their customers, according to a recent survey from ChannelAdvisor. Amazon Payments came in second, but a much distant second place, with only 15% of the retailers saying it was the most popular payment method.
If Amazon wants to change those numbers, it will have to convince these top retailers that Amazon Payments is superior to PayPal.
"Large retailers don't want Amazon Payments because it's a competitive threat," ChannelAdvisor Eexecutive Chairman Scot Wingo said in a previous interview. "Because PayPal's not close to a merchant, those top retailers are more open to it."
In order to win over those concerned retailers, Amazon will need to convince them that its payment service offers an invaluable benefit to the retailer -- say, access to Prime members or Amazon's superior logistics infrastructure.
"To get over the competitive fears retailers have, there has to be something so compelling that causes them to get over that hump," Wingo said. "It's still very early days in the payments industry, so it'll be interesting to see how it plays out. Amazon plays a long game, so they're not close to giving up on payments."