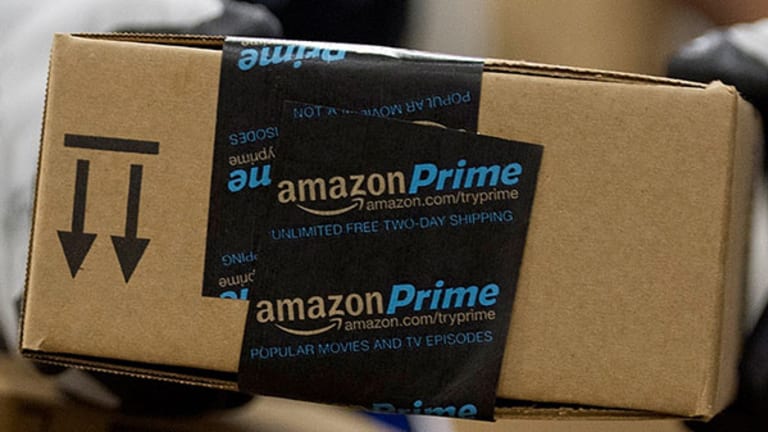 20 Hidden Reasons to Love Amazon Prime Even More
From free movies and TV shows to unlimited photo storage to free books, there are tons of reasons to love Amazon Prime. Here are all of them.
Amazon (AMZN) - Get Amazon.com, Inc. Report has built an e-commerce juggernaut thanks in large part to Amazon Prime. But for all the goodies you can buy with the two-day shipping perk thanks to the $99-a-year service, there is so much more than that.
Started in 2005, Amazon Prime has become the envy of nearly every other retailer because of its ability to hook users and keep them shopping. A July 2016 study from Consumer Intelligence Research Partners found that the average Prime user spends around $1,200 a year on the site, compared to $500 for a non-Prime user.
Stats like that have helped make Amazon the leader in e-commerce, JMP Securities analyst Ronald Josey wrote in a December 23 research note.
"[W]e believe Amazon's lead in e-commerce continued to expand throughout the holiday season," Josey wrote to clients. "We are also incrementally confident in our holiday e-commerce growth projection of mid-teens growth as mobile increasingly becomes a larger channel for overall purchases, representing a long-term tailwind, in our view. 
Yet, even though the 60 million-odd Prime users spend more on Amazon than its other users (Amazon has never publicly said how many Prime users it has), there has to be more than just two-day shipping and a wide selection of goods to keep them coming back, right?
That's where the hidden perks of the service come in -- things like video, photo storage and more.
In December, the company announced that it would be bringing Prime Video, its Netflix (NFLX) - Get Netflix, Inc. Report competitor to a slew of other countries and households across the globe. William Blair analyst Ryan Domyancic believes it could be as many as 275 million households, according to a December 14 research note.
With perks like that, it's no wonder why more than 1 billion items shipped thanks to Prime and Fulfillment by Amazon this holiday season.
Here are 20 reasons besides free two-day shipping to love Amazon Prime.
Prime Shipping
So yes, everyone knows you can get free two-day shipping using Prime, but did you know you can get it even faster?
In some cases, you can get free same-day delivery, depending upon where you live and the goods you're buying. To add to that, if you don't need the goodd in two days, oftentimes Amazon will give you small credits, usually $1 or $2 for things like music or videos if you take a slower shipping option.
Amazon Family
If you're a new parent, then you know just how expensive raising a child can be. New clothes, diapers, formula and more.
With Prime, users can set up a registry and get 15% off eligible products from their registry and 20% off diapers, thanks to Amazon Family.
Prime Video
Amazon is adding movies and TV shows and producing original content by the boat load.
Shows like ManintheHighCastle, AlphaHouse and Transparent and movies such as ManchesterbytheSea are all Amazon-backed, with the first three available exclusively on Prime. All of these are critically acclaimed and represent just a teeny-weeny slice of what Amazon has to offer for a rainy day.
Amazon FreeTime Unlimited
For just an additional $2.99 a month, Prime users can get access to thousands of kid-friendly books, shows, games and more. 
It's like getting another way to occupy your kids for $3 a month. As a parent, you can't beat that.
Kindle First
Free stuff? Who doesn't love free stuff?
With Prime (assuming you have a Amazon tablet or a Kindle), you can borrow one Kindle book each month for free from a featured list. The best part? There's no due date and no late fees!
Prime Photos
More free stuff!
If you're like me, you're constantly having to delete photos from your phone to free up storage. Well, with Prime Photos, that's no more.
Just use the Amazon Photos app (available on iOS and Android), and you can back up all of your photos (plus those for five others) for free.
Early Access to Deals
With Amazon Prime, you're not just getting a good service -- you're part of an exclusive club.
Prime members are allowed to access the company's Lightning Deals, which are often "deals of the day" a full 30 minutes before everyone else. Now, go puff your chest and start buying.
Amazon Prime Store Card
As if you need another reason, Amazon is making Prime cheaper for you the more you shop.
Thanks to the Amazon Prime Store Card, card users can get back 5% on their purchases every day and for every order. And for a limited time, once you're approved, you get a $50 Amazon gift card.
Prime Now
If you're in desperate need of a last-minute gift or something for your party that you forgot, don't worry -- Amazon has you covered.
Thanks to Prime Now, users can get delivery on tons of items in as little as one hour, depending on where they live. Users who order can get $10 off their first order as an incentive to try the service.
Check to see if Prime Now is available in your area. 
Washington Post Free Trial
As CEO of Amazon, Jeff Bezos is a pretty rich guy. Thanks to his vast wealth, he purchased the Washington Post, but it's Prime users who are the real beneficiaries.
For a limited time, Amazon Prime users can get unlimited access to the Washington Post with a six-month free trial. For those who got a new Kindle device for the holidays, there's a good chance you have the new, sleek Washington Post app already installed to make it even easier.
Audible Channels
Amazon owns a host of other companies, like Zappos and Audible, but with Prime, it's Audible users who get an additional perk.
They can listen to original audio series and playlists as much as they want. All you have to do is download the Audible app and be on your merry way.
Amazon Channels
Amazon is nothing if not ambitious, and one of its latest ventures is taking on the cable industry.
With Amazon Channels, users can get a number of streaming services like HBO, SHOWTIME and STARZ and pay only one bill. Amazon will even let you sign up for a free trial to check it out.
Twitch Prime
A couple of years ago, Amazon bought the video-game streaming service Twitch, and it left a lot of people scratching their heads. Not anymore, though.
With Twitch Prime, viewers can get free game content every month that's not bogged down by ads, plus more features. 
Discounted Video Games
With an Amazon Prime subscription, users can get exclusive discounts on certain video games, no matter if it's a Nintendo Wii U, Xbox One, PlayStation 4 game or a number of other consoles.
In addition to discounted games, accessories can often be discounted, like controllers or headsets -- or sometimes even the console itself. 
Prime Reading
If you're a bookworm, Amazon Prime is the service for you.
With a Prime subscription, you can read thousands of books, magazines, audio books, comics and more on nearly any device.
Prime Music
Apple and Spotify have some serious competition in the streaming music business.
Amazon announced its own streaming service as part of Amazon Prime. It has a library of more than 2 million (and growing) songs that are included with your Prime membership.
If you want even more music, Amazon Music Unlimited might be the service for you. Prime users get it at a discounted rate, at just $3.99 a month compared to the standard $9.99 a month.
Prime Pantry
With Amazon Prime, the grocery store could be a thing of the past.
Prime Pantry offers Prime users everyday household items, including fresh produce, for a flat fee. Make sure to try out Amazon's line of premium snacks while you're at it.
Amazon Elements
With Prime, you don't need to worry about running out of the essentials ever again.
Amazon Elements, which is the company's own line of everyday essentials, like baby wipes, is available exclusively to Prime subscribers. The company is adding more products all the time, so it's another perk to buy everyday goods for cheaper, thanks to Prime.
Amazon Dash for Prime
Ever needed to buy a box of Cheez-its or re-order Tide laundry detergent, but you're too lazy to run out to the store? Amazon Dash has you covered.
Amazon created Dash buttons, which lets Prime users simply press the button to re-order their favorite product. There are now more than 200 Dash buttons, all of which work with your iOS or Android device. The Dash button is $4.99, but after your first purchase, you get a $4.99 credit, so it's essentially a free way to shop more convenient for the things you'd already buy.
Share Your Prime
Perhaps the best part of having a Prime account is you can share certain Prime benefits with another person in your household (in addition to having multiple shipping addresses and credit card information outside your house).
You can share things like Prime Video, eBooks, photo storage and more, all for your house.