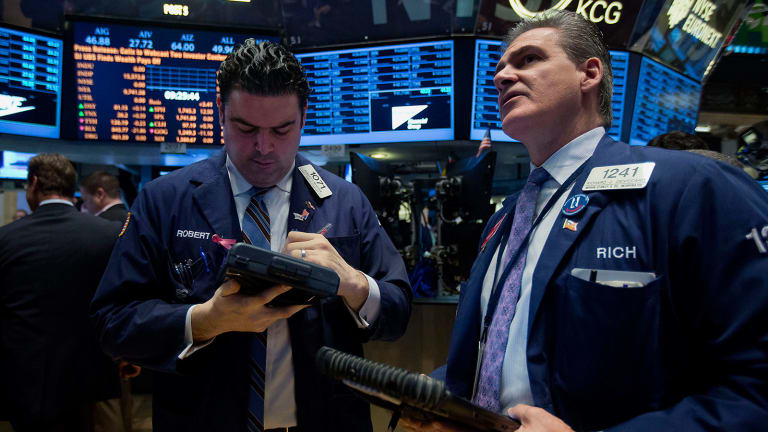 11 Tech Stocks to Consider Buying Following the Huge Market Drop
Even after the Dow Jones Industrial Average dropped 1,000 points Monday morning, investors in semiconductor and hardware companies still have viable options within the markets, according RBC Capital Markets analysts.
NEW YORK (TheStreet) -- As the after-effects of Black Monday continue to rock the markets and questions about China's economic future loom, investors in hardware and semiconductor companies, such as Apple (AAPL) - Get Apple Inc. (AAPL) Report , have a few options as correction territory quickly approaches.
These options include buying high quality stocks now while the market is low, focusing on high dividend stocks and looking potentially "special situation" stocks, according to RBC Capital Markets analyst Amit Daryanani.
"While it is always difficult to call a bottom in an correction, we would take advantage of this pullback and acquire assets that have - strong revenue growth potential, attractive self-help levers and historically have weathered macro challenges better than peers," Daryanani wrote. He and his team suggested Amphenol (APH) - Get Amphenol Corporation Class A Report and Avago (AVGO) - Get Broadcom Inc. Report , citing deal accretion from FCI and Broadcomundefined  respectively will lead the companies to double digit earnings per share growth.
Apple was yet another company targeted to buy while the markets are low.
Citing the company's historical strong revenue growth during correction periods, Daryanani noted CEO Tim Cook's remarks yesterday that the company is still performing well in China as an indicator that the Cupertino, Calif.-based company is not too hurt by China's weakening economy.
As far a high dividend stocks go, Daryanani said his team suspects "high dividend stocks with good cash flow support should find a bottom sooner than the markets. In addition, these stocks will provide better downside protection should the correction sustain." He pointed to Maxim Integrated Products (IBM) - Get International Business Machines (IBM) Report , Seagate Technology (MXIM) - Get Maxim Integrated Products, Inc. (MXIM) Report and IBM (IBM) - Get International Business Machines (IBM) Report as attractive options.
"There are (IBM) - Get International Business Machines (IBM) Report of 'special sit' names that could be acquired in our group or have unique special situation dynamics at play - EMC Corporation (EMC) , NetApp (NTAP) - Get NetApp, Inc. (NTAP) Report (possible merger candidate), Semtech (SMTC) - Get Semtech Corporation Report (another possible takeover), & Western Digital Corporation (WDC) - Get Western Digital Corporation Report ([Chinese regulatory] approval)," he wrote.
But if none of these options suit investors, Daryanani suggested they look to stocks that are relatively shielded from China's economic troubles, citing manufacturers CDW (CDW) - Get CDW Corp. Report , Plexus (PLXS) - Get Plexus Corp. Report and data storage company Nimble Storage (NMBL) .
"Underlying this correction is concerns around China growth slowing, we would note that companies with no-to-minimal China exposure that are caught in this selloff should bounce the strongest as their exposure towards the softer end-markets is minimal," he wrote.